Pete Weber's Unreal Run on PBA50 Tour Continues with No. 1 Berth for Senior Masters Finals
June 26, 2016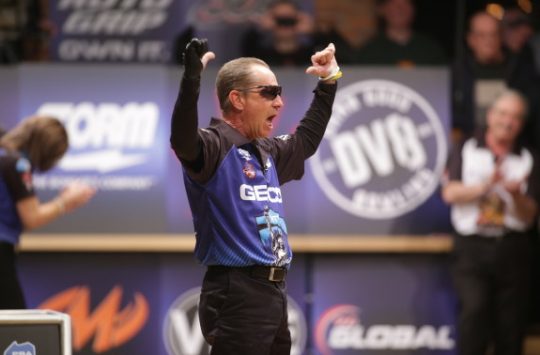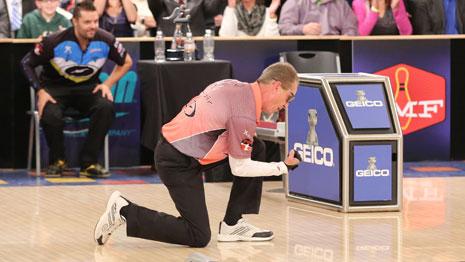 LAS VEGAS - Pete Weber of St. Ann, Missouri, is on the verge of history at the 2016 United States Bowling Congress Senior Masters, where he earned the top seed for the stepladder finals for the second consecutive year.
The 53-year-old right-hander downed Dave Arnold of Elk Grove, California, 674-589, in the final winners-bracket match Saturday at Sam's Town Bowling Center to remain undefeated. The USBC and Professional Bowlers Association Hall of Famer now is one win away from a record fifth PBA50 Tour win of the season.
As was the case in 2015, a mission accomplished by fellow hall of famer Amleto Monacelli of Venezuela, Weber must be defeated twice in the championship round to be denied the second USBC Senior Masters title of his career. Arnold will enter the stepladder as the No. 2 seed.
The stepladder finals of the 2016 Senior Masters will be broadcast live on BowlTV on Sunday at 1 p.m. Eastern, and the winner will take home a $16,000 top prize from a total prize fund of more than $131,000.
Joining Weber and Arnold in the 2016 Senior Masters stepladder will be left-handers Paul McCordic of Sugar Land, Texas, and Andy Neuer of Lewisburg, Pennsylvania, along with Ron Mohr of North Las Vegas, Nevada. The trio survived the four-player elimination shootout that determined the final three seeds.
McCordic will be the No. 3 seed after winning the shootout with a 738 series. He was followed by Neuer (664) and Mohr (633), who will face off in Sunday's opening match. Joseph Goldstein Sr. of San Bruno, California, posted a 554 series and was eliminated, finishing sixth.
Weber recently put together a streak of four consecutive PBA50 Tour victories, a run that ended last week in the title match of the PBA50 Northern California Classic presented by MOTIV, where he fell to Noel Vazquez of Sacramento, California.
"I wasn't really happy with how things turned out last year, and I'm definitely thinking about redemption at the Senior Masters," said Weber, who was beaten 192-190 and 254-243 in last year's Senior Masters final in Green Bay, Wisconsin. "Especially after losing last week, I really feel like I have something to prove, and this might mean more than any other title I've won out here. Not many guys have their names on two champion flags at this event, so to do that would mean the world to me."
Weber, now an eight-time PBA50 champion to go along with 37 PBA Tour wins, won the Senior Masters in 2013 on the way to PBA50 Rookie of the Year honors and had a strong showing again in 2014 when he finished fourth.
The reigning PBA50 Player of the Year was dominant in match play this week, averaging more than 239 in six wins, including one of the week's six perfect games.
Weber's recent run of success is especially rewarding because he has been able to bounce back from a hip injury that limited his participation and success earlier in the 2016 PBA season.
"After everything I went through with the injury, it's nice to be back and pain free," Weber said. "I worked with a chiropractor for about two and a half months, and I have no pain, which is what matters most. I feel good, and I'm bowling well, and I think I might be throwing it better than I ever have. Some people tell me I've been getting better with age, and I'm not going to argue that right now."
Weber is looking to become the event's sixth two-time winner, joining Dave Davis (1995, 1996), Gary Dickinson (1997, 2004), Pete Couture (1998, 2002), Tom Baker (2006, 2007) and Dale Traber (2009, 2011).
The last left-hander to win the Senior Masters was Vince Mazzanti Jr. in 2005, as he joined Davis as the only southpaws to claim the crown.
The 2016 Senior Masters, an event open to USBC members age 50 and older, included 263 players, who competed in 15 games of qualifying to determine who would advance to match play.
For more information on the USBC Senior Masters, visit BOWL.com/SeniorMasters.
U2016 USBC SENIOR MASTERS
At Sam's Town Bowling Center, Las Vegas
Saturday's Results
MATCH PLAY
Double elimination, three-game matches decided by total pinfall
ROUND 3 - WINNERS BRACKET
(Winners remain in winners bracket. Losers move to elimination bracket).
(17) Andy Neuer, Lewisburg, Pa., def. (32) Eric Forkel, Henderson, Nev., 655-607
(8) Amleto Monacelli, Venezuela, def. (56) Michael Lucente, Warren, Mich., 662-569
(28) Dave Arnold, Elk Grove, Calif., def. (12) Brian Voss, Centennial, Colo., 612-605
(13) Jack Jurek, Lackawanna, N.Y., def. (4) John Petraglia, Jackson, N.J., 665-616
(35) Paul McCordic, Sugar Land, Texas, def. (14) Chris Warren, Grants Pass, Ore., 669-575
(22) Joseph Goldstein, San Bruno, Calif., def. (6) Ron Mohr, North Las Vegas, Nev., 621-584
(58) Patrick Shipley, Spring Valley, Calif., def. (10) Mike Scroggins, Amarillo, Texas, 625-599
(2) Pete Weber, St. Ann, Mo., def. (47) Alvin Lou, El Cajon, Calif., 706-602
ROUND 4 - ELIMINATION BRACKET
(Losers eliminated, earn $1,350)
(54) Joseph Petrovich, Tracy, Calif., def. (19) Sam Maccarone, Blackwood, N.J., 627-514
(38) Eddie Graham, Centerville, Ohio, def. (49) Skip Wolfe, Dixon, Ill., 617-608
(23) Junichi Yajima, Japan, def. (50) Tommy Martin, Millington, Tenn., 670-586
(53) Walter Ray Williams Jr., Oxford, Fla., def. (52) Sam Ventura, Syracuse, N.Y., 782-661
(3) Rick Steelsmith, Wichita, Kan., def. (27) Billy Langford, Lone Grove, Okla., 749-688
(1) Parker Bohn III, Jackson, N.J., def. (25) Stoney Baker, Canton, Ga., 653-618
(7) Lennie Boresch Jr., Kenosha, Wis., def. (31) Sam Lantto, Eden Prairie, Minn., 674-637
(29) Norm Duke, Clermont, Fla., def. (42) Jerry Brunette Jr., Rochester, N.Y., 812-678
ROUND 4 - WINNERS BRACKET
Neuer def. Monacelli, 688-678
Arnold def. Jurek, 612-606
McCordic def. Goldstein, 698-559
Weber def. Shipley, 784-701
ROUND 5 - ELIMINATION BRACKET
(Losers eliminated, earn $1,500)
Voss def. Petrovich, 711-617
Petraglia def. Graham, 685-577
Forkel def. Yajima, 717-609
Williams def. Lucente, 742-648
Steelsmith def. Lou, 753-703
Bohn def. Scroggins, 752-592
Mohr def. Boresch, 748-659
Warren def. Duke, 695-626
ROUND 5 - WINNERS BRACKET
Arnold def. Neuer, 691-632
Weber def. McCordic, 703-639
ROUND 6 - ELIMINATION BRACKET
(Losers eliminated, earn $2,000)
Voss def. Petraglia, 763-664
Williams def. Forkel, 752-548
Steelsmith def. Bohn, 745-686
Mohr def. Warren, 679-674
ROUND 6 - WINNERS BRACKET
(Winner earns No. 1 seed for Sunday's BowlTV finals; loser is No. 2 seed)
Weber def. Arnold, 674-589
ROUND 7 - ELIMINATION BRACKET
(Losers eliminated, earn $2,500)
Voss def. Shipley, 785-674
Goldstein def. Williams, 676-644
Steelsmith def. Jurek, 635-622
Mohr def. Monacelli, 693-565
ROUND 8 - ELIMINATION BRACKET
(Losers eliminated, earn $3,000)
Goldstein def. Voss, 715-582
Mohr def. Steelsmith, 709-598
ROUND 9 - ELIMINATION BRACKET
(Three highest scores advance to Sunday's BowlTV finals, high score is No. 3 seed, second high is No. 4, third high is No. 5, lowest score is eliminated, earns $3,500).
McCordic 738, Neuer 664, Mohr 633, Goldstein 554