Featured Story: Bowling Lanes You have to See to Believe
Bowling Lanes You Have To See To Believe

For most of us, when we want to bowl we pack up the gear and head over to the local bowling center.
But if you really love the sport, why not just install a couple of lanes in the house so you can roll whenever the urge hits? According to Brunswick Bowling, you would need to have a minimum space of about 110 feet by 12-14 feet for a two-lane setup with a settee/lounge area.
Of course, if you have the money it takes to install a few lanes in the house, then your home probably has some space that could be repurposed.
If you are looking for ideas on how to design your lanes, then let's visit a few homes that have been put in the spotlight because of they have bowling lanes.


We're not Lion … this is a celebrity home
CNN Money reported on a home that once belonged to Bert Lahr, who was the Cowardly Lion in The Wizard of Oz. Throughout the years, the home was leased by several other well-known celebrities. Probably because of the bowling lanes, right?

Can you Google these lanes?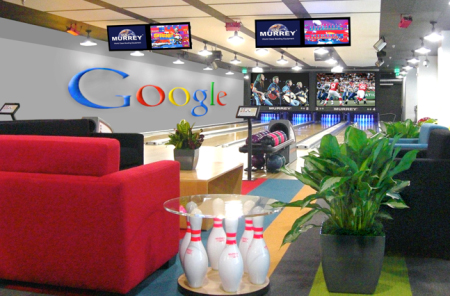 Murray Bowling installs custom lanes in residential homes and businesses. In addition to installing the lanes at Google headquarters in Mountain View, Calif., the company also did custom installations for Boston Celtics star Paul Pierce and novelist/screenwriter Nicholas Sparks. Click here to see more lanes by Murray Bowling.
Summer in the Hamptons
The Bridgehampton Sandcastle has been one of the hottest rental properties in the Hamptons in the last few years. The owner, Joe Farrell, put it up for lease in the summer of 2012 and sought $500,000 for a two-week lease. He had more than enough takers. See what happens when you put bowling lanes in your mansion?
The Business Insider reported Jay Z and Beyoncé rented the Sandcastle for $400,000 in August 2012. Click here to read more – and see more – about the property.

 
Bowling chic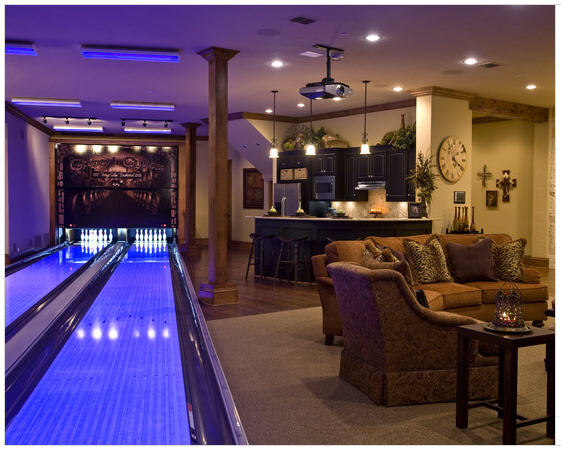 Now that you have been intrigued by the idea of having your very own bowling lanes in your home, you will need to get even more ideas of exactly how you would like your lanes and settee to look.
Well, Houzz just might have what you need. The Houzz website has pulled together more than 4,500 photos of home bowling center design. Click here for the Houzz website and enter "bowling" in the search box to see some of the outstanding designs.