Fit to Be Tried
Fit to Be Tried
It's one of the most underused tools in the game of bowling today, tape. White, black, tan, mint….whatever your need, there's a tape to make it fit. Bowler's hands go through a lot of wear and tear, shrinking, swelling, callusing, blistering, there are endless combinations that need attention.
Let's start with the overall fit, when a ball comes off the press and is ready to be "worked out" to fit the bowlers hand there can be a lot involved. Getting the correct span, pitch and hole size are crucial to elite performance so look for an International Bowling Pro Shop and Instructors Association (IBPSIA) certified technician to help get you started.


 IBPSIA techs are trained to assist in providing education benefits and industry standards.
Producing a layout and drilling holes doesn't complete the job, bowlers and their pro shop operators still have work to do. Beveling the holes, installing inserts, weighing and balancing for an extra hole and customizing the contours of the thumb and finger holes often takes longer than initially drilling the ball so be prepared to take the time to customize every detail.
Once the holes are shaped it's time to include tape. Whether you hand shrinks or swells, calluses or cuts, use the right amount of tape to keep your hand comfortable and ready to repeat shot after shot. Textured white or smooth black tapes are commonly used for fitting the front and back sides of the thumb. Players use anything from cork to cardboard. Velcro, rubber inserts, custom cut cushions, tiered layers, thumb socks, and just about anything else you can think of is used to give the hand the right fit and feel.
Protection tape to custom fit the hand comes in a variety of colors and textures for different bowler's needs. If your hand get to dry or to moist using a custom tape can provide a consistent contact surface with the holes of the ball. Simply layering tape inside the holes can allow for quick adjustments if the bowler's hand swells as they play. Whatever the need, there's a custom fit for it.


 Custom colors and textures provide a variety of tools for every fitting need.
If you hand(s) show signs of callusing, blistering, cutting or bruising adjust your fit and/or tapes to limit the damage. With some wear such as the callus on the palm under the index finger or around the nail of the index finger there may not be the need to change the span, pitch, or hole size, just protect the area from friction by using tape or gloves.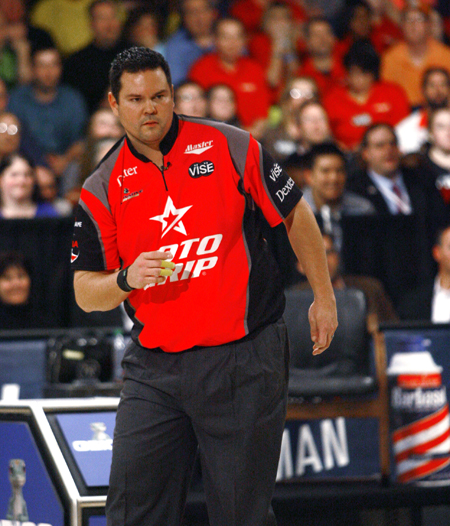 Wide receivers have special tacky gloves, quarterbacks use towels and warmers to condition their hands, tennis players use specific grip tapes on their rackets, all in an effort to provide comfort, consistency and repeatability. Remember, as a bowler hurling one of the heaviest pieces of equipment in sports, keep your tools and equipment fitting and feeling right.