Maintaining Your Equipment
Maintaining Your Equipment
Equipment maintenance is an important element for any bowler. Not only does regular maintenance help the consistency of your performance, it's also a great way to get the most out of your gear. But what does it take? And when do you know when to get something modified or replaced? To answer those kinds of questions, we'll start with a central piece of your game – your bowling balls.
Bowling Balls
Your bowling balls are a large investment. To keep that equipment in striking condition and to increase the lifespan of each ball, you must maintain the surface. If you don't know already, bowling balls take a beating rolling down the lane and coming back through the ball return. Not only that, they also pick up oil that may get absorbed into the ball.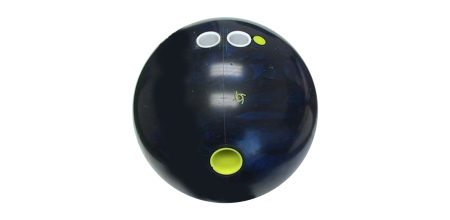 Does your ball not hit as hard as it used to? Take a look at your bowling ball. Do you see scratches or burn marks where the ball made contact with the lane surface (otherwise known as your ball track)? You can use approved ball cleaner to remove the grime, but to get those burned track marks removed you may need to have the surface refinished or cleaned up at an IBPSIA-certified pro shop. They will make sure it's not sanded down too much; you don't want to lose any identifying marks as per the specification rule below.
Marking
1. Each ball must be uniquely identifiable by the following:
c. Individual serial number

d. USBC star logo (As of March 1, 2006)
To help keep your ball in tip-top shape while bowling, wipe off your ball between shots with a microfiber towel to remove any oil that is still on the surface. When you're finished bowling, clean your ball with an approved ball cleaner. This will help keep the ball surface fresh, giving it better traction on the lane.
Ball Fit
Do you have a finger-tip drilling? If so, do you use those really cool, soft rubber finger inserts? Check to see if they are old and worn out. Replacing worn out rubber finger inserts with new ones will give you a better feel thereby creating a stronger release.
Do you use tape in your thumb-hole? Is it old and dirty? Remember to change your tape at least once a month to keep a consistent feel.
As we get older, our bodies change. It's a good idea to have your fit and ball weight checked to make sure the ball still fits properly and the ball weight is a good match. With the proper fit and weight, the ball will feel more comfortable and your delivery will be easier.
Shoes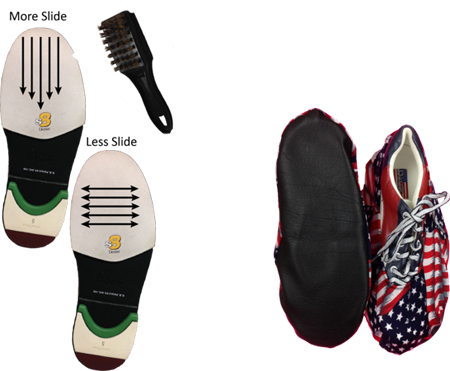 Maintain shoes? What!? Yes. Shoes are one of the most important investments you can make as a bowler – especially if you bowl tournaments and/or in different bowling centers. Approaches are not all equal and you may slide more in one center and stick at another. Keep the bottom of your shoes clean and dry. If you need to leave the settee (the bowler's area), put shoe covers on. This way, you will not get any water or substances on your shoes while walking on the concourse (spectator's area). To help keep the bottom of your slide shoe clean and to adjust your slide, use a wire brush. To generate more slide, brush your slide sole from the toe back in smooth soft strokes. To create less slide, brush the slide sole from side to side.
Maintain your Physical Game
Don't forget that your body needs regular maintenance as well! In order to be successful at anything you do, it requires practice. According to a study done at the United States Olympic Training Center, it takes more than 1,500 repetitions before a new habit becomes second nature. Until the body has had sufficient opportunity to learn and replace an old motion with the new motion, there will always be the chance, particularly under pressure, that the body will revert to its old and familiar motion. Do not keep score while practicing but instead work on your form and practice specific areas like getting to the foul line, etc. Focus on one thing at a time until you become proficient at it then move on to something else.
Physical fitness and nutrition also is a huge part of the physical game. Make sure you eat properly and warm up those muscles prior to bowling. If you do, you will feel much better and score higher. Good luck out there!