2021 Information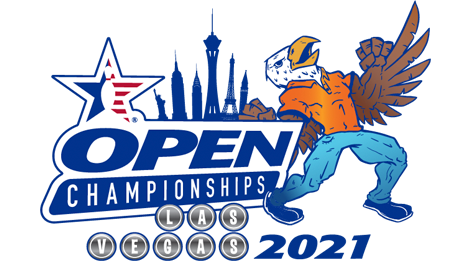 2021 USBC OPEN CHAMPIONSHIPS
May 1 - July 17 (last day of team competition)
South Point Bowling Plaza and South Point Bowling Center
Las Vegas

The USBC Open Championships will return to the South Point in Las Vegas for the third time in 2021 and run for 79 consecutive days from May 1 through July 18. July 17 will be the final day of competition.

In 2021, all team competition at the Open Championships will be held at the 60-lane South Point Bowling Plaza. All doubles and singles squads will be contested at the 64-lane South Point Bowling Center.

Additionally, to allow for social distancing, there only will be one team on each pair of lanes during team competition. Doubles/singles will feature four bowlers, as previously planned.

The squad schedule for team competition will be: 8 a.m., noon, 4 p.m., 8 p.m.

The squad schedule for doubles and singles will be: 7 a.m., 10 a.m., 1 p.m., 5 p.m. and 8:30 p.m.

There are three divisions based on skill level: The Regular Division, for those who average 176 and above, the Standard Division for those with averages from 156-175 and the Classified Division, for bowlers who average 155 or below.

Register for the 2021 Open Championships |  REGISTER NOW |  MANAGE NOW (Click here to make payments, add bowlers or information, adjust rosters, set doubles pairings, etc.)

Click here for step-by-step instructions for the registration system. Please note, we recommend using the desktop version to register your team(s).

You may mail, fax or phone in your registration at any time. A $25 processing fee per team applies to all registrations. Click here for the form.

Mail entries to: USBC Open Championships 621 Six Flags Drive Arlington, TX 76011 For questions or concerns, please email the tournament office at usbcopenchampionships@bowl.com. 
---
INFORMATION
---
 CONTACT

Tournament Information
usbcopenchampionships@bowl.com

Open Championships Tournament Office:
Phone: 888-910-2695

Media Relations
Matt Cannizzaro
Email: matt.cannizzaro@bowl.com
---
FUTURE HOST CITIES
2022 - Las Vegas
2023 - Reno, Nev.
2024 - Las Vegas
2025 - Baton Rouge, La.
2026 - Reno, Nev.
2027 - Las Vegas
2030 - Las Vegas
2033 - Las Vegas