Alfred (Lindy) Faragalli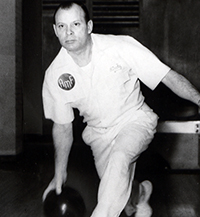 Superior Performance

Alfred (Lindy) Faragalli
City: Wayne
State: NJ
Inducted: 1968

Faragalli starred with leading Eastern teams, particularly the high-scoring Faber Cement Blocks. He often was a teammate of fellow Hall of Famers such as Lou Campi, Chuck Pezzano, Tony Sparando and Graz Castellano. He hit a television jackpot on June 18, 1957 when he rolled a 300 game worth $10,000 on a film series in Chicago. He had an 835 series on that show and had total earnings of $17,000. One year later he won his only USBC Open Championships title.