Jim St. John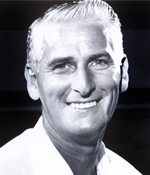 Veterans

Jim St. John
City: San Jose
State: California
Inducted: 2019

Jim St. John served in the Navy for nine years before he turned to bowling full time. He competed on the Professional Bowlers Association (PBA) Tour from 1963-1969, capturing the first of his six titles at the 1963 Rockford Coca-Cola Open.

His most dominating performance came at the 1963 World Invitational, one of the most prestigious tournaments in bowling, that took place in Chicago. St. John set 12 tournament records, tied two others, and posted the only 300 game over the course of the 11-day tournament. He successfully defended his title at the 1964 event.

He also won a USBC Open Championships Classic Team title in 1964 and had three other top-five finishes at the tournament.

St. John, who passed away Jan. 11, 1987, at age 56, was a two-time Bowlers Journal and American Bowling Congress All-American first-team member. He was elected to the PBA Hall of Fame in the Veterans category in 1989.