Kendra Gaines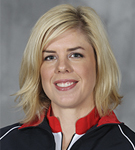 Outstanding USBC Performance

Kendra Gaines
City: Orlando
State: Florida
Inducted: 2018
Gaines owns four USBC Women's Championships titles, taking doubles in 1998 and 2016, all-events in 1997 and earning a team title with Bowlieve In A Cure in 2014. She has 16 top-10 finishes at the event, including four second-place finishes, and posted the first 800 series in tournament history in 2000. She also has a second-place finish (2003) and third-place finish (1998) at the USBC Queens.

She was a five-time member of Team USA, finishing as runner-up at the 1995 World Cup and earning a silver medal in the FIQ World Tenpin Team Cup in 1996. She was a member of the FIQ American Zone team that won gold in 1997. She was named to the Bowlers Journal All-Amateur Team in 1995 and its All-American Team in 1996, selected Amateur Bowler of the Year by the Bowling Writers Association of America in 1996 and 1997, and named Amateur of the Year by Bowlers Digest in 1996. She was named to the USBC All-American Second Team in 2002 and 2003.

Gaines also won two Professional Women's Bowling Association Tour titles.