Illinois bowler makes 50th consecutive appearance at Women's Championships
May 21, 2023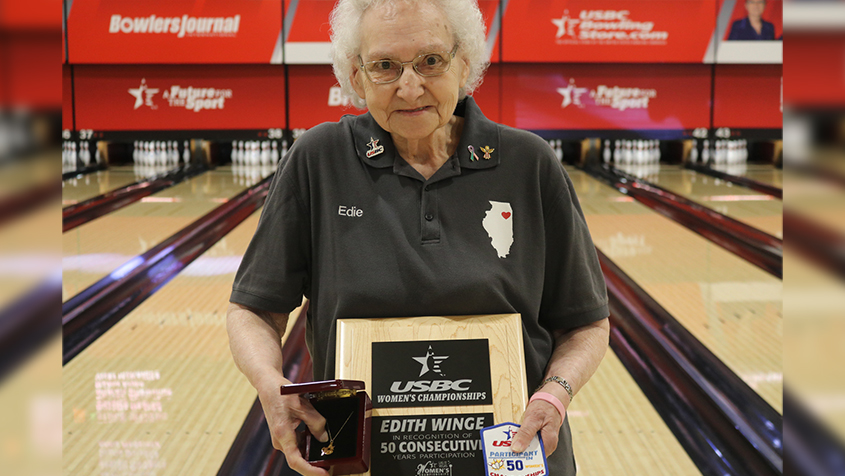 LAS VEGAS –
For many bowlers at the
United States Bowling Congress Women's Championships
, the opportunity to travel and compete in a national tournament is one of a kind.
For one competitor, those were the reasons she's made it to 50 consecutive appearances at the tournament.
Edith "Edie" Winge of Clifton, Illinois, made her USBC Women's Championships debut in 1973, and she has bowled in 31 cities and 23 states on her way to 50 years at the tournament. She received a plaque, chevron and necklace to commemorate her achievement Saturday at the South Point Bowling Plaza.
It was a full-circle moment for her, since the 1973 event also was held in Las Vegas.
"My first appearance, I went with my league mates, and I've kept coming back because I enjoy bowling and traveling," Winge said. "The Women's Championships has taken me all over the United States, and I'm grateful for it."
Meeting new people that shared her love of bowling was another reason that Winge kept up with the Women's Championships. There are countless memories attached to each year for her.
Her favorite location to visit was Niagara Falls, New York, in 1984, where she encountered other people from her hometown.
Although no particular year stands out for her in terms of her final scores, the memories as a whole have been overwhelmingly fun for Winge.
"Just getting to see new places, new people and, of course, bowling has been such a great time," Winge said. "I still travel with a lot of the same people, but meeting new people every year is always fun."
Winge is the first of five scheduled bowlers to reach 50 years at the 2023 Women's Championships. Lucy Ash of Glendale, Kentucky; Sandra Graves of Linden, Virginia; Janice Hebberd of Walsh, Colorado; and Cathy Simmank of Edgecliff Village, Texas, all are scheduled to make their milestone appearance at the Bowling Plaza.
The 2023 Women's Championships started April 23 and will conclude July 2. The event will run for 71 consecutive days at the South Point Bowling Plaza and feature more than 4,200 four-player teams and nearly 17,000 bowlers.
Follow updates and more from the
official USBC Women's Championships Facebook page
.