Kammerer sets record with 818 series at 2023 USBC Women's Championships
May 11, 2023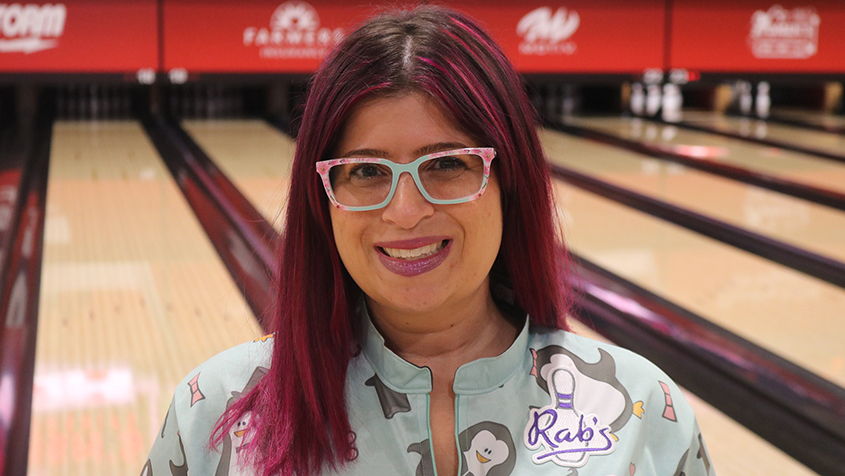 LAS VEGAS –
Melissa Kammerer of Staten Island, New York, rolled the highest series in the 103-year history of the
United States Bowling Congress Women's Championships
during her singles event Thursday with an 818 set.
She put together games of 280, 238 and 300 at the South Point Bowling Plaza to set the record and take the lead in Diamond Singles at the 2023 event.
The previous record of 816 was shared by Michelle Feldman of Auburn, New York (2009 – singles), and Jodi Woessner of Oregon, Ohio (2010 – doubles).
Kammerer recorded the 12th 800 series and 40th 300 at the USBC Women's Championships, and she is just the fourth bowler in tournament history to have both an 800 series and 300 game on the championship lanes.
On top of that, she was making her debut this week at the Women's Championships.
Starting her set with 19 strikes on her first 23 deliveries through two games, the 34-year-old right-hander needed 228 in Game 3 to take the outright lead in Diamond Singles from Julie Vickers of Pittsburg, Kansas, who had held the top spot with 745.
The strikes kept on coming in Game 3 for Kammerer, as she became the second bowler at the 2023 event to achieve perfection. Alice Efendic of Thornton, Colorado, had rolled the first 300 at the 2023 event May 7 during doubles competition.
"It is just an amazing accomplishment," said Kammerer, who bowled collegiately at Wichita State University and currently is the head coach of the women's bowling program at Long Island University. "I was nervous the whole time."
Kammerer is a new bowler to the Women's Championships, but she previously has competed at the USBC Open Championships, with her last appearance taking place in 2018. After a car accident, however, she took some time off to recover, and the COVID-19 pandemic made her break even longer.
For her first appearance back at a national USBC long-duration event, she certainly made a splash.
"It has been my dream to win one of these tournaments," said Kammerer, who also competes on the Professional Women's Bowling Association Tour. "Hopefully I can when it's all said and done."
Kammerer had kicked off her 2023 appearance with sets of 625 in team and 604 in doubles to also move into third place in Diamond All-Events with a 2,047 total. USBC and PWBA Hall of Famer Carolyn Dorin-Ballard of Keller, Texas, currently leads Diamond All-Events with 2,097.
The Diamond Division features bowlers with entering averages of 175 and above.
The 2023 Women's Championships started April 23 and will conclude July 2. The event will run for 71 consecutive days at the South Point Bowling Plaza and feature more than 4,200 four-player teams and nearly 17,000 bowlers.
Follow updates and more from the
official USBC Women's Championships Facebook page
.