Kuhlkin and Aiezza, Pajak posting big scores at 2023 Women's Championships
May 16, 2023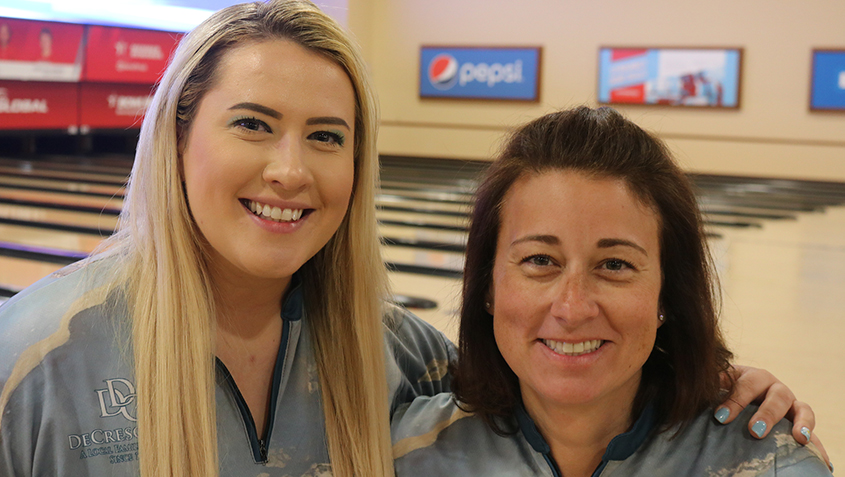 Pictured above (from left): Liz Kuhlkin and Jessica Aiezza

LAS VEGAS –
With the 2023 United States Bowling Congress Queens starting May 17 in Las Vegas, many of the stars on the Professional Women's Bowling Association Tour and top players from across the country and world are stopping by the South Point Bowling Plaza to try their luck at the
USBC Women's Championships
.
For these competitors, they were not only making moves and throwing strikes on the lanes, but also making their way up the leaderboard.
Jessica Aiezza of Mechanicville, New York, and Liz Kuhlkin of Schenectady, New York, started the striking Monday at the 2023 USBC Women's Championships as the pair took the lead in Diamond Doubles.
Kuhlkin led the duo with a 742 series, rolling games of 247, 258 and 237. Aiezza was close behind, putting up games of 259, 222 and 216 for a 697 series. The pair finished with an impressive 1,439 total.
Danielle Miller of Warren, Michigan, and Kristy Shephard of Las Vegas had started Monday in the lead at 1,384.
With so many great bowlers in town to compete at the Queens, both Kuhlkin and Aiezza knew they had to push their score as high as possible for everyone else to chase.
"We know that by taking the lead today, we had to try and get as many pins as possible," said Kuhlkin, a three-time PWBA Tour champion.
Aiezza agreed and said, "There are a lot of good bowlers coming through here in the next few days."
The pair had a great showing together at the 2019 Women's Championships in Wichita, Kansas, briefly taking the lead before finishing in second place. At the 2021 event in Reno, Nevada, Aiezza and Kuhlkin were part of the winning Diamond Team – Bowl 2 Win.
Their teammates – Suzanne Morine and Robin Orlikowski – captured a second title at the 2022 Women's Championships in Addison, Illinois, by winning Diamond Doubles.
"We have a history of bowling pretty well together," Aiezza said.
Kuhlkin added, "We've been bowling together for years. We know each other's games pretty well, and I think that's been a benefit. It's fun to have success together."
The strikes didn't stop there for Kuhlkin, as she kept the momentum going into singles to shoot the second 800 series of the 2023 Women's Championships on the way to take over the lead in Diamond All-Events with 2,288.
USBC and PWBA Hall of Famer Carolyn Dorin-Ballard of Keller, Texas, previously held the lead with 2,097.
Kuhlkin, the 2018 U.S. Women's Open champion, rolled games of 247, 278 and 280 for an 805 series, which also placed her second for Diamond Singles.
Melissa Kammerer from Staten Island, New York, currently holds the Diamond Singles lead at 818.
In addition to her 805 in singles and 742 in doubles, Kuhlkin added 741 in her team event.
"I count this as a time to warm up before the Queens, and it allows me to have a fun time with my friends," Kuhlkin said. "It's a really great testament when you bowl well at nationals, because you are bowling with the best of the best."
Kuhlkin's nine-game series now is in the tournament's record book, too. Her 2,288 set is second all-time, only trailing Jodi Woessner's score of 2,330 at the 2010 event in El Paso, Texas.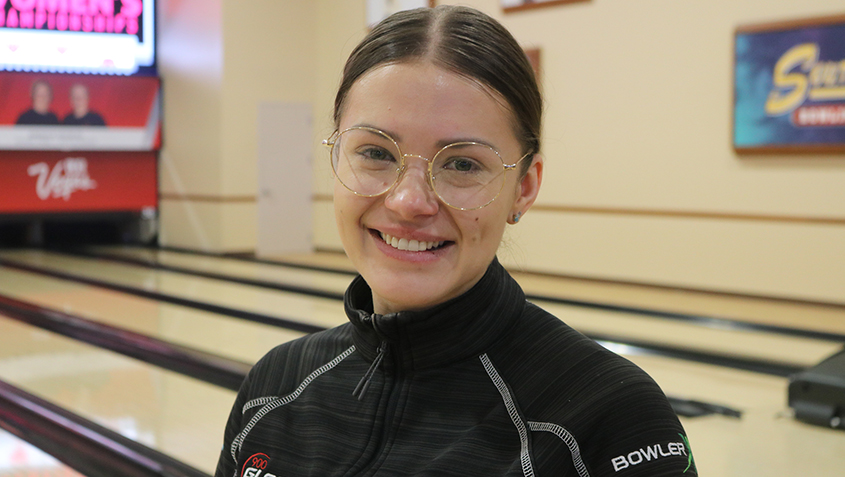 Daria Pajak
The strikes continued to add up Tuesday morning, with PWBA Tour champion Daria Pajak of Poland stringing 12 in a row together for the fourth perfect game of the 2023 Women's Championships during her second game of doubles.
Pajak had started the day with some momentum from taking the lead in Diamond Team on Monday with the members of Country Bowl with a 2,657 total. The team now sits in fourth place at the end of Tuesday, with Sterner Strong 2 of Oregon, Ohio, now holding the lead with 2,705.
It means a lot to shoot 300 here," said Pajak, who added games of 194 and 202 around her 300 for a 696 series. "With all the excitement on the lanes, the tournament can seem to be fast paced, so I just wanted to find my Zen when I was up on the approach."
While Pajak is no stranger to putting up 12 perfect shots, this one meant a lot to her as she found out about the passing of her beloved childhood dog shortly before she took the lanes Tuesday.
"It was a very hard morning, and sometimes, it's hard to put your personal life aside," Pajak said. "But if anything, I will do this for my dog."
The 2017 PWBA Rookie of the Year is set to take to the lanes across town at Sam's Town Bowling Center for the 2023 Queens, and she hopes to take this momentum into her performance for the first major of the year and the remaining PWBA Tour season.
"I have been struggling to find my game during competition versus practice," said Pajak, who added sets of 631 in team and 620 in singles for a 1,947 all-events total. "I came here with the mindset that I am going to be comfortable, and I will be bowling for something that matters to me."
The
2023 Queens
will run from May 17-23, with the stepladder finals being broadcast live May 23 on CBS Sports Network at 7 p.m. Eastern. Watch qualifying and match play from Sam's Town live at
BowlTV.com
.
Diamond Singles and Diamond All-Events features bowlers with entering averages of 175 and above, while Diamond Doubles includes pairs with combined entering averages of 350 and above. Diamond Team features groups with combined entering averages of 665 and above.
The 2023 Women's Championships started April 23 and will conclude July 2. The event will run for 71 consecutive days at the South Point Bowling Plaza and feature more than 4,200 four-player teams and nearly 17,000 bowlers.
Follow updates and more from the
official USBC Women's Championships Facebook page
.