Memorable Mother's Day at the 2023 USBC Women's Championships
May 15, 2023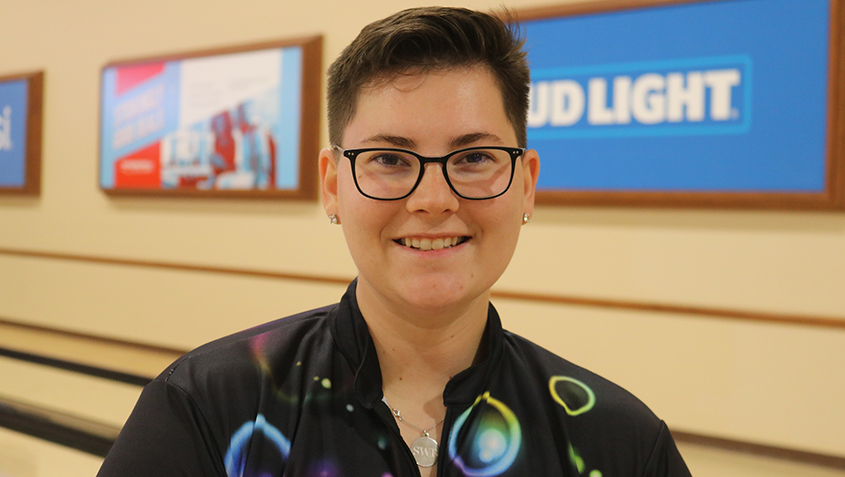 Pictured above: Olivia Farwell

LAS VEGAS –
Mother's Day often is a special day for most, but for three bowlers competing on the holiday at the
United States Bowling Congress Women's Championships
, their day just got a little more special.
Olivia Farwell of Elizabethtown, Pennsylvania, started the festivities Sunday at the South Point Bowling Plaza by rolling the third perfect game of the 2023 USBC Women's Championships.
Farwell started out strong in her singles set with six strikes in Game 1 and never looked back. She had games of 247 and 236 before rolling 300 for a 783 series.
The 2022 Professional Women's Bowling Association Rookie of the Year and Team USA member took over second place in Diamond Singles, and she now sits in third. Melissa Kammerer of Staten Island, New York, who rolled the second 300 of the 2023 Women's Championships, leads with an 818 series.
Farwell's 10th frame of her 300 game was full of excitement. She started out with a perfect strike on her 10th shot, before tripping out the 6 and 9 pins on her 11th delivery. She ended her game with a slow rolling messenger tripping out the 10 pin to finish it out.
"Going into the 10th frame, I was just trying to breathe to calm my nerves down," Farwell said. "I don't get nervous much anymore, but for those last two shots, I could not feel my legs."
Farwell has bowled multiple perfect games, but this one meant a lot to her. Not only did she get to bowl with her mother, Lisa, on Mother's Day, but she also was able to honor her grandmother, who passed away in October.
"This is actually the first 300 I have shot since she passed," said Farwell, a former collegiate standout at Duquesne University. "I truly believe my grandma was there on that last shot – it was all the help I needed."
Farwell started her 2023 appearance with sets of 638 in doubles and 622 in team for an all-events total of 2,043.
The Diamond Division features bowlers with entering averages of 175 and above.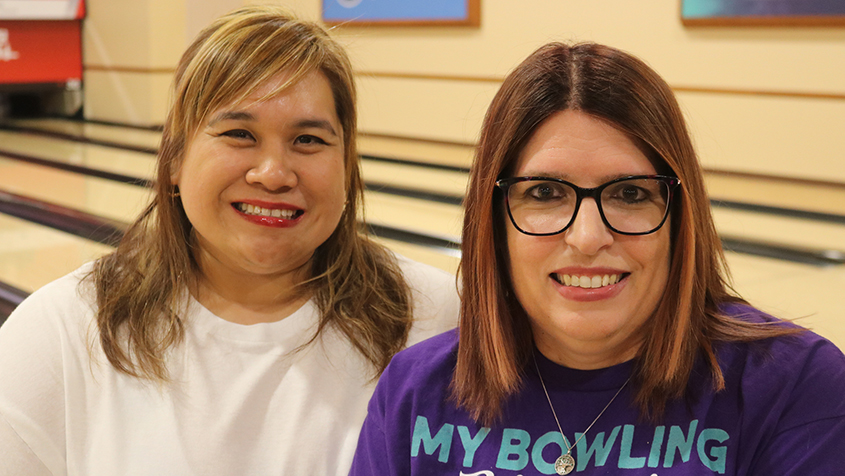 Pictured above (from left): Marites Tubban and Gina Green
The Emerald Division saw a new doubles team emerge on top as Marites Tubban of Pensacola, Florida, and Gina Green of Mesa, Arizona, paired up to take the lead.
The group effort was led by Tubban, who shot games of 205, 242 and 207 for a 654 series. Green followed up with games of 194, 178 and 150 for a 522 series. The duo finished with a 1,176 total.
Margaret Carlson of Madison, Wisconsin, and Wendy Proctor of Brookfield, Wisconsin, previously held the lead in Emerald Doubles since April 28 with 1,152.
Both Green and Tubban, who are making their first appearance at the tournament, have more than just amazing bowling to tell – they met just the night before bowling in Las Vegas.
"We had no idea this would happen," Green said. "We didn't even meet one another until last night."
Tubban added, "Our captain paired us together, and here we are."
Having a good mindset and fun were key components to the pair's leading set at the Bowling Plaza, as they set out to bowl as well as they could.
"It was a matter of having fun and just doing what I normally do during league, which is not paying attention to my first ball and just enjoying it," Green said.
Tubban agreed with the sentiment.
"Just try to do our best, go one frame at a time and try to get my hand around the ball as best as I can," Tubban said.
When they were asked about seeing their names on top of the leaderboard in Emerald Doubles, both looked at one another with smiles on their faces and jokingly said, "We are both going to probably cry."
Emerald Doubles features bowlers with combined entering averages of 298-321.
The 2023 Women's Championships started April 23 and will conclude July 2. The event will run for 71 consecutive days at the South Point Bowling Plaza and feature more than 4,200 four-player teams and nearly 17,000 bowlers.
Follow updates and more from the
official USBC Women's Championships Facebook page
.