New leaders emerge in Amethyst, Sapphire at Women's Championships
May 25, 2023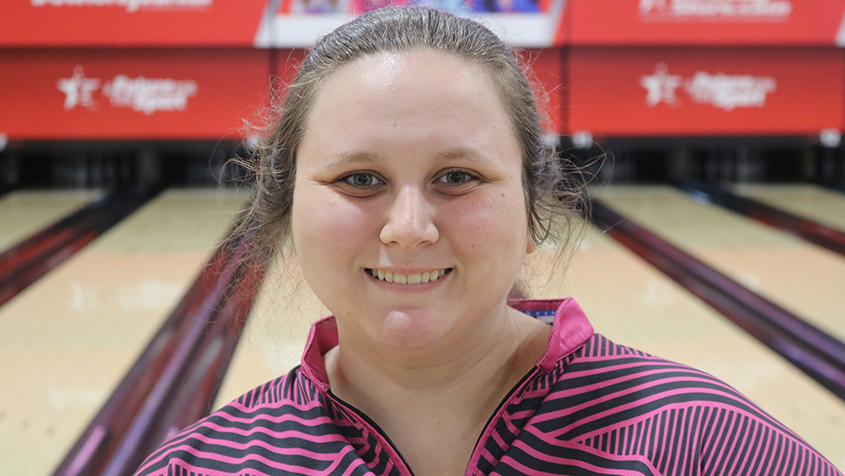 LAS VEGAS –
At the
United States Bowling Congress Women's Championships
, there always is the potential for an individual or team to make a run at the top of the leaderboard, and on Wednesday, there was no exception for one individual and one team at the South Point Bowling Plaza.
In the Amethyst Division, Annie Walls of Hammond, Louisiana, started strong in her team event Tuesday, shooting a 549 series. She came back to shoot 501 in singles and 481 in doubles Wednesday for a 1,531 total to take the top spot in all-events.
Eva Monica Ramirez of El Paso, Texas, had taken the lead in Amethyst All-Events on Tuesday with 1,518.
"It feels amazing," said Walls, who made her fourth consecutive appearance at the USBC Women's Championships. "I've never bowled this well at a national tournament before."
Going into her singles set, she needed a 489 series to take the outright lead, and by the 10th frame of Game 3, she needed a mark and good pin count to reach that number. Walls doubled and got nine pins on her fill ball to secure the top spot by 13 pins.
Walls thought she might have a shot at the lead, but she wasn't sure how close she really was, stating, "I tried to just focus on one ball at a time and staying calm."
That focus vaulted her to the top of the standings, and with just over a month of the 2023 tournament completed, she hopes that it's enough to hold for the remainder of the tournament.
Amethyst All-Events includes bowlers with entering averages of 125-137.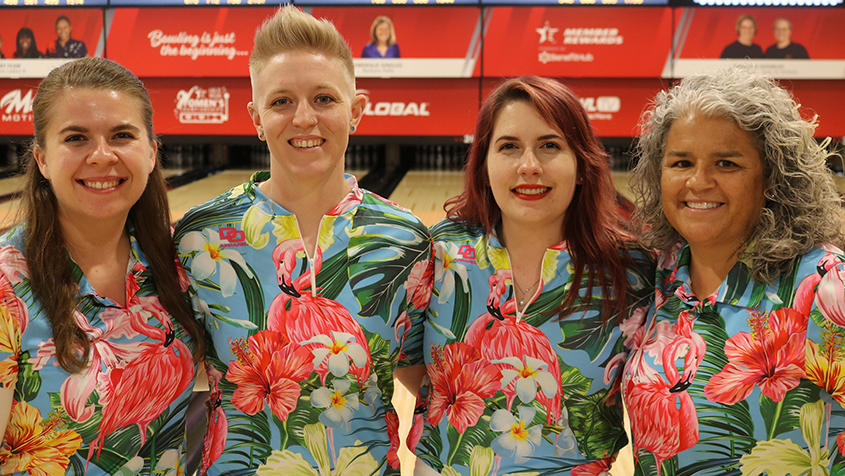 Pictured above (from left): Jennifer Porter, Whitney Berch, Katelynn Porter and Stephanie Gonzales
On Wednesday in Sapphire Team, the members of Flamingo Floozies 2 of Elk Grove, California, took hold of the lead after the previous leader – Strike Force of Toledo, Ohio – had held the top spot since the first day of the 2023 event on April 23.
The team started strong with a 703 in Game 1, and they were able to keep pace in the next two games, rolling scores of 555 and 586 to finish at 1,844, which was 11 pins ahead of the 1,833 posted by Strike Force.
Jennifer Porter led the way for Flamingo Floozies 2 with a 540 series and was joined by Whitney Berch (427), Katelynn Porter (451) and Stephanie Gonzales (426).
All of the team members except for Jennifer Porter were making their debut at the Women's Championships.
"We weren't expecting this at all," said Jennifer Porter, who made her second tournament appearance. "We came here to have fun while bowling. It was very much a team effort today. I always say there's no I in team."
That emphasis allowed the team to make their run to the top of the leaderboard, with hopes that it leads to a team title at the national event.
"It would be a dream come true for all of us," Jennifer Porter said.
Sapphire Team features four-player units with combined entering averages of 544 and below.
The 2023 Women's Championships started April 23 and will conclude July 2. The event will run for 71 consecutive days at the South Point Bowling Plaza and feature more than 4,200 four-player teams and nearly 17,000 bowlers.
Follow updates and more from the
official USBC Women's Championships Facebook page
.