Team squad features three 300s, lead change at 2023 Women's Championships
May 17, 2023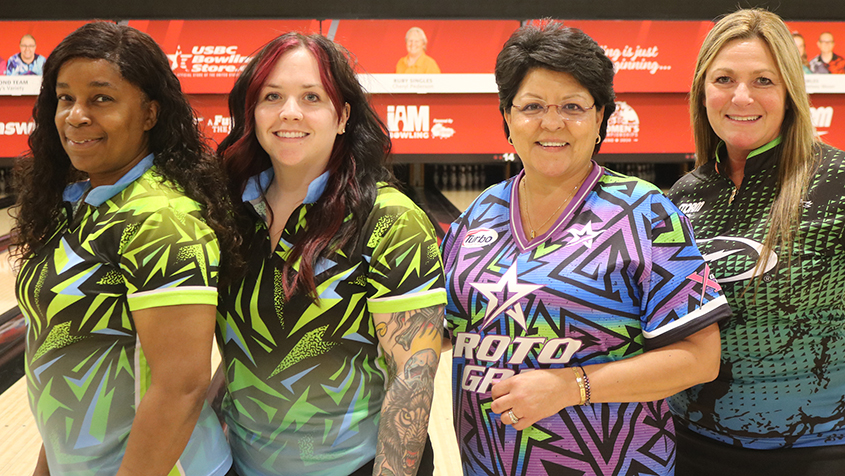 Pictured above (from left): Tracey Distel, Courtney Wooldridge, Rachel Perez and Jodi Woessner

LAS VEGAS –
An incredible showing of strikes was on display during team competition Tuesday at the 2023
United States Bowling Congress Women's Championships
, as three 300 games and a new leader in Diamond Team emerged from the same squad.
Two of the 300s were from the same team, as two-time champion Jodi Woessner of Oregon, Ohio, and Courtney Wooldridge of Danville, Kentucky, helped propel their group, Sterner Strong 2, to the top spot in Diamond Team with a 2,705 total.
The team rolled games of 952, 913 and 840 to take control of the lead at the South Point Bowling Plaza. Wooldridge led the way with a 751 series, and Woessner added 679. They were joined by two-time winner Rachel Perez (669) and Tracey Distel (606).
Country Bowl of Vancouver, Washington, had taken the lead Monday with 2,657.
Woessner, who rolled her 300 in Game 1, is no stranger to big numbers at the USBC Women's Championships. She is the record holder for the highest all-events total at the tournament, posting a 2,330 total during the 2010 event in El Paso, Texas, which also featured an 816 series in doubles.
"Usually I start slow, but I made a ball change at the very end of practice," said Woessner, who now is one of five competitors at the Women's Championships with both a 300 game and 800 series on the tournament lanes. "It was perfect right out of the gate."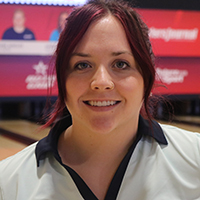 During Game 2, it was Wooldridge's turn to make a run at perfection.
"I was shaking in the 10th frame," said Wooldridge, who started with 215 and concluded Tuesday's set with 236. "I told myself to take a deep breath and make a good shot."
Woessner praised the team on how they never got too far behind in transition and had great chemistry.
She also noted that with so many other good teams around them with the start of the 2023 USBC Queens taking place Wednesday across town at the Sam's Town Bowling Center, the group used that as motivation to try and jump ahead of all of them for the leading spot, since no team had shot 2,700 to that point.
"If one person started to struggle, someone else held them up until they got back on it," said Woessner, the 2022 USBC Senior Queens champion. "I've been on a team where we had the lead for a short time but didn't win, so to come out and have a great team total, with Courtney bowling great all day, I hope it holds throughout the rest of the tournament."
Woessner recorded the fifth 300 of the 2023 Women's Championships, and Wooldridge had the seventh perfect game of the tournament. It was the fourth 300 on Tuesday, as Poland's Daria Pajak had connected for 12 strikes during her second game of doubles earlier during the day.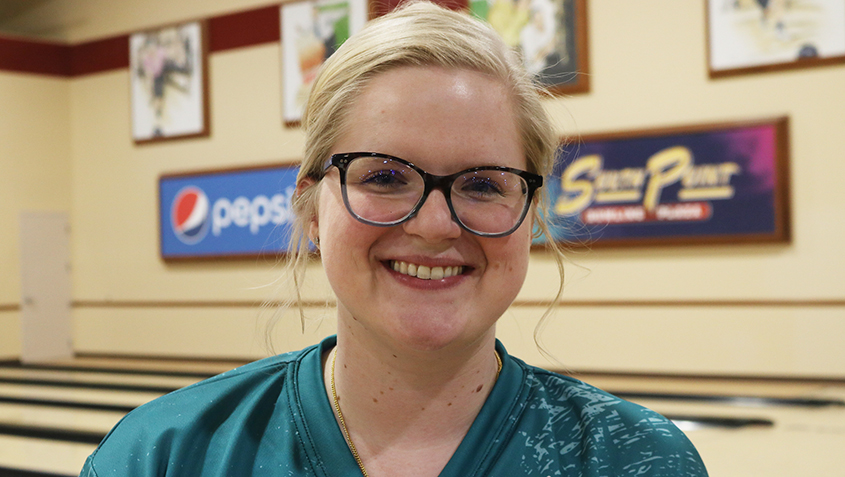 Mary Tang
Just as Wooldridge was preparing to step up for her final frame, Mary Tang of Blacklick, Ohio, was putting the finishing touches on the sixth 300 of the year to close her second game at the Bowling Plaza.
Tang's 300 officially put the 2023 Women's Championships in the record book, too, for the most perfect games during a single tournament. The 2014 and 2019 events each had five 300s for the year.
"I was very nervous, especially since I haven't had a 300 in a couple of years," said Tang, a former member of Junior Team USA from 2013-2015.
Tang aced all three shots in the 10th, and she noted the achievement was special for several reasons.
"It was pretty cool to do that with a group of people that we enjoy coming with every year," said Tang, who started the set with 216 and finished with 195 for a 711 series. "It's also my first 300 after having my daughter."
The effort from Tang also helped move her team into second place in the Diamond Division. Team Storm Utah of Brigham City, Utah, finished with 2,693. Tang was joined by Blair Blumenscheid (725 series), Katelyn Simpson (669) and 2017 Diamond Team champion Kayla Bandy (588).
Diamond Team includes four-player groups with combined entering averages of 665 and above.
The 2023 Women's Championships started April 23 and will conclude July 2. The event will run for 71 consecutive days at the South Point Bowling Plaza and feature more than 4,200 four-player teams and nearly 17,000 bowlers.
Follow updates and more from the
official USBC Women's Championships Facebook page
.