USBC launches "Why I Certify" brand awareness campaign
April 26, 2023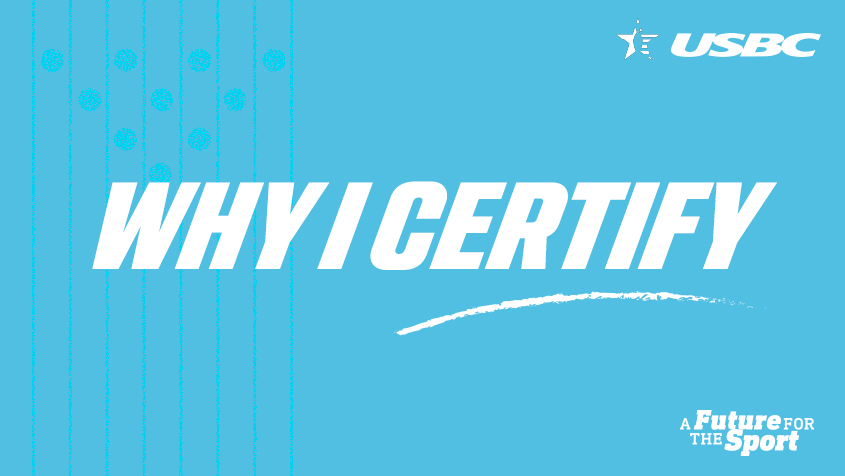 ARLINGTON, Texas –
The United States Bowling Congress announced a new multi-faceted brand awareness campaign featuring current USBC certified bowlers.
USBC reached out to current members and asked them to discuss their thoughts on why bowling certified in USBC competition was important. The resulting campaign, titled "Why I Certify," features USBC members talking about the importance of USBC certification and what bowling certified means to them.
"Through this campaign, our goal is to talk to bowlers about USBC's membership and why they choose to certify," said Melissa McDaniel, USBC President. "As most know, USBC's value goes well beyond traditional benefits; this campaign demonstrates that a vote for USBC certification is a vote for fair play, a vital component in ensuring a future for our sport."
As part of the campaign, USBC has created a new landing page at WhyICertify.com. The page allows you to get to know the USBC certified bowlers who participated in the campaign through videos, graphics and quotes.
Included in that group were the father/daughter duo of Justin and Addison Crumley. Justin summed up the importance to him of certifying with the USBC by saying, "Bowling is a part of my history. I want it to be a part of her future."
When visiting WhyICertify.com, bowlers are encouraged to share their own stories by filling out the form with their own "Bowling Is . . ." thoughts and stating what it means to them. The quotes will update weekly with new submissions.
Many of the interviews became emotional as participants described how being a USBC certified bowler has impacted their lives. The participants consistently conveyed the sentiment that "If you're for bowling, then bowling certified is for you."
Other elements of the campaign will include posts and videos on USBC social media platforms and BOWL.com, print and digital ads, and posted assets at USBC event sites.
For more information on the campaign, check out
WhyICeritfy.com
.