West Texas duo finds success in first appearance at Women's Championships
May 24, 2023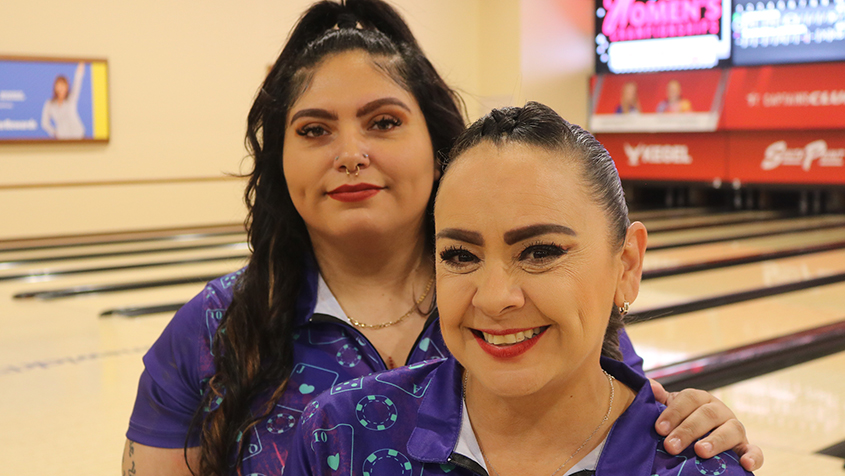 Pictured above (from left): Elisa Belden and Eva Monica Ramirez

LAS VEGAS –
For most first-time competitors, participating in an event like the
United States Bowling Congress Women's Championships
is a chance to test how you stack up against other bowlers from across the country and world.
Eva Monica Ramirez and Elisa Belden of El Paso, Texas, were able to turn their first appearance into seeing their names atop the standings at the 2023 event.
Ramirez and Belden put up impressive sets at the South Point Bowling Plaza on Tuesday to first take over the lead in Sapphire Doubles.
Belden led the charge with games of 201, 184 and 221 for a 606 series. Ramirez added games of 144, 178 and 193 for a 515 series. The duo finished with a combined total of 1,121.
Becky Culver of Glendora, California, and Anna-Marie Quon of Arcadia, California, previously held the lead in Sapphire Doubles at 1,086.
"It really means a lot to take over the lead here," said Belden, who has been bowling for three years. "This is our first Women's Championships, so this means a lot."
As first-time participants, Belden and Ramirez didn't let nerves stop them from putting on a strike fest during their doubles showing.
"Today, I came in with the right mindset and thought to myself that I can do this," Belden said. "If I can do this back home in El Paso, then I can do this here."
Sapphire Doubles features bowlers with combined entering averages of 276-297.
The leaderboard-topping performances didn't stop there for Ramirez, however, as she finished her squad as the new leader in Amethyst All-Events.
Ramirez's 515 series in doubles was backed up with another 515 in team, and she had 488 in singles for an all-events total of 1,518.
Helen Lewis of Oxford, Georgia, had held the lead since April 29 with 1,501.
"My husband pushed me to do this, along with my divas team and my women's club," said Ramirez, who has been bowling for two years. "I am lucky, and I am so blessed to have these ladies by my side."
Hard work and determination helped carry Ramirez to the top of the standings in two events at the 2023 Women's Championships. Her family and friends were right behind her cheering as she finished her final frame.
"She's a hard worker and puts in so much practice," Belden said. "She's improved very much."
When she was asked what it meant to come to the Women's Championships as a first-time bowler and put on a big show, Ramirez simply stated, "I feel proud of myself."
Amethyst All-Events features bowlers with entering averages from 125-137.
The 2023 Women's Championships started April 23 and will conclude July 2. The event will run for 71 consecutive days at the South Point Bowling Plaza and feature more than 4,200 four-player teams and nearly 17,000 bowlers.
Follow updates and more from the
official USBC Women's Championships Facebook page
.