Collegiate Hall Of Fame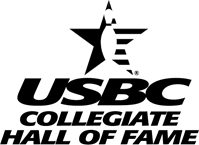 The creation of a USBC Collegiate Hall of Fame will honor the sport's collegiate history by inducting deserving candidates in one of three categories: Student-Athlete, Coach and Contributor.

Nominations are being accepted. The deadline to submit nominations is January 5, 2024.



.

The categories and eligibility criteria for each category are:
Student-Athlete

Completetion of at least two seasons as a collegiate member with nomination eligibility beginning 10 years after an individual's last year in USBC Collegiate competition.
Selected at least once as an NCBCA or IBMA All-American or at least twice as an NTCA, NAIA or Club All-American.
If a student-athlete does not meet the criteria above, the nominee's individual tournament results, performance in national championship events and post season awards will be considered.

Coach

Eligible for nomination after 20 years of active coaching. If an individual coaches less than 20 years, they will become eligible for nomination after their years of coaching and time after coaching equals 20.
Must have served as a coach (head or assistant) for a minimum of 10 seasons.
Must have coached teams with a final season power ranking (if coached during this era) in the top 10 for a minimum of five seasons.
Must have qualified for their respective national championship a minimum of five times.

Contributor

Must have demonstrated significant contribution to college bowling. Examples include:

Service on NCBCA or other affiliate (NJCAA, NTCA, NAIA, CTBCA, USBC Collegiate Advisory Committee) boards/committees.
Served as a tournament director.
Served in a national USBC Collegiate leadership/administrative role or made multiple significant financial/in-kind contributions to USBC Collegiate or their events.

Must have distinguished himself/herself through outstanding service in collegiate bowling. These individuals shall be persons who have demonstrated service, ideals, contributions and achievements above an beyond the ordinary to the sport.
The USBC Collegiate Hall of Fame will be a function of the USBC Collegiate Division. Governance shall be by the USBC Collegiate Hall of Fame committee, which will consist of a total of 14 individuals comprised as follows:
Five (5) USBC representatives appointed by the USBC Collegiate Advisory Committee.
Five (5) current USBC Hall of Fame members. All five shall be appointed by the Chair of the USBC Hall of Fame Committee.
Four (4) members of the bowling writing community with a minimum of 10 years of experience as recommended by recognized national bowling writer association.
For more information on the history of Collegiate bowling, click here.