How You Can Participate
HOW YOU CAN PARTICIPATE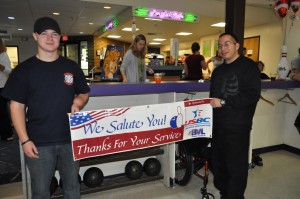 There are many ways to get involved! Whether you're a bowler, a bowling center employee, a community business member or simply a patriot, there are a variety of ways you can contribute:

Donate
Every donation is precious and goes to make a difference in the lives of our service members. Donating online is simple, fast and secure.

Create a BVL Bowling Fundraiser
Honor your local veterans by creating a "Heroes in our Midst" event that recognizes their service and sacrifice for their country. Proceeds from the event go to BVL to help support America's veterans.

Welcome home the troops by sponsoring a "Welcome Home: We Salute You" bowling party at Walter Reed National Military Medical Center! This event recognizes active duty service members and is a great way to get the community involved in supporting the efforts of BVL.

If you'd like to start a fundraiser or have questions, please contact Mary Harrar at mary@bvl.org or call 703-934-6039.