10-year-old bowler defies disability
July 24, 2012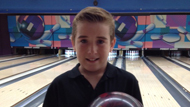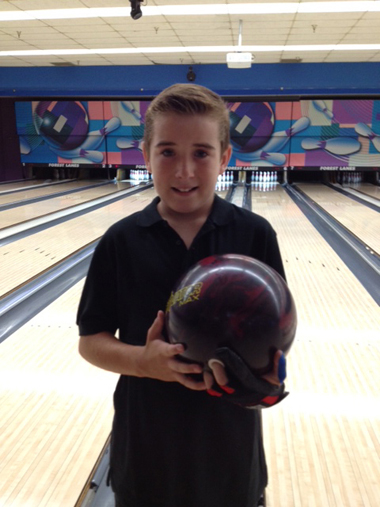 The office at Forest Lanes in Lake Forest, Calif., always has room for the equipment of a 10-year-old boy known there as "the mayor of the bowling center." Forest Lanes Youth Coordinator Treesa Spencer makes sure of that.
"Yes, we do give him special treatment," she chuckles.
And that is where you will find
Sam Grayston
most days, quietly wheeling his four bowling balls out to the lanes again. Spencer, who says Sam bowls at least 40 games per week, readily admits she might never have known there was anything more to his story than a kid who found the thing he loves.
"It was more than a year before I knew he had any kind of disease," Spencer says. "He never shows it, never complains, never talks about it. I don't know, I keep waiting for him to switch to right brain once in a while and act like a 10-year-old, but he doesn't. He stays left-brained and he is focused, intelligent, mature, just an incredible kid."
Sam was born with
cystic fibrosis
, a chronic illness that affects the lungs and digestive system. The condition affects 30,000 people in the United States alone, and it can cause the lungs to become clogged with mucus and prevent the body from digesting food. Sometimes, as Grayston wheels his equipment out of the office at Forest Lanes again, he does so fresh off of another battle with the affliction.
"The day he got out of the hospital a couple months ago, he didn't even let his parents take him home," Spencer says. "He made them take him straight to the bowling center. That was the deal; they had to promise to take him bowling.
"When I went to see him in the hospital I thought he was going to be lying there feeling sorry for himself and looking sick. That was not the case. He had these tubes in his arm for the treatment, but he was smiling and happy. I brought him a bowling pin and he was thrilled with that."
The battle Sam prefers to focus on more than any other, though, is his battle against the pins. Last Friday, while practicing with a coach, he won the battle. Grayston posted his first 300 game.
"Tons of people were standing around watching, and everyone got really quiet, especially because it was Sam," Sam's mother, Laurie, explains.
But if you think Sam plans to stop with just one 300 game, think again.
"For some people, it's a once-in-a-lifetime thing," Sam says. "But for me, I think I will do it again."
So does everyone else he knows.
"He has this attitude of 'If you tell me I can't do something, I am going to do it,'" says 2011 United States Bowling Congress
Queens
champion,
Missy Parkin
, who coaches Sam on occasion. "We need a lot more youth bowlers like him that are so pumped up just to be bowling and loving it. I can't say enough good things about him. He is just the cutest little boy ever. He's just always happy, and he loves bowling to death."
Only a boy with a can-do attitude could have made it out of the circumstances in which he was born, which included major surgery immediately after birth and a diagnosis of cystic fibrosis 11 days later. Today, Sam's life involves regular hospital visits, seven breathing treatments per day, and the use of a "breathing vest" which, as one ABC News story describes it, "shakes him vigorously to clear mucus from his lungs."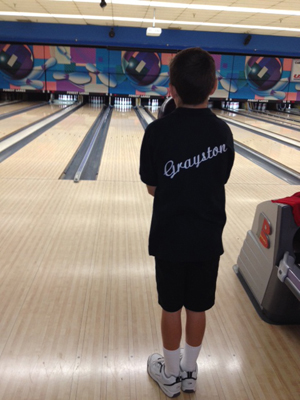 "Everybody has a different normal," Laurie Grayston puts it. "Everybody starts their day off differently, you know? It's just like, 'OK, just like you have to take a shower every day, you have to take your breathing treatment every day. It's just how we get ready for our day and how we get ready for bed. This cystic fibrosis does not hold him back in any way."
But the lanes are not the only place where Sam proves that cystic fibrosis has met its match in the kid whom doctors once said would not be able to sit up straight, no less bowl 300 at age 10.
The son of an athletic father, Joe, who was drafted by the Texas Rangers as a shortstop in the 15th round of the 1984 Major League Baseball draft, Sam plays baseball, golf and, just like any kid on the block, enjoys riding his bike and playing tag.
"Well, there are other sports I am good at, but I get hurt way more often than I do in bowling," Sam explains. "In bowling, you can have fun no matter what. Everyone should do it."
As for other parents of children struggling with disability, Laurie Grayston has some advice.
"Enjoy them for who they are; you are so blessed to have them," she says. "They teach you something every day about persevering and moving on and not letting the little things get in your way."