16 teams claim USA Bowling regional titles
December 02, 2014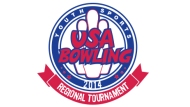 ARLINGTON, Texas – More than 550 youth bowlers took part in eight USA Bowling regional tournaments that were held throughout the country this fall with 16 teams – one Under 12 team and one Under 15 team at each regional – claiming titles.

USA Bowling is a team-based youth program offered through the International Bowling Campus. The program launched the USA Bowling Regional tournaments last year as the first step in the development of a premier event for youth team competition.

Starting the first week in October, USA Bowling conducted a regional tournament each weekend for a total of eight events in 2014. Each two-day regional offered Under 12 and Under 15 divisions for teams; each team was comprised of four to six bowlers. The tournament format utilized the Baker format during the two days of competition.

"The USA Bowling Regional tournaments provide young bowlers an opportunity to engage in an exciting team competition," said Chad Murphy, United States Bowling Congress Executive Director and IBC Managing Director of Youth Development. "We took another step this year as we continue to build the regional tournament program toward a national event."

For 2015, the plans are to host 16 events with advancers from each of the regional events invited to compete in the first USA Bowling National Championships in 2016.

The regional tournaments were held at Mike Aulby's Arrowhead Bowl in Lafayette, Indiana; Paradise Bowl in Tacoma, Washington; Don Carter Lanes in Rockford, Illinois; Pin Chasers Midtown in Tampa, Florida; Northrock Lanes in Wichita, Kansas; Rab's Country Lanes in Staten Island, New York; Fountain Bowl in Fountain Valley, California; and Vestavia Bowl in Birmingham, Alabama.

USA Bowling is a mainstream competition model that was initiated to introduce youngsters to bowling. It follows the same structure as other youth sports by placing children on a team, providing each team with a coach and then having regular practices along with weekly competitions.

USA Bowling is a product of the YES Fund, a joint initiative of the Bowling Proprietors' Association of America and United States Bowling Congress supported by founding partners Bowling.com, Brunswick, Columbia 300, Ebonite, Hammer, QubicaAMF, Roto Grip, Storm and Track.

Go to BOWL.com/USABowling to learn more about the program.
2014 USA BOWLING REGIONAL CHAMPIONS
Lower Great Lakes Region (Mike Aulby's Arrowhead Bowl, Lafayette, Ind.)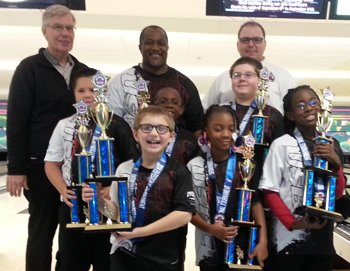 U12 Champion: Olympia Lanes
Bowlers: Kamryn Davis, Mitchell Garcia, Diamond Gist, Julian Lashbrook, Zachary Packer, Aidan McBride. Coach: Cornell Davis
 


U15 Champion: Owensboro Elite Youth
Bowlers: Ryan Gatton, Evan Decker, Brandon Pendley, Emma Owens. Coach: Tammy Owens

Pacific Northwest Regional (Paradise Bowl, Tacoma, Wash.)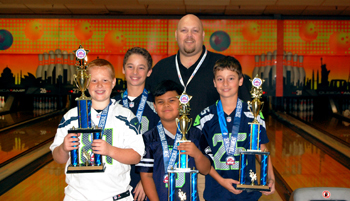 U12 Champion: Junior Mints
Bowlers: Cosmo Castellano, Austin Portalski, Blake Portalski, Tyler DeNune. Coach: Neil DeNune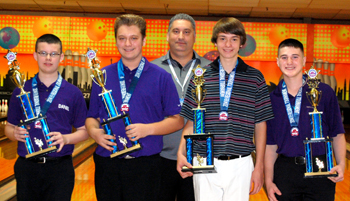 U15 Champion: APEX
Bowlers: Parker Portalski, Jacob Mullen, Tommie McNeal, Daniel Johnson. Coach: Jeff Portalski

Heartland Regional (Don Carter Lanes Rockford, Ill.)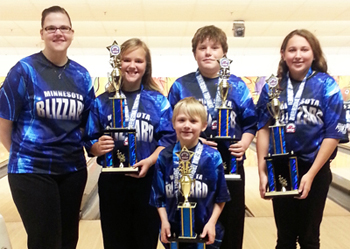 U12 Champion: Minnesota Blizzard
Bowlers: Hana Roers, Carter Oswood, Cole Anderson, Hailey Triske. Coach: Ryan Oswood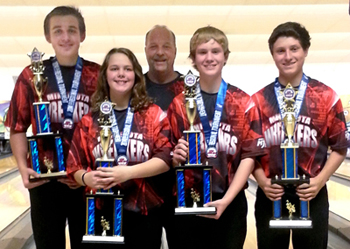 U15 Champion: Minnesota Wreckers
Bowlers: Riley Murphy, Max Roers, Hannah Triske, Bryan Bordes. Coach: Dan Triske

Coastal South Regional (Pin Chasers Midtown,Tampa, Fla.)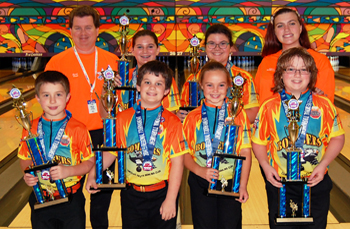 U12 Champion: Bombers Orange
Bowlers: Aidin Deboer, Angel Gustafson, Hannah Diem, Joshua Brown, Logan Sherk, Alexa Schell. Coach: Scott DeBoer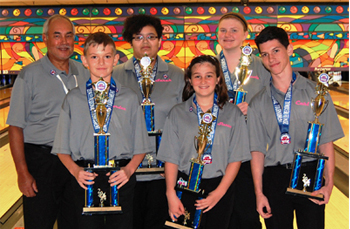 U15 Champion: Natural 5
Bowlers: Sierra Poole, Mackenzie Bock, Carl Mohr, Jordan Davis, Sarah Lowther. Coach: Walter Sessions

Midwest Regional (Northrock Lanes, Wichita, Kan.)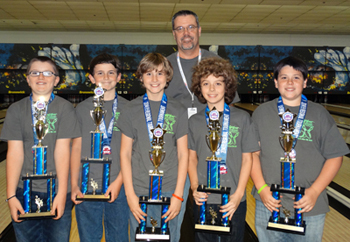 U12 Champion: Pro-Bowlers
Bowlers: Brandon Bonta, Silas Limes, Grayson Murphy, Aiden Cain, Jack Burnes. Coach: Kelly Bonta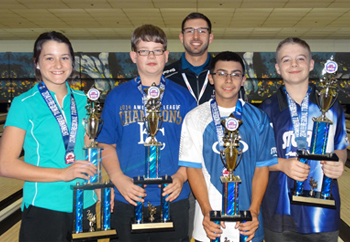 U15 Champion: Super Bowlers
Bowlers: Gabe Alvarez, Brandon Collins, Peyton Montgomery, Addie Herzberg. Coach: Kevin Andes

Northeast Regional (Rab's Country Lanes, Staten Island, N.Y.)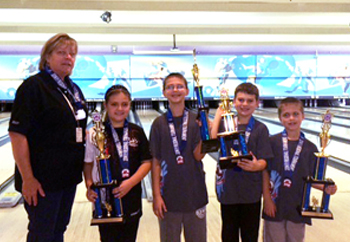 U12 Champion: Golden Lions
Bowlers: John Clinton, Brianna Mester, Tyler DeLuca, Ryan Clinton. Coach: Liz DeHart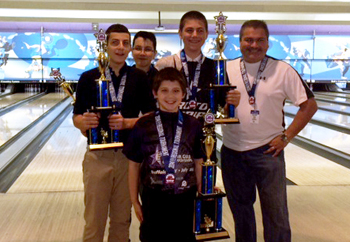 U15 Champion: Half Fast
Bowlers: Jason Wichnovitz, Ken Soto, Thomas Martire, Anthony Everts. Coach: Ken Soto

Pacific Southwest Regional (Fountain Bowl, Fountain Valley, Calif.)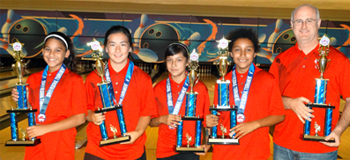 U12 Champion: Here Come the Girls
Bowlers: Halie Morgan, Jackie Azvedo, Ali Azvedo, Kaitlynn Martin. Coach: Mike Martin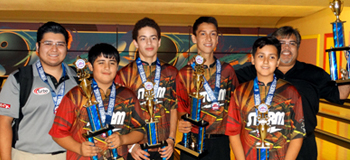 U15 Champion: Survivors
Bowlers: Miguel Meraz, Alberto Bernal, Axel Barajas, Marco Flores. Coach: Fred Curtis

South Regional (Vestavia Bowl, Birmingham, Ala.)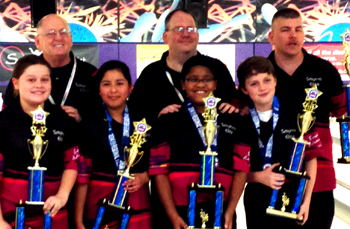 U12 Champion: Smyrna Elite Blue
Bowlers: Elizabeth Coutta, Devean Littlejohn, Katherine Campbell, Paeton Dwinnell. Coach: Kevin Tyler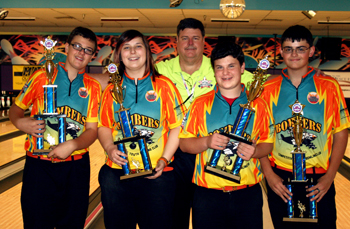 U15 Champion: Bombers Orange
Bowlers: Emma Elfrink, Michael Rohr, Duke Crouch, Stephen DeLong. Coach: JC Crouch