2015 Senior Championships concludes in Green Bay
August 07, 2015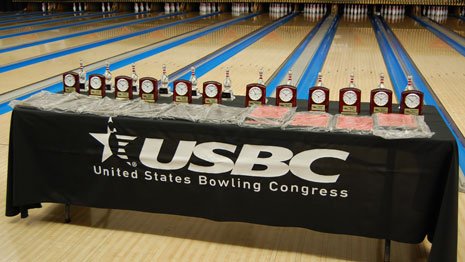 Complete scores | Photos



GREEN BAY, Wis. -
After multiple attempts to qualify for the
United States Bowling Congress Senior Championships
, Alex Inglet of Preston, Idaho, finally was able to break through on the biggest stage for senior bowlers, and he found his way back into the spotlight this week at The Ashwaubenon Bowling Alley.
Inglet successfully defended his title in the Open Division's 60-64 category with a nine-game handicap total of 2,232 and highlighted a group of 12 champions Friday at the 2015 USBC Senior Championships.
"After three years of not being able to qualify, this is unbelievable," said Inglet, whose 2014 win came at the National Bowling Stadium in Reno, Nevada. "I come from a place with old wood lanes and no automatic scoring, so it's always a challenge to bowl in other places. My daughter, Valerie, was here to help me this year, and I couldn't have done it without her. Unbelievable is the best word I can think of to describe this right now."
The 2015 Senior Championships featured two divisions - Open and Women's - with six age classifications (50-54, 55-59, 60-64, 65-69, 70-74, 75 and above). All winners received a $1,000 top prize.
In the Open Division's 55-59 category, there was a three-way tie heading into Friday's three-game medal round. William Hatch of Woodstock, Illinois, found himself one pin back, while first and sixth place were separated by just 27 pins.
Despite a slow start in the medal round, Hatch made his way to the top of the standings with a 1,941 total, just two pins ahead of defending champion Patrick Foley of Sparks, Nevada.
"I made a ball change in the second game, and that was the difference," Hatch said. "I just wanted to do the best I could, and after the first game, I was down, but still fighting. Even now, it still hasn't sunk in yet. My wife didn't believe it either, even after we added it all up."
On the women's side, Sarah Burton of Toccoa, Ga., overcame the biggest deficit of the event to win the 65-69 category.
Burton was down 42 pins heading into the final three games and claimed the title with a 2,083 handicap total for her nine games. Sandy Rogers of Alton, Mo., climbed into second place with a 2,072 total.
"I'm tickled to death," Burton said. "I wanted to make Georgia proud because they sent me here, and I feel like I did that. We drove here, which was more than 900 miles, and we've been here all week. We've had a really good time."
All Senior Championships competitors bowled six games over two days, after which the field in each category was cut to the top six bowlers, who returned for a three-game medal round. All pinfall carried over, and winners were determined based on their nine-game totals.
The Senior Championships is a national event for bowlers who have qualified through their state's senior tournament. This year's event featured more than 400 participants from across the United States and Canada vying for a share of a prize fund of more than $40,000.
It was the third USBC tournament held at The Ashwaubenon Bowling Alley in recent weeks. The run started with the
USBC Senior Masters
, which was followed by the
International Training and Research Center Super Senior Classic.