2016 USBC Senior Championships concludes in Las Vegas
August 12, 2016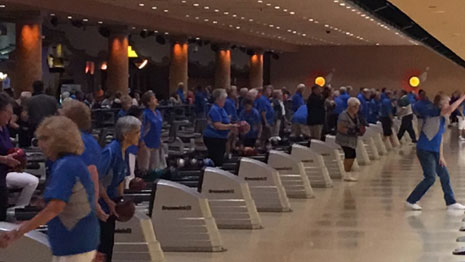 Results | Photos 

ARLINGTON, Texas -
Las Vegas was the place to be this week as nearly 450 bowlers from 48 states and three Canadian provinces tried their luck at the 2016
United States Bowling Congress Senior Championships
.
Top USBC members, age 50 and older, met at the Sunset Station Strike Zone Bowling Center in the Las Vegas suburb of Henderson, Nevada, where all competitors bowled six games of qualifying over two days, before the field in each of the 12 categories was cut to the top six for a three-game medal round.
Nine-game pinfall, with handicap included, determined the 12 champions for the 2016 event.
The 2016 Senior Championships featured two divisions - Open and Women's - with six age classifications (50-54, 55-59, 60-64, 65-69, 70-74, 75 and above). All winners received a $1,000 top prize.
In the Open Division, two championship trophies are headed back to California, while defending champion Kenny DeYoung of Valley Springs, Arkansas, just missed a second consecutive title.
Sharon Pearson of Syracuse, Utah, edged DeYoung, 2,121-2,067 to win the 50-54 age category. Other winners in the Open Division were:
55-59 -
Dean Dalmacio of Fremont, California (2,040);
60-64 -
Randy Ridgeway, Casper, Wyoming (2,178);
65-69 -
George Fleischman of Grants, New Mexico (2,278);
70-74 -
Yukio Mizumoto, Clovis, California (2,240) and
75 and above -
John Haselwander of Sauk City, Wisconsin (2,185).
Fleischman won by the biggest margin of victory, 139 pins, while Dalmacio finished just six pins ahead of the runner-up in the 55-59 category.
On the women's side, Linda Percy (60-64) and Donna Shipley (65-69) outdistanced their classifications by 48 and 49 pins, respectively to bring a pair of titles home to Piedmont, Missouri. Percy's total pinfall was 2,146 and Shipley had a 2,094 nine-game effort.
Other winners in the Women's Divisions were:
50-54 -
Teri Lewis, Healy, Alaska (2,161);
55-59 -
Tami Williams, Limon, Colorado (2,207);
70-74 -
Patricia Pyles, Bono, Arkansas (2,134);
75 and above -
Eula Raye Cook, Sparta, North Carolina (2,128).
The Senior Championships is a national event for bowlers who have qualified through their state's senior tournament. This year's event featured 449 competitors and a prize fund of more than $44,000.