2018 USBC Convention comes to a close
April 26, 2018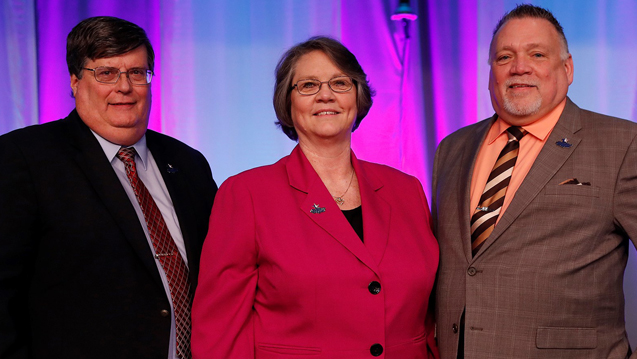 Incumbents Jay Daryman and Karen Jost will be joined on the board by Dennis Hacker. Delegates voted in the three candidates during Thursday's legislative session.


RENO, Nev. –
The 2018 United States Bowling Congress Convention and Annual Meeting wrapped up Thursday at Grand Sierra Resort with delegates voting on proposed legislation and for the three open positions on the USBC Board of Directors.
The USBC Nominating Committee slated three candidates for the three open board positions – incumbents Jay Daryman of York, Pennsylvania, and Karen Jost of Tumwater, Washington, along with Dennis Hacker of Longtown, Missouri. No candidates ran from the floor.
Following a motion, and a second, for acclimation of the three candidates, Daryman, Jost and Hacker were elected by delegates by voice vote. It will be the third three-year term for Jost, the second term for Daryman and the first for Hacker. All three will begin their terms on Aug. 1, 2018.
Also, during the Annual Meeting, delegates voted on eight proposed amendments – two for league rules, three related to tournament rules and three proposals to bylaws.
Both league rules were rejected while all three tournament rules, including the rule requiring tournament managers to be members of USBC, were accepted.
Two of the bylaws proposals passed, including the national bylaws proposal to allow the USBC President and Vice President to serve a two-year term with a limit of two terms and for a USBC President elected in his/her ninth year to remain on the board with a 10-year maximum.
The National Recognition Awards and national youth awards, including the Alberta E. Crowe and Chuck Hall Star of Tomorrow awards, were presented on Thursday.
Delegates also heard reports from USBC President Frank Wilkinson and USBC Executive Director Chad Murphy, plus reports from the USBC Strategic Planning Committee and from International Bowling Campus Youth Development.
Highlights from Convention week include USBC's announcement of new specifications for bowling balls. The new specifications, established by the USBC Equipment and Specifications Committee, will be implemented over the course of the next two seasons. Visit
BOWL.com/BowlingTechnologyStudy
to learn more about the specification changes.
Other highlights included the annual presentations for Bowl for the Cure® and the Bowlers to Veterans Link (BVL).
BVL, which was founded in 1942 and is the sport's oldest charity, provides recreational and therapeutic programs and services to America's active duty and veteran service men and women. Delegates had the opportunity to hear from Marine veteran Johnny "Joey" Jones, who lost both legs after stepping on an IED in Afghanistan, and who now works with Southern Ground, a camp for children ages 7-17 and military families.
Through contributions raised during the 2016-2017 season, BVL raised just over $1 million for the Department of Veterans Affairs. California once again was the top state association contributor with $113,874 while Metro Phoenix USBC led local associations with $27,070. Learn more about BVL at
BowlForVeterans.org
.
Bowl for the Cure® is a year-round fundraising initiative sponsored by USBC in partnership with Susan G. Komen®. Thanks to the efforts of donations from local and state associations, plus the sale of merchandise and online donations, USBC presented a $413,922 check to Susan G. Komen®.
USBC has raised more than $11 million through Bowl for the Cure since 2000. Visit
BOWL.com/BFTC
to learn more.
RESULTS OF 2018 USBC ANNUAL MEETING LEGISLATIVE SESSION
League Rules (majority needed)

Amendment No. LR 1 – Rejected (39 accept, 803 reject)
Rule 109c, Tardy Players
Defaults the rule to allow tardy bowlers to make up missed frames.
Amendment No. LR 2 – Rejected (26 accept, 802 reject)
Rule 118c, League Entering Average
Changes default for entering averages.
Tournament Rules (majority needed)

Amendment No. TR 1 – Accepted (830 accept, 12 reject)
Rule 303, Management, New Rule
Requires all Tournament Managers to be members of USBC.
Amendment No. TR 2 – Accepted (772 accept, 55 reject)
Rule 319a, Conditions that Apply
Removes requirement for tournament managers to utilize printed average books.
Amendment No. TR 3 – Accepted (708 accept, 133 reject)
Rule 325, Team Bowling Alone
Allows a tournament to have a rule to allow teams bowling alone to set their own pace.
Bylaws (two-third votes needed)

Amendment No. B 1* – Accepted (758 accept, 82 reject)
USBC National Bylaws
Article IV, Board of Directors
Section C. Terms
Article V, Officers
Section B. Election or Employment
Section C. Term
Amended proposal: Changes the President and Vice President to two-year term, limit two terms. A President elected in his/her ninth year will be allowed to remain on the board with 10-year maximum.
*Note: Motion to amend proposal from one term to two terms was accepted (671 accept, 163 reject).
Amendment No. B 2 – Rejected (111 accept, 717 reject)
USBC National Bylaws
Article VI, Meeting
Section A. Annual Meeting
Allows voting at the USBC Annual Meeting to be done offsite.
Amendment No. B 3 – Accepted (657 accept, 147 reject)
USBC Merged State Bylaws
Article V, Board of Directors - Management
Section A. Board Composition, Authority and Duties
Allows states to have up to two "at-large directors".