2018 USBC Senior Championships crowns 12 winners in Reno
August 04, 2018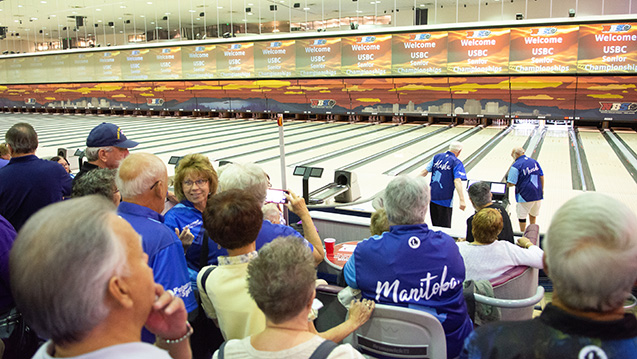 PHOTO ALBUM

RENO, Nev.
- The
2018 United States Bowling Congress Senior Championships
concluded Friday at the National Bowling Stadium, recognizing 12 champions from 11 states.
Nearly 400 bowlers from across the United States and Canada laced up at the 78-lane venue and competed in one of two divisions - Open and Women's - and six age classifications (50-54, 55-59, 60-64, 65-69, 70-74, 75 and above).
Competitors bowled a pair of three-game qualifying blocks over two days to determine the six players in each division advancing to Friday's medal round. The six qualifiers from each division were determined by total pinfall, including handicap.
Pinfall was dropped for the medal round, but bowlers were awarded bonus pins based on their qualifying position (50 bonus pins for first, 40 pins for second, etc.).
In the Women's Division, three of the top qualifiers went onto capture titles in the respective age classifications.
Eileen Windler of Fowler, Indiana, cruised to the top spot in the 75 and above category with a 726 total, while Kim Hasser of Oxford, Indiana, and Josephine Morris of Thedford, Nebraska, took advantage of their bonus pins to squeak out victories in 55-59 and 70-74, respectively.
Hasser and Trudy Quint of Winnipeg, Manitoba, posted the same total series, including handicap (692), but Hasser's bonus pins ended up giving her the overall win, 742-732. Quint qualified in second place in 55-59.
Morris posted the third-highest series (685) in 70-74, but her bonus pins let her edge Phyllis Franklin of Paducah, Kentucky, 735-731, to claim the title.
Three lower seeds won in the other age classifications. Angie Decker of Louisville, Kentucky (782), and Anita Ruder of Hays, Kansas (723), each qualified third to win in 50-54 and 60-64, respectively.
Charlotte Winklepleck of Strasburg, Colorado, made the biggest jump in the women's division, racing from fourth place in qualifying to the top spot in the 65-69 classification with a 750 total.
In the Open Division, Terry Lindner of Ringtown, Pennsylvania, made the largest comeback after qualifying in fifth place in the 65-69 group.
Lindner rolled a 736 total Friday, which was enough to hold off top qualifier Bobby Goss of Carrollton, Mississippi, who finished in second with 727.
Four of the six top qualifiers went on to capture titles in the Open Division.
Max Honke of Salem, South Dakota, posted the highest overall total (811) to win in the 70-74 group, and he was joined at the top of the standings by Sharon Pearson of Syracuse, Utah (772), in 50-54, Charles Fick of Vancouver, Washington (772), in 55-59 and Jerry Martinez of Hayward, California (712), in 60-64.
Phillip Smalley of Londonderry, New Hampshire, jumped one spot in the standings after qualifying second in the 75 and above category, taking home the win with a 705 total.
Competitors at the 2018 USBC Senior Championships earned their spots in this week's field through their state or province's senior tournaments.