2022-2023 Dexter High School All-American Team announced
July 16, 2023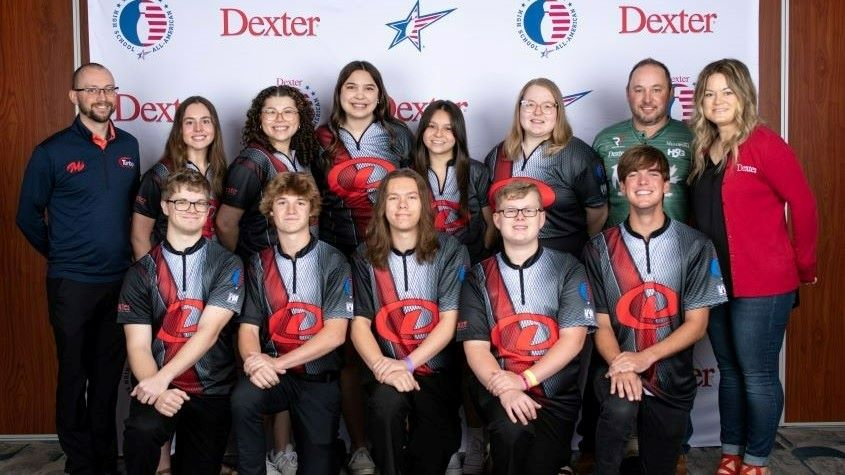 ARLINGTON, Texas
– The Dexter High School All-American Team has been announced for the 2022-2023 school year, with Jena Edwards of DeWitt, Iowa, and Tyler Amos of Jackson, Missouri, named as captains.
The teams were selected by Dexter Bowling in consultation with the International Bowling Campus Youth Development staff. Each team is comprised of five student-athletes who had to participate on a recognized interscholastic high school bowling team during the 2022-2023 school year.
Applicants were required to have at least a 3.0 GPA (on a 4.0 scale) and submit a resume of their bowling and academic achievements, along with an essay, to be considered for the team. They also were required to provide recommendation letters from their coaches or athletic directors and at least one additional letter of recommendation.
"On behalf of everyone at Dexter Bowling, I would like to congratulate this year's Dexter High School All-American recipients. We are extremely proud to have these amazing individuals as a member of the Dexter Bowling Family," said Paul Sylvia, Dexter Bowling Vice President.
"Although there was an abundance of qualified candidates, these student athletes not only achieved incredible success on the bowling lanes, but their academics and community involvement are truly inspiring. Their leadership both on and off the lanes has elevated the status of this prestigious award, and they are role models for others to follow. We wish them the best as they take the next step in both their bowling and academic careers."
Each team member will receive a $1,000 scholarship. Edwards and Amos were announced as captains during a breakfast Sunday as part of the 2023 Junior Gold Championships in Indianapolis. Both captains will receive an additional $500 scholarship and take home the Bud Clapsaddle Award, named for the former Dexter Bowling vice president who oversaw selection of the first 12 teams.
The girls team includes:
Jena Edwards (DeWitt, Iowa)
– The senior maintained a 3.98 GPA and was ranked in the top 10 of her graduating class at Central DeWitt High School despite taking on a course-load filled with college-level, dual-credit and honors-level classes. She was a four-year member of the bowling team, Future Business Leaders of America, student council and concert/marching band. On the lanes, Edwards has authored outstanding performances at tournaments such as the 2021 Iowa State Youth Championship Tournament, where she took first place in Division I Singles and All-Events. Also, she qualified for the national finals at the 2022 Junior Gold Championships.
Emily Merten (Omaha, Nebraska)
– The senior excelled both in the classroom and as a participant in several extracurricular activities while at Millard North High School. Merten maintained a weighted GPA at or above 4.0 throughout her high school career, leading to her earning MNHS Academic Letter Winner status multiple times. She also earned multiple letters as a member of the Millard North band, which contributed to her being awarded a band scholarship from Mount Mercy University. Merten's prowess on the lanes – she was the 2023 USBC Youth Female Ambassador of the Year and the 2023 Greater Omaha Sports Committee top female athlete for the winter season – caused Mount Mercy to offer her a bowling scholarship as well.
Anna Osias (Memphis, Tennessee)
– The lone junior among the girls, Osias is carrying a 4.27 GPA (weighted) while enrolled in multiple honors and AP courses at St. Agnes Academy. Osias' extracurricular involvement is equally impressive as she's been a Class of 2024 student officer, chief editor of the Calliope Art & Literary Magazine and a St. Agnes Academy retreat leader, to name a few. On the lanes, Osias was the 2023 St. Agnes Academy Bowling Team Most Valuable Player and the 2023 Miss Tennessee Bowling runner up.
Maia Struble (Anchorage, Alaska)
– The senior is this year's only two-time Dexter High School All-American Award recipient, having earned the honor last season as well. Struble finished her career at Dimond High School with a 4.17 GPA (weighted) and graduated Summa Cum Laude. She was the Senior Class Secretary and was a member of the National Honor Society and Key Club. Struble is a four-time member of the Anchorage Scholastic Bowling League All-Star Team and a three-time Girls Bowler of the Year. She also held the girls high average (199) for the league in 2023 and helped lead her team to the state championship. Struble is a three-time winner in the Alaska Pepsi Championships (U10, U12 and U15) and a past Alaska Youth Scholarship Tournament champion.
Tamia Yeager (Tacoma, Washington)
– The sophomore is the youngest of this year's recipients; nevertheless, her list of accomplishments is just as impressive as those of her older counterparts. She's established a 3.8 GPA while taking multiple honors and AP classes as well as studying both Korean and French. Yeager has performed a long list of community service tasks, volunteering at local food banks, working with the Twinstar Community Foundation's Homeless Backpacks program and helping procure donations for the Tacoma Rescue Mission organization. On the lanes, Yeager helped Spanaway Lake High School to a fourth-place finish at this year's state tournament, where she secured a third-place finish in the individual standings.
The boys team features:
Tyler Amos (Jackson, Missouri)
– The senior from Jackson Senior High School was named captain of this year's Dexter High School All-American Team after finishing his high school career with a 3.8 GPA and a host of impressive achievements on and off the lanes. While at Jackson High School, Amos was involved with the Fellowship of Christian Athletes (FCA) and Feed My Starving Children as well as serving as a Special Olympics volunteer. He was named the 2023 Missouri State USBC Male Youth Bowler of the Year and the Marvin Townsend Leadership Award winner. He also qualified for the national finals at this year's Junior Gold Championships.
John Eversole (Fairfield Township, Ohio)
– The senior graduated Summa Cum Laude from Fairfield Senior High School with a 4.02 GPA and ranked in the top 15 percent of his graduating class of just under 850 students. Eversole has served as a Community Christian Church Pre-School Team Leader since 2019 and has participated in the Chick-fil-A Leadership Academy since 2020. He was named captain of the varsity bowling team at Fairfield High for the 2023 season, during which he also won the Academic All-Ohio Award.
Braden Mallasch (Waupaca, Wisconsin)
– The senior earned straight A's multiple semesters while completing his studies at Waupaca High School, where he finished with a 3.94 cumulative GPA. Mallasch also shined outside the classroom, serving in the National Honor Society, Social Media Club and Student Council as well as acting in multiple performances for Waupaca's Drama Department. While bowling for Waupaca, Mallasch was a three-time state qualifier, a three-time all-star qualifier and won the boys state singles title at the 2023 Wisconsin High School Championships.
Weston Metts (Louisville, Kentucky)
– The senior filled his four years at Saint Xavier High School taking as many honors and AP classes as his schedule would allow; nevertheless, he earned straight A's every semester of his academic career and also notched a perfect score of 36 on his ACT. For that achievement, Metts earned National Merit Finalist status and was nominated for the 2023 United States Presidential Scholarship Program, an honor that is only bestowed upon 5,000 of roughly 3.6 million American high school students each year. On the lanes, Metts was a 2023 Junior Gold Championships national finalist, the Kentucky High School Athletic Association Region 4 runner-up and a top-20 finisher at the 2023 KHSAA state finals.
Andrew Robitaille (Pittsfield, Massachusetts)
– The senior managed to maintain High Honors status and 4.0 GPA throughout his career at Taconic High School despite challenging himself with several honors and AP classes. Robitaille was equally impressive in the community, volunteering at multiple local food pantries, participating in the Pittsfield Parade Banner and assisting with child care at the Smart Start Day Care Center. He was part of the Taconic Varsity Bowling Team's second-place finish at the 2022 Massachusetts High School Athletic Association State Tournament, and he was a two-time national finalist at the Junior Gold Championships (2019 and 2021).
For more information on high school bowling, including the Dexter High School All-American Team and grant initiatives to assist high school programs, visit
BOWL.com/HighSchool
.
2022-2023 DEXTER HIGH SCHOOL ALL-AMERICAN TEAM
Name, Hometown, Year, High School
Girls Team
*Jena Edwards, DeWitt, Iowa, Senior, Central DeWitt High School
Emily Merten, Omaha, Nebraska, Senior, Millard North High School
Anna Osias, Memphis, Tennessee, Junior, St. Agnes Academy
Maia Struble, Anchorage, Alaska, Senior, Dimond High School
Tamia Yeager, Tacoma, Washington, Sophomore, Spanaway Lake High School
*Team Captain
Boys Team
*Tyler Amos, Jackson, Missouri, Senior, Jackson Senior High School
John Eversole, Fairfield Township, Ohio, Senior, Fairfield Senior High School
Braden Mallasch, Waupaca, Wisconsin, Senior, Waupaca High School
Weston Metts, Louisville, Kentucky, Senior, Saint Xavier High School
Andrew Robitaille, Pittsfield, Massachusetts, Senior, Taconic High School
*Team Captain