2022 USBC Convention concludes
April 28, 2022
LAS VEGAS -
Delegates elected three board members and voted on one legislative proposal at the 2022
United States Bowling Congress Convention and Annual Meeting
, which concluded Thursday at The Orleans Hotel & Casino.
The ballot for the USBC Board election had five candidates slated by the USBC Nominating Committee - Brandon Bowman of Mukilteo, Washington; Anthony Colangelo of Meridian, Idaho; Bo Goergen of Sanford, Michigan; Melissa McDaniel of Raleigh, North Carolina; and Cheryl Younger of Leavenworth, Kansas.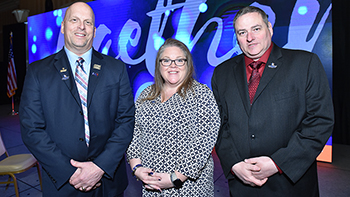 On the first ballot, incumbents McDaniel (580 votes), Goergen (397 votes) and Colangelo (396 votes) were re-elected, with Younger receiving 346 votes and Bowman receiving 340 votes. A candidate had to receive a majority of votes from the 701 votes cast to be elected.
Team USA athletes re-elected Andrew Anderson of Holly, Michigan, to a second term and elected Sydney Brummett of Fort Wayne, Indiana.
The newly elected board members begin their three-year terms Aug. 1, 2022.
The USBC Board of Directors re-elected McDaniel to serve a second two-year term as president. Dennis Hacker of Longtown, Missouri, was elected to his first two-year term as vice president.
Angel Metsch of Statesville, North Carolina, is joining the International Bowling Campus Youth Committee, which also returns current members Chrissie Kent of Newark, New York, and Christopher Floyd of Lockport, Louisiana.
In addition to the board elections, delegates voted on one proposed bylaw amendment. Delegates rejected a bylaw proposal to allow remote electronic voting for future USBC Annual Meetings.
Indiana State USBC was awarded the Association Excellence Award at the event. Hacker, the USBC Awards Committee chair, surprised the Indiana State USBC delegates as part of the USBC Convention awards ceremony.
The presentation of national awards, including the Alberta E. Crowe Star of Tomorrow Award to Lara Kurt of Leland, North Carolina, and the Chuck Hall Star of Tomorrow Award to Spencer Robarge of Springfield, Missouri, also took place.
McDaniel and USBC Executive Director Chad Murphy presented their annual reports, and delegates heard reports from the USBC Strategic Planning Committee and from International Bowling Campus Youth Development.
During Convention week, delegates attended a variety of educational seminars. The agenda also featured presentations from USBC charity partners Bowlers to Veterans Link (BVL), which provides recreational and therapeutic programs and services to America's active duty and veteran service men and women, and Bowl for the Cure(r), the year-round fundraising initiative sponsored by USBC in partnership with Susan G. Komen®.
In 2023, the USBC Convention will be held at South Point Hotel, Casino & Spa in Las Vegas in conjunction with the USBC Women's Championships, with the event scheduled to run from April 24-27.
Visit
BOWL.com/Convention
to learn more about the USBC Convention and Annual Meeting.
RESULTS OF 2022 USBC ANNUAL MEETING LEGISLATIVE SESSION

2022 LEGISLATION

Bylaws (two-third votes needed)
Amendment No. B 1 - Rejected (351 accept, 344 reject)
USBC National Bylaws
Article IV, Meetings Section A. Annual Meeting
Allows for remote ballot voting at the USBC Annual Meeting.