2023 USBC Open Championships comes to close in Reno
July 27, 2023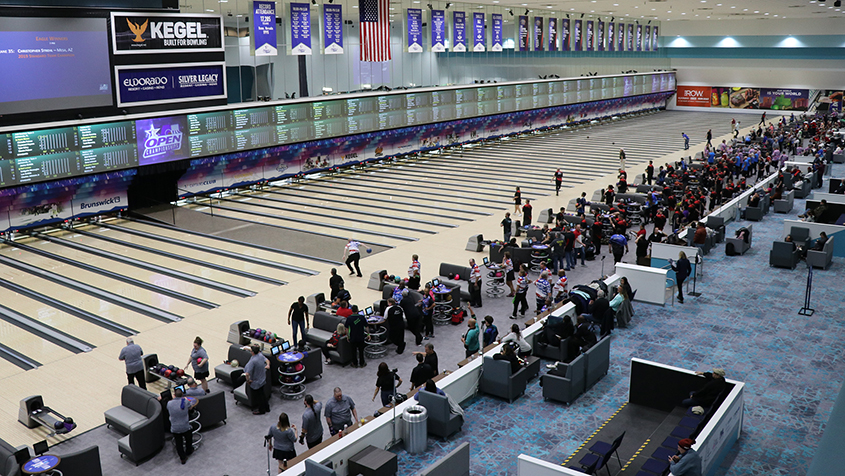 RENO, Nev. –
The 2023
United States Bowling Congress Open Championships
concluded its 143-day run at the National Bowling Stadium on July 24, with 9,565 five-player teams and more than 47,000 bowlers taking part in the 119th edition of the event.
The 2023 tournament kicked off March 4, marking the event's 14th trip to Reno and 11th visit to the NBS.
Bowlers competed in team, doubles and singles across nine games, which also determined each individual's all-events total. The tournament featured three average-based divisions (Regular, Standard and Classified), and the top score in each discipline will earn the coveted Eagle trophy awarded to the champion.
The top overall team across 45 games (all five players' combined scores for team, doubles and singles) also will be named the Team All-Events champion.
All scores from the 2023 USBC Open Championships are unofficial and pending verification.
Nick Kruml of St. Peters, Missouri, put himself in position to claim a pair of Eagles with an incredible run during his ninth tournament appearance June 2-3.
The 29-year-old right-hander finished the 2023 event with the lead in Regular All-Events at 2,242 and Team All-Events as part of K and J Finishing 1 of Carpentersville, Illinois, with 10,394.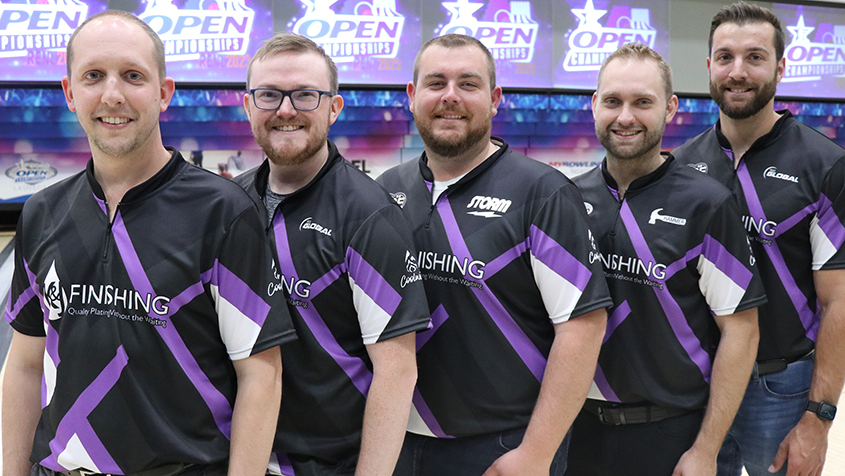 K and J Finishing 1 (from left):
Ryne Greenwood, Christopher Wiley, Zachary Woelfel, Nick Pate and Nick Kruml
Kruml also finished the 2023 event in second place in Regular Singles (795) and Regular Doubles with Christopher Wiley of Bettendorf, Iowa (1,438), and he helped K and J Finishing 1 to third place in Regular Team (3,433).
K and J Finishing 1 featured Kruml, Wiley, Ryne Greenwood, Zachary Woelfel and Team USA's Nick Pate. All five players entered the 2023 event in search of their first win at the Open Championships after a runner-up finish in Team All-Events in 2021.
"The runner-up finish was the moment where we knew we could do it, but we wish we had 40 more pins," Kruml said. "We knew we were making a pretty good run and probably were going to pass the number by a good amount. I wanted to beat it by 200, because the last time we took it over, I wasn't very confident in that score.
"When we left in first, third and fourth in all-events, and Nick's and Zach's numbers were really good, I couldn't see another group beating that. I felt pretty darn confident in that one, and if a group did beat it, they definitely deserved it."
Kruml's run to the top spot in Regular All-Events featured sets of 795 in singles, 724 in doubles and 723 in team at the National Bowling Stadium.
K and J Finishing 1 finished 376 pins ahead of the next closest group in Team All-Events, recording the seventh highest 45-game total in tournament history.
Along with Kruml's 2,242 topping the leaderboard in Regular All-Events, Greenwood finished fourth with 2,162 and Wiley was sixth with 2,134. Pate and Woelfel posted 1,969 and 1,887, respectively.
"We've had a group chat going the past couple days and definitely have been talking about it and saying that we can finally breathe because we did it," Kruml said. "It's nice to get the monkey off our back. We've been close a few times, so it made it a lot better to finally do it. Hopefully, we can give it a couple more runs with the team we have."
With less than three weeks to go at the 2023 tournament, Kruml also was leading Regular Singles and Regular Doubles with Wiley and was in position to join USBC Hall of Famers Bill Lillard Jr. (1956) and Ed Lubanski (1959), along with Michael Neumann (1990), as the only competitors at the Open Championships to win four titles in a single year.
A pair of impressive performances in July at the Taj Mahal of Tenpins shook up the standings and helped place three bowlers in line for their first wins at the Open Championships.
On July 6, David Simard of Granby, Quebec, Canada, posted an 813 series to move into the lead in Regular Singles.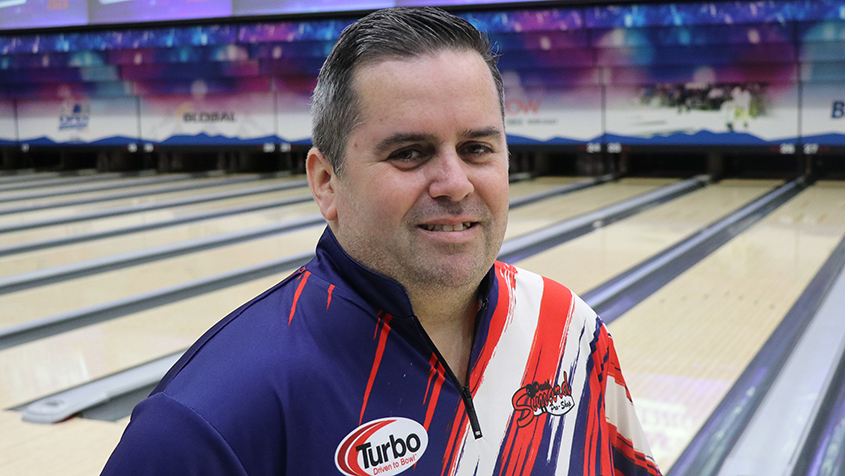 David Simard
Simard, a 42-year-old right-hander, finished his doubles set with 299 before firing games of 290, 257 and 266 in singles for the only 800 series on this year's doubles and singles oil pattern.
"I didn't check the scores before we bowled the tournament, so I didn't even know I was the leader until after my squad," said Simard, who has been a member of the Canadian national team 10 times. "But, I was checking a few times a day after I bowled. Every morning, I checked if anyone passed me, and I would check again during the day. There were a couple long days.
"I felt so great that day. The execution, the mental game, everything was perfect on that day. It means a lot. I think it's probably the greatest tournament to win. So many great bowlers bowl this tournament, and it's pretty exciting to win."
Simard's 813 in singles also helped him to second place in Regular All-Events with a 2,216 total. He also posted sets of 723 in doubles and 680 in team.
With just two days left to go at the 2023 event, the team of DeeRonn Booker of Albuquerque, New Mexico, and Mark Curtis Jr. of Chattanooga, Tennessee, put together an incredible rally in their final two games to take over the top spot in Regular Doubles with 1,482.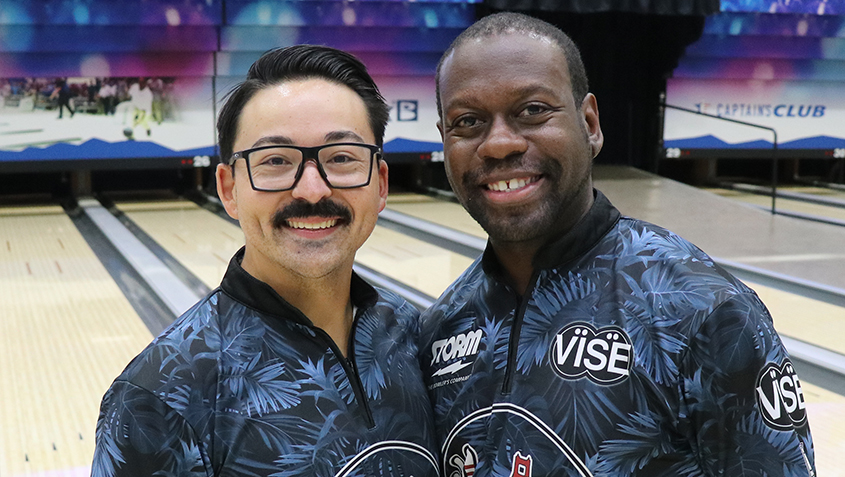 Mark Curtis Jr. and DeeRonn Booker
Booker and Curtis, both 32-year-old right-handers, had just 381 after their first game July 22. They followed with 563 and 538 in their final two games, rolling 40 combined strikes in their final 47 deliveries in the set.
"We were able to catch lightning in a bottle, and it's still hard to process that we managed to average 275 on that pattern for those two games," Curtis said. "It truly was a magical run. They talk about getting in the zone and the only thing you see is the lane, and it felt like for two games, we got there.
"An Eagle is a goal you work for your whole life, and it is a crowning achievement in a career. To take doubles home with someone that I've been friends with for 20 years – it's incredibly special. Our friendship will last forever now because we're bonded through this very special moment."
Booker led the way with games of 213, 289 and 258 for a 760 series, and Curtis bounced back from a 168 start to finish with 274 and 280 for a 722 set.
"I'm still trying to believe it," Booker said. "I've been telling myself for the last 48 hours just to breathe. It's something that I've been wanting forever. I love history and being a part of history. Every bowler who bowls wants to compete and have a chance to have this phone call, and I want to thank everyone. This has been an absolute dream come true.
"The experience of winning with someone you're extremely close to left both of us speechless. We've both been through quite a bit, and to be able to share this with each other is huge."
The members of Riding Kenny's Coattails of Cincinnati rolled the second highest team set in Open Championships history on May 31 to take the lead in Regular Team with a 3,578 total.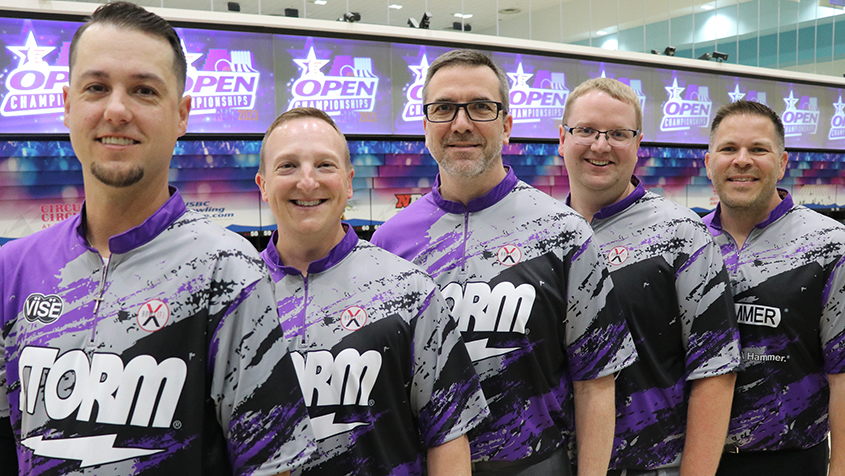 Riding Kenny's Coattails (from left): Ron Pollard Jr., Jeff Fehr, Kenny Abner, Charles Easton and Bill O'Neill
Powered by Charles Easton's 300 in Game 1 for a 1,228 start at the NBS, the team added 1,188 and 1,162 on its way to the top of the standings.
Jeff Fehr led the performance with a 778 series, while Easton finished with 773. Kenny Abner, who's now in position to claim his third Eagle, had 723, while Professional Bowlers Association Tour star Bill O'Neill and Ron Pollard Jr. finished with 692 and 612, respectively.
"There were certainly a few late nights," Fehr said. "We had a team chat going, looking at the Stars of the Day so we knew who was coming in and there definitely was some scoreboard watching. The last few days of the tournament, I had a 3 a.m. alarm set to see if anyone was getting close so I could sweat it out as they were performing. I didn't want to wait for the scoreboards to update. It was crazy, but looking back at it, the 53 days went by pretty quickly. We're glad it's over and in the books."
Fehr and Pollard also have the chance to build on their family's legacy on the biggest stages in bowling.
Fehr's father, Steve, is a USBC Hall of Famer, five-time Eagle winner at the Open Championships and the 1994 USBC Masters champion. His mother, Nancy, also is part of the USBC Hall of Fame and has claimed three wins at the USBC Women's Championships.
Pollard's father, Ron, and uncle, Rick, are both USBC Hall of Famers and worked together to win Team All-Events at the 1996 Open Championships. His aunt, Vicky, and wife, Jamie, won Classified Doubles at the 2015 tournament. At the Women's Championships, his aunt, Regina Pollard-Strawser, is a three-time titlist.
"My mom and dad were there to witness what we did, and that was so special for me," said Fehr, who also helped Riding Kenny's Coattails to second in Team All-Events in 2023 with 10,018. "To give my mom a hug after we were done – I don't think the smile on my face could have been any bigger than that. My dad got to watch the first two games before bowling the team practice session to get ready for his shift, and to give him a hug once he got back – he was so excited for us. They've both been through it and know what the feeling is like when you take the lead and shoot that big score.
"It's incredible to be in the club of champions, and it's something I've aspired to be in. It's one of the reasons why I put in all the time to practice and go to tournaments to try and get better. My 26th try was the magic number, and I'm so glad the first one was a team event, so I get to share it with these guys. I wouldn't want to share it with anyone else."
The members of Irvine Team 1 of Corona, California, posted the highest team game since the introduction of the Standard Division in 2017 to record the top score in Standard Team with 3,016 on May 27.
Irvine Team 1 started with 1,187 to set the record and followed with 869 and 960 to get to the top spot.
Erick Podwill paced the team effort with a 644 series and was joined by Greg Bill (620), Greg Nardo (598), Andrea Fredericks (579) and Dave Ellsworth (575).
The top individual performance in the Standard Division took place April 29-30 as Matthew Grunzke of Albert Lea, Minnesota, ascended to the lead in all-events with a 1,926 total.
The 44-year-old right-hander used sets of 674 in team, 637 in singles and 615 in doubles to post his top showing in 21 years of competing at the Open Championships.
Michelle Dabkowski of Lexington, South Carolina, took over the lead in Standard Singles on May 31 with a 715 series at the National Bowling Stadium.
The 40-year-old left-hander started her first game with seven strikes on the way to 255, and she improved to 10 consecutive strikes to start Game 2 to post 286. Although the striking slowed down in the final game, Dabkowski filled all but one frame to finish with 174 to secure the top spot.
In Standard Doubles, the pairing of Damon Horst of Oswego, Illinois, and Ryan Liddell of Palos Hills, Illinois, combined for the top total during their appearance June 20, finishing with a 1,261 total.
Horst, who also finished in third place in Standard All-Events with 1,862, led the way with games of 234, 220 and 214 for a 668 series. Liddell added 213, 200 and 180 for 593.
The longest wait after taking the lead belonged to the members of Hull Point Pursuit of Kasilof, Alaska. The team of Michael Hull, Tim Macias, Ryan Hailey, Chris Hull and John Hull posted the top score in Classified Team on March 23 with 2,700.
Hull Point Pursuit had steady games of 898, 896 and 906 to place its name at the top of the standings.
John Hull led the team with a 621 series and was followed by Macias (555), Michael Hull (516), Hailey (507) and Chris Hull (501).
Doug Willmann of Olivette, Missouri, rolled to the top of the leaderboard in Classified All-Events on April 8-9 with a 1,753 total.
The 39-year-old right-hander posted sets of 639 in team, 592 in singles and 522 in doubles.
The top spot in Classified Singles was put together June 20 by Bobby Johnson of Villa Rica, Georgia, with a 657 total.
Johnson, a 42-year-old left-hander, had games of 225, 225 and 207.
Charles Garcia of Fremont, California, and Benny Sangalang of Hayward, California, posted a 1,218 total April 15 to finish in the top position in Classified Doubles.
Garcia had games of 265, 164 and 199 during the set for a 628 series, which also helped him to third place in Classified All-Events with 1,731. Sangalang had 212, 175 and 203 for 590.
They also moved into second place in Classified Team during their trip to Reno, helping Drink N Roll of Chula Vista, California, to a 2,649 score.
Three 800s were rolled at the 2023 Open Championships to go along with 15 300s, nine 299s, a pair of 298 games and 20 other instances of competitors posting 11 consecutive strikes during a single game.
In addition to Simard's 813 in singles, Christopher Tuholski of Battle Ground, Washington, and Mykel Holliman of Denham Springs, Louisiana, reached 800 sets during their team events.
Tuholski recorded the first 800 of the 2023 event, rolling games of 236, 279 and 289 for an 804 series April 29. Holliman used games of 255, 300 and 258 for an 813 series May 12.
Longevity and pinfall also highlighted the 2023 event, with USBC and PBA Hall of Famer Glenn Allison of Corona, California, making his 71st tournament appearance to tie the participation record.
Allison joined fellow USBC Hall of Famers Bill Doehrman and Joe Norris, along with Sylvester Thiel, with 71 appearances at the Open Championships with his trip to the National Bowling Stadium on May 13.
The four-time Eagle winner made his tournament debut at the 1947 event in Los Angeles, and he's now less than 1,150 pins away from setting the all-time pinfall mark at the tournament.
Allison has knocked over 122,954 pins for a lifetime average of more than 191 through 71 appearances.
He's third on the pinfall list at the Open Championships, trailing Lillard (124,087) and Norris (123,770). Allison now is 817 pins away from passing Norris and 1,134 pins away from taking over the top spot from Lillard.
Four competitors also joined Allison in the 100,000-Pin Club at the Open Championships during the 2023 event.
USBC Hall of Famer Bob Chamberlain Sr. of The Villages, Florida (March 15 – 100,554 pins); Robert Brissette of Petersburg, Michigan (May 11 – 101,000); Dennis Lane of Kingsport, Tennessee (May 19 – 100,336); and USBC Hall of Famer Bill Spigner of Vernon Hills, Illinois (May 21 – 100,399), each earned their crystal pin at the NBS, expanding the exclusive club to 29 members.
A total of 20 bowlers celebrated their 50th tournament appearance at the 2023 event. There now have been 332 competitors all-time to reach the participation milestone.
The 2024 Open Championships will be held from March 2 - July 22 at the South Point Bowling Plaza in Las Vegas. Registration is open for the 2024 tournament.
Visit us on Facebook at the
official USBC Open Championships page
.