Team USA rosters take shape after champs crowned at 2023 Team USA Trials, U.S. Amateur
January 08, 2023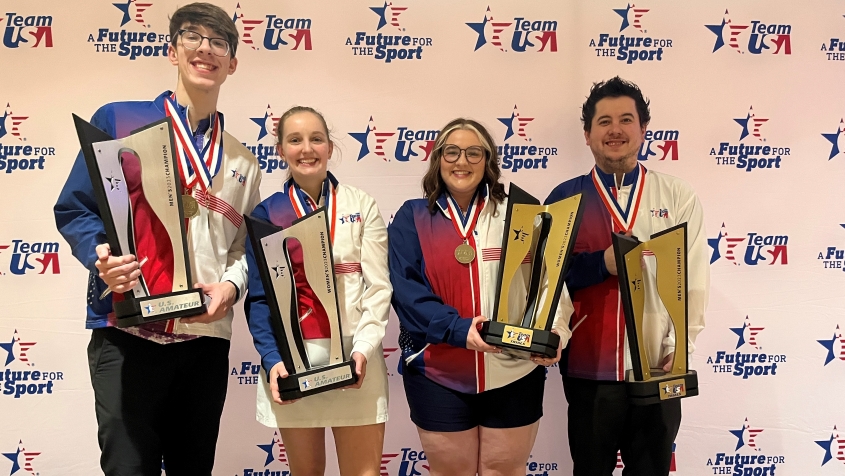 RESULTS AND INFORMATION
LAS VEGAS –
Several names - some new, many familiar - were added to the rosters of
Team USA
,
Junior Team USA
and
Para Team USA
2023 Saturday night after competition ended at the 2023 United States Bowling Congress Team USA Trials at Gold Coast Bowling Center inside Gold Coast Hotel & Casino in Las Vegas.
In all, 63 athletes will represent Team USA's various squads on the lanes in 2023, and they all followed unique paths in order to earn that opportunity.
Breanna Clemmer of Clover, South Carolina, and Jakob Butturff of Tempe, Arizona, claimed spots by winning their respective divisions during Team USA Trials competition, which consisted of 30 games bowled over the course of five days across five challenging oil patterns.
Clemmer, a 25-year-old right-hander who competes as a member of the Professional Women's Bowling Association Tour, averaged 221.5 per game for the week and finished in the daily top three during four of the five qualifying rounds to best a field of 149 women.
Butturff averaged 232.2 and collected two first-place finishes and a third-place effort enroute to topping the 174-player men's field.
Jillian Martin of Stow, Ohio, and Brandon Bohn of Jackson, New Jersey, also earned titles Saturday night, and they made some history in the process.
Martin and Bohn, both just 18 years old, were crowned the nation's top amateur bowlers by winning their respective divisions at the 2023 National Amateur Bowling Championships, which was contested simultaneously with Team USA Trials using the same qualifying scores.
Martin and Bohn earned the top step on the podium after emerging victorious from stepladder finals competition that featured the top three players from each U.S. Amateur division.
In addition to the Team USA Trials and U.S. Amateur champions, six other players earned automatic berths on Team USA 2023 based on their strong performance at Gold Coast this week.
Throughout the event, players earned ranking points based on where they finished in the daily standings. The leader each day received one point, second place earned two points and so on, with the lowest number of points after the five six-game blocks determining the 2023 Team USA Trials men's and women's champion.
Butturff, a six-time winner and major champion on the Professional Bowlers Association tour, took home the Team USA Trials crown for the second time in his career - he also won the event in 2017.
The 28-year-old left-hander was even more impressive this time around, however, collecting two squad victories, averaging five pins higher per game and lowering his winning ranking-point total from 59 to 44.
Butturff's closest pursuers were Brandon Bonta of Wichita, Kansas (58), A.J. Johnson of Oswego, Illinois (62) and Matthew Russo of Ballwin, Missouri (80). Those three players joined Butturff in earning automatic spots on Team USA.
By earning a spot on this year's team, Butturff will be celebrating seven consecutive years donning the red, white and blue on the lanes; it's not an honor he takes for granted.
"Winning Team USA Trials is just as difficult as winning a title on the PBA Tour, and it's honestly better because it earns you the opportunity to represent your country while doing what you love," Butturff said. "Winning here is one of the best accomplishments a bowler can put on his or her resume. For me to be able to win it twice is really special."
Clemmer's 2023 victory was her first at Team USA Trials; nevertheless, she found the accomplishment no less fulfilling.
"I have a friend who always tells me that I'm the best in the world, but I never really believed it because I always felt like other people were better; I was just here. Now, to win a tournament like this among the best of the best, I'm starting to believe it," Clemmer said. "A tournament like this is just amazing to win. I don't even think I can really describe how I feel right now other than that I'm just really happy."
One of the many things Clemmer is happy about is that she will now have the opportunity to celebrate her tenth year as a member of the Team USA family.
Her international career began with a stint on Junior Team USA from 2014 to 2018. She then made the leap to the adult team in 2019, and she's been a contributor on that level ever since.
This week's victory at Team Trials felt like a fitting next step in Clemmer's career arc as she just seems to be getting better and better with each tournament she bowls.
In an event that tests the versatility and patience of even the most seasoned veterans, Clemmer appeared to be in complete control.
She notched second-place finishes on each of the first two days before taking a small step back with a 24th-place effort in Round 3. She came back strong from there, however, winning Day 4 and collecting a third-place finish during Round 5 to establish a winning total of just 32 points.
Jordan Richard of Maumee, Ohio, and Jillian Martin of Stow, Ohio, finished with 54 points each, which was enough to guarantee both spots on Team USA 2023.
The final guaranteed position went to 2022 PWBA Rookie of the Year Olivia Farwell of Elizabethtown, Pennsylvania. Farwell finished with 84 points to secure her first invitation to bowl as a member of Team USA.
Martin and Bohn came into the week already having secured spots on Junior Team USA 2023 based on their outstanding performances at the Junior Gold Championships in Grand Rapids, Michigan in July.
Nevertheless, as the two took to the lanes for their respective U.S. Amateur title matches, it was clear that they had adult team aspirations in mind.
Bohn advanced to the title tilt by defeating Team USA veteran John Janawicz of Winter Haven, Florida, 268-212 during the opening match of the stepladder finals.
Bohn's pace slowed a bit during the championship round against top seed Brandon Bonta of Wichita, Kansas, but that was likely due to the final match being contested on the most difficult oil pattern the 2023 Team USA Trials had to offer.
As such, Bohn couldn't recreate the striking power he displayed during his nine-strike victory over Janawicz; nevertheless, he stayed clean, threw a pair of doubles and delivered the mark he needed in the 10th frame to defeat Bonta 211-199 and become the 2023 U.S. Amateur champion.
"I wanted to have a good showing to show people that I belong here, that this is the place for me, but other than that I didn't really have a whole lot of expectations," Bohn said. "To win this and be on the adult team is surreal; I really don't have words for it other than to say that I couldn't have done it without all of the amazing people that I have supporting me."
Martin had plenty of fans cheering her on as well, but that's hardly surprising as she has been a fixture on the elite bowling scene for several years now despite being just 18 years old.
As the women's top seed for the U.S. Amateur stepladder, Martin only needed to win one game in order to take the title.
That game was against Mary Orf of St. Louis, and it was an entertaining game throughout.
Orf stayed clean early and took advantage of a Martin open to establish a 13-pin lead through six frames.
It wouldn't last, however, as Orf opened after leaving a 4-6 split in the eighth frame. Martin, meanwhile, followed up a seventh-frame strike with two more in the eighth and ninth to go around Orf and complete a 199-170 comeback victory.
For Martin, the win was more than just another title; it was a stepping stone that helped her realize a dream that she's been pursuing for quite some time.
"Being on Team USA has been a goal of mine for a while now, so I'm really grateful to make it in my first year out here being eligible," Martin said. "I don't really think that it's hit me yet that I'm the U.S Amateur champion, but it ranks right up there next to being a PWBA champion."
Since the U.S. Amateur champion is automatically placed on Team USA, Martin didn't need the spot that she earned by virtue of her third-place finish in the Team Trials field.
As such, that spot was then passed along to the next-highest finisher, who in this case was current Team USA member Bryanna Coté of Tucscon, Arizona.
In addition to the bowlers who earned automatic invitations to join the adult team, two men and three women were selected by the National Selection Committee based on their performances at the 2023 Team USA Trials.
Andrew Anderson of Holly, Michigan, and Janawicz will join the men's team while Mabel Cummins of Hermitage, Tennessee, Rebecca Hagerman of Loves Park, Illinois, and Orf had their names added to the women's roster.
The National Selection Committee also selected five men and five women to join Team USA 2023 based on submitted resumes.
The men's team selections included Kristopher Prather of Romeoville, Illinois; Kyle Troup of Taylorsville, North Carolina; Chis Via of Blacklick, Ohio; Nick Pate of Ballwin, Missouri; and 2022 Team USA Trials champion Darren Tang of Las Vegas.
The National Selection Committee's additions to the women's team were Danielle McEwan of Stony Point, New York; Julia Bond of Lincoln, Nebraska; Stephanie Zavala of Downey, California; Lauren Pate of Ballwin, Missouri; and Shannon Pluhowsky of Dayton, Ohio.
To be eligible for the adult version of Team USA, bowlers must be at least 18 years old by the end of that year's Team USA Trials.
Those who weren't age-eligible for adult team consideration this time around spent the week trying to secure spots on Junior Team USA 2023 and finish as high up as possible in the U.S. Amateur standings.
Earning automatic spots on the boys team based on their strong 2023 Team USA Trials performances were Bonta, Anthony Neuer of Milton, Pennsylvania; Micah Voorhis of Cherry Hill, New Jersey; and C.J. Petrin of Chattanooga, Tennessee.
Zach Greim of Poway, California, and Landin Jordan of Sycamore, Illinois, were chosen by the National Selection Committee to join Junior Team USA 2023 based on their performances at the 2023 Team USA Trials and 2022 Junior Gold Championships.
They join the 12 boys who qualified for Junior Team USA through the 2022 Junior Gold Championships through the U20 and U18 competitions.
U20 – Spencer Robarge of Springfield, Missouri; Jeremy Kinealy of St. Louis; Julian Salinas of Richmond, Texas; Nathan Smith of Noblesville, Indiana; Justin Bohn of Jackson, New Jersey; and Ryan Barnes of Denton Texas.
U18 – Brandon Bohn of Jackson, New Jersey; Jordan Malott of Austin, Texas; Bobby Habetler of Park Ridge, Illinois; Carter Street of Dublin, Ohio; Chris LeSuer of Kent, Ohio; and Andru Blaney of Indian Head, Maryland.
This year's automatic spots on the girls team went to Maggie Thoma of New Braunfels, Texas; Katelyn Abigania of San Diego, Victoria Varano of Stony Point, New York, and Ashtyn Woods of Santa Rosa, California.
Gianna Brandolino of Channahon, Illinois, and Jennifer Loredo of Freso, California, were selected for the girls team based on performance.
They join the 12 girls who qualified for Junior Team USA through the 2022 Junior Gold Championships through the U20 and U18 competitions.
U20 – Mabel Cummins of Hermitage, Tennessee; Jaelle Hamman of Jarell, Texas; Kirsten Moore of Tallmadge, Ohio; Anna Callan of La Crosse, Wisconsin; Lara Kurt of Leland, North Carolina; and Orf.
U18 – Annalise OBryant of Ball Ground, Georgia; Erin Klemencic of Powder Springs, Georgia; Brooke Salzman of Inver Grove Heights, Minnesota; Haley Lindley of Greenwood, South Carolina; Brianna Rogers of Florence, South Carolina; and Martin.
Four boys and four girls from the U15 competition at the 2022 Junior Gold Championships also earned the right to be a part of the Team USA experience in 2023 as members of the Developmental Team.
That list of players includes brothers Landin Jordan and Griffin Jordan, both of Sycamore, Illinois; Keegan Alexander of Killeen, Texas; Kai Strothers of Maplewood, New Jersey; Avery Domaguin of San Diego; Samantha Kanehailua of Pearl City, Hawaii; Kaitlyn Stull of Raleigh, North Carolina; and Abigania.
Bowlers age 20 or younger as of Jan. 1, 2023, were eligible for spots on Junior Team USA this week.
Before the names for the adult and junior teams were read Saturday night, members of Para Team USA got a very pleasant surprise when USBC Executive Director Chad Murphy announced that all eight members of Para Team USA 2022 were being brought back to represent the team again in 2023.
That means that the 2023 Para Team USA roster will once again include George Holscher of Chesapeake, Virginia; Eddy Hutchens of Franktown, Colorado; David Nelson Jr. of Gretna, Nebraska; and Mark Shepherd of Colorado Springs, Colorado, on the men's side and Debra Freed of Framingham, Massachusetts; Jennifer Hooten of Norman, Oklahoma; Emma "Toodie" Perry of Bakersfield, California; and Stacy Sanders of Bakersfield, California, for the women.
The 2023 Team USA trials featured a roster of 323 competitors, all of whom bowled 30 games over five days (six games each day). Each day featured a different lane condition, ranging from 36-47 feet with different volumes of oil for the women and men.
BowlTV
provided wire-to-wire coverage of the events, including the announcement of Team USA, Junior Team USA and Para Team USA 2023.