24 men, 16 women advance to XBowling ISC
March 13, 2015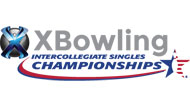 ARLINGTON, Texas -
The field of 24 men and 16 women who will compete for individual national championships was determined Friday at four 2015 XBowling
Intercollegiate Singles Championships
sectional qualifiers.
The Intercollegiate Singles Championships will take place April 14 and 18 at Northrock Lanes in Wichita, Kansas, with the men's and women's finals broadcast on national television.
Qualifying for the national finals was held in Stratford, New Jersey; Addison, Illinois; Smyrna, Tennessee; and Fort Worth, Texas. All participants bowled six games with the top four women at each site advancing. The number of men's advancers was based on entries in each sectional. Seven men from Smyrna and Addison and five from Stratford and Fort Worth moved on to bowl for the national title.
Verity Crawley of Webber International fired a 300 game en route to a total of 1,310 (218.3 average) to lead the women's field in Stratford. Also advancing were Lauren Hoffman of Sacred Heart, Emily Strombeck of North Carolina A&T and Shannon Dewitt of Wright State.
Putting up the highest women's score of the day helped Julia Bond of Nebraska advance with 1,397 (232.8 average) in Addison. Aretha Williams of St. Ambrose, Jessica Cords of Alma and Jacqueline Evans of Lawrence Tech also advanced.
In Smyrna, Brandi Underwood of Marian fired 1,389 (231.5 average) to advance along with Robyn Renslow of Vanderbilt, Shelly Goodwin of Lindenwood and Alyssa Pierson of Lindenwood.
Wichita State's Daria Kovalova shot 1,385 (230.8) to finish atop the leaderboard in Fort Worth. Carrie Hopkinson of Sam Houston State, Emily Eckhoff of Hastings and Kristie Lopez of Wichita State also punched their ticket.
On the men's side, Davenport's Sean Black put up the biggest score in any of the sectional qualifiers as he shot 1,388 (231.3 average) to top the standings in Addison. Vince Bachteler of Nebraska, Joshua Anderson of St. Ambrose, Tylor Greene of Robert Morris-Illinois, Alan Wedrickas of Minnesota State, Cameron Weier of Robert Morris-Illinois and Zachery Brandt of Davenport moved on as well.
In Smyrna, Ben Pallardy of Lindenwood fired 1,373 (228.8 average) to advance along with DJ Rose of Concordia, Devon Miller of Morehead State, Andy Henrich of Ohio State, Sean Pepper of Indiana State, Andre Fors of Lindenwood and Cameron Smith of Lindenwood. Smith defeated teammate Kyle Sherman, 40-25, in a ninth and 10th frame rolloff to earn the last spot.
David Lance of Webber International led the field in Stratford, finishing with 1,340 (223.3 average). Joshua Roca of Nassau Community College, Meeco Walker of Notre Dame-Ohio, Cody Reichenberger of Webber International and Brian Gaines of Temple also advanced.
In Fort Worth, Michael Tang of San Jose State fired 1,360 (226.6 average) to finish on top of the leaderboard and advance along with Christopher Colella of Wichita State, Tyler Cruz of Wichita State, Payden Stumpf of Midland and Matt McNiel of Wichita State.
For more information and complete results from the XBowling Intercollegiate Singles Championships and the sectional qualifiers, visit
BOWL.com/ISC
.