251 Average Propels Bill O'Neill to Early Lead in PBA Wolf Open
October 15, 2018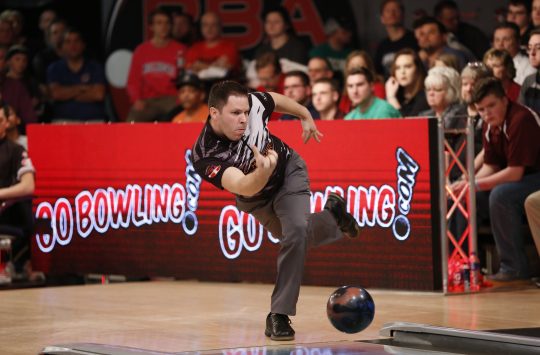 OWASSO, Okla. (Oct. 15, 2018) – Nine-time Go Bowling! PBA Tour winner Bill O'Neill fired a 1,506 six-game pinfall total Monday to take the first round lead in the FloBowling PBA Wolf Open, the first of three events making up the weeklong FloBowling PBA Fall Swing at The Lanes at Coffee Creek.
Bowling on PBA's 33-foot Wolf lane condition, O'Neill, who makes his home in Langhorne, Pa., bowled games of 298, 278, 236, 207, 252 and 235 to average 251 for the round.
"I wanted to play it safe by starting the round with a ball I was confident would control the lane and get to the pocket consistently," O'Neill said. "I felt if I can do that, I can make the smaller adjustments necessary to get the pin carry.
"You don't anticipate starting 290 and 270 but you certainly want to take advantage of a good start like that," O'Neill added. "I was actually more satisfied with the end of the round because in the middle of the fourth game I made a ball change and moved 10 boards left on the approach which gave me the confidence that I was making the right adjustment decisions.
O'Neill, who turns 37 on Oct. 21, teamed with four-time and reigning PBA Player of the Year Jason Belmonte to win the Mark Roth/Marshall Holman PBA Doubles Championship earlier this season for his ninth career title.
"It's been a pretty good year," O'Neill said. "I wish I was winning more but I've been pretty happy with the way I'm bowling overall. With the way the game has evolved things aren't as instinctual to me as they used to be. I just keep knocking on the door and hope I can put myself in the best possible position to win."
O'Neill holds a commanding 76-pin lead over AJ Johnson of Oswego, Ill., who finished the round in second with a 1,430 pinfall total. Markus Jansson of Sweden finished third with 1,421 followed by Kristopher Prather of Plainfield, Ill., with 1,391 and 2018 USBC Masters Champion Andrew Anderson of Holly, Mich., rounding out the top five with 1,387.
The 102-player field returns for the second six-game qualifying round Tuesday that will determine the top five players who will advance to the stepladder finals at 7:30 p.m. CT, which can be seen live on PBA's online bowling channel Xtra Frame on FloBowling.
After Tuesday's Wolf Open stepladder finals, the Fall Swing continues with Bear Open qualifying on Wednesday.
Based on the combined 24-game qualifying totals from the Wolf and Bear events, the top 18 players will advance to Tulsa Open match play, consisting of two six-game round robin match play rounds, on Friday and the final six-game round on Saturday morning that will determine the top five players for the Tulsa Open stepladder finals at 12:30 p.m.
The entire Fall Swing is streamed live on Xtra Frame on FloBowling which is providing multi-stream coverage of every lane of competition. For subscription and schedule information visit www.flobowling.com. Lanetalk is providing Fall Swing tournament statistics which can be accessed by visiting the Lanetalk link on the pba.com homepage.
FLOBOWLING PBA WOLF OPEN
The Lanes at Coffee Creek, Owasso, Okla., Monday
FIRST ROUND QUALIFYING RESULTS (after six games)
1, Bill O'Neill, Langhorne, Pa., 1,506.
2, AJ Johnson, Oswego, Ill., 1,430.
3, Markus Jansson, Sweden, 1,421.
4, Kristopher Prather, Plainfield, Ill., 1,391.
5, Andrew Anderson, Holly, Mich., 1,387.
6, Keven Williams, Springfield, Mo., 1,385.
7, (tie) Anthony Simonsen, Austin, Texas, and Rhino Page, Orlando, 1,382.
9, Sean Rash, Montgomery, Ill., 1,381.
10, Chris Via, Springfield, Ohio, 1,366.
11, Josh Blanchard, Mesa, Ariz., 1,364.
12, Greg Ostrander, Freehold, N.J., 1,360.
13, Dom Barrett, England, 1,358.
14, Martin Larsen, Sweden, 1,357.
15, (tie) AJ Chapman, St Paul, Minn., and EJ Tackett, Bluffton, Ind., 1,354.
17, Graham Fach, Canada, 1,347.
18, Darren Tang, San Francisco, 1,345.
19, Zachery Tackett, Huntington, Ind., 1,336.
20, (tie) Dick Allen, Lexington, S.C., Devin Bidwell, Wichita, Kan., and Nick Kruml, Downers Grove, Ill., 1,333.
23, Sam Cooley, Australia, 1,319.
24, Brad Miller, Lees Summit, Mo., 1,313.
25, (tie) Wes Malott, Pflugerville, Texas, and Arturo Quintero, Mexico, 1,312.
27, Stuart Williams, England, 1,311.
28, (tie) Ronnie Russell, Marion, Ind., and Kamron Doyle, Brentwood, Tenn., 1,310.
30, (tie) Jason Belmonte, Australia, Charlie Brown Jr., Grandville, Mich., Francois Lavoie, Canada, and Matt Sanders, Indianapolis, 1,307.
34, (tie) JR Raymond, Clinton Twp., Mich., and Michael Tang, San Francisco, 1,306.
36, (tie) Thomas Larsen, Denmark, and Anthony Pepe, Elmhurst, N.Y., 1,305.
38, Jakob Butturff, Tempe, Ariz., 1,302.
39, Shawn Maldonado, Houston, 1,295.
40, Michael Davidson, Versailles, Ohio, 1,292.
41, Tommy Jones, Simpsonville, S.C., 1,288.
42, Kurt Pilon, Warren, Mich., 1,285.
43, (tie) Pontus Andersson, Sweden, and Ryan Ciminelli, Clarence, N.Y., 1,280.
45, (tie) Richie Teece, England, George Duke, Vidor, Texas, and Francois Louw, South Africa, 1,275.
48, Zeke Bayt, Westerville, Ohio, 1,274.
49, (tie) John Furey, Howell, N.J., and Tom Smallwood, Saginaw, Mich., 1,265.
51, Humberto Vazquez, Mexico, 1,264.
52, (tie) Marshall Kent, Yakima, Wash., and Mike Edwards, Tulsa, Okla., 1,259.
54, Trey Ford III, Bartlesville, Okla., 1,256.
55, Ryan Shafer, Horseheads, N.Y., 1,250.
56, Chris Barnes, Double Oak, Texas, 1,249.
57, (tie)Kyle Troup, Taylorsville, N.C., and Anthony Lavery-Spahr, Pasadena, Texas, 1,247.
59, Mike Wolfe, New Albany, Ind., 1,244.
60, Walter Ray Williams Jr., Oxford, Fla., 1,238.
61, Chris Loschetter, Avon, Ohio, 1,236.
62, (tie) Brad Angelo, Lockport, N.Y., Tom Daugherty, Riverview, Fla., and Michael Haugen Jr., Phoenix, 1,235.
65, Osku Palermaa, Finland, 1,232.
66, Kim Bolleby, Thailand, 1,231.
67, Dakota Vostry, Chicago, Ill., 1,227.
68, (tie) Daniel Fransson, Sweden, and Matt Kuba, Chicago Ridge, Ill., 1,225.
70, Christopher Sloan, Ireland, 1,224.
71, Jim Pratt, Avondale, Ariz., 1,223.
72, Matt O'Grady, Rahway, N.J., 1,222.
73, Tim Foy Jr., Seaford, Del., 1,220.
74, Jake Peters, Henderson, Nev., 1,219.
75, Jesper Svensson, Sweden, 1,217.
76, (tie) Jason Sterner, Covington, Ga., and DJ Archer, Friendswood, Texas, 1,213.
78, Gary Faulkner Jr., Memphis, Tenn., 1,203.
79, (tie) Kenneth Ryan, Morganville, N.J., and Rocio Restrepo, Colombia, 1,181.
81, Brian Robinson, Morgantown, W.Va., 1,178.
82, Nicholas Pate, Inver Grove Heights, Minn., 1,174.
83, Zach Doty, Campbellsville, Ky., 1,171.
84, Joe Paluszek, Bensalem, Pa., 1,169.
85, Ildemaro Ruiz, Venezuela, 1,163.
86, Kyle King, Glendale, Ariz., 1,162.
87, (tie) Connor Pickford, Charlotte, N.C., and Nate Garcia, Port St. Lucie, Fla., 1,143.
89, David Krol, Nixa, Mo., 1,141.
90, Stephen Pavlinko Jr., Sewell, N.J., 1,135.
91, Kenneth Bland Jr., San Antonio, Texas, 1,111.
92, Matt Wozney, Clayton, Del., 1,084.
93, Julio Cesar Blancas, Mexico, 1,077.
94, Dino Castillo, Highland Village, Texas, 1,058.
95, Russ Oviatt, Chandler, Ariz., 1,055.
96, Stephen Hahn, Sterling, Va., 1,030.
97, Michael Duran, Banning, Calif., 1,024.
98, Andrew Cain, Phoenix, 1,022.
99, James Britton, Grand Prairie, Texas, 1,019.
100, Andrew Silverman, Akron, Ohio, 1,010.
101, James Sitters, Australia, 952.
102, Michael Foster, Tulsa, Okla., 869.
300 games – AJ Johnson, Marshall Kent