300 games help teams to top 10 at 2023 USBC Open Championships
July 23, 2023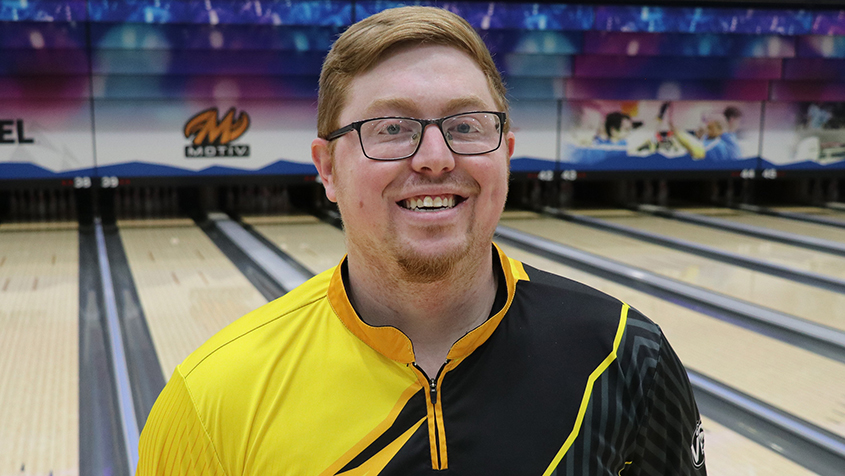 Pictured above: Brandon Biondo
RENO, Nev. –
A pair of 300 games in the same group led to an exciting Thursday night of great bowling at the 2023
United States Bowling Congress Open Championships
.
Brandon Biondo of Carpentersville, Illinois, started his team event with 12 strikes at the National Bowling Stadium, and Gabe Alvarez of Wichita, Kansas, also added his name to the list during his final game of team that evening.
Their perfect performances bring the total of 300s at the 2023 USBC Open Championships to 15, with nine of them taking place in team competition.
Biondo, a two-time Junior Team USA member and collegiate champion at Wichita State University, is no stranger to pressure situations, and his perfect game to start his team event proved he could still be cool under all the pressure.
"Toward the end of the game, I was really starting to feel comfortable and had great ball reaction all game," said Biondo, a 26-year-old right-hander. "As I got up in the 10th, I was feeling pretty loose and confident based on my last nine shots, so I just kept praying the next three carried."
After the perfect start in Game 1, Biondo kept the momentum going in Game 2 with a spare followed by four consecutive strikes.
He noticed his ball reaction started to go away toward the back half of the game, but he still was able to finish his team event with games of 243 and 216 to get to a 759 series.
Biondo's 759 helped lead Bowlers Connection 1 of Glendale Heights, Illinois, to fourth place in Regular Team with a 3,430 total.
He was joined in the team effort by Camden Rokita (747 series), Brett Golabek (719), Daniel Marazzo (639) and Mike McWethy (566).
"During the middle of Game 2, I noticed the lanes started to get a little weird on me, but I was able to finish with 243," said Biondo, who added sets of 678 in singles and 636 in doubles for a 2,073 all-events score this year at the NBS. "However, I just didn't have the shiny surface on my ball that my teammates did, and my hits started to show during Game 3."
For the first time in his six appearances at the Open Championships, Biondo was not bowling with his father and 2003 Team All-Events champion, Vince Biondo, as he was competing in Jackson, Michigan, at the Professional Bowlers Association 50 World Series of Bowling.
The father-and-son duo finished in second place in Regular Doubles at the 2017 Open Championships, and their team placed fifth in Team All-Events and sixth in Regular Team that year at the South Point Bowling Plaza in Las Vegas. Brandon Biondo also finished in fifth place in Regular All-Events during the 2017 event.
"Shooting a 300 the first year I'm not bowling with my dad is a little bittersweet, as I know he will be proud, but luckily I had my wife, Karsyn, here with me for the first time," Brandon Biondo said. "She always keeps me in a good state of mind, so I'd like to think that helped me finish the game.
"One thing I will be looking forward to is getting announced as a celebrity before practice here along with my dad when we do bowl together again in the future. The only thing sweeter than this moment would be to win an Eagle, and that is definitely a goal of mine as the years come."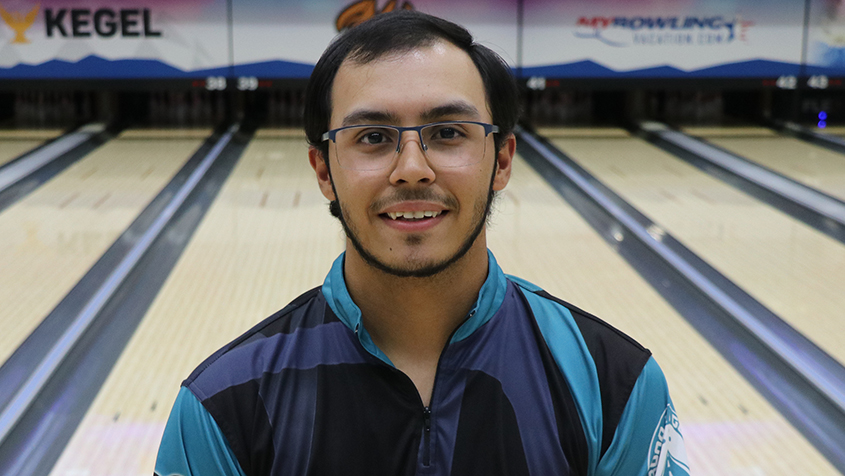 Gabe Alvarez
For Alvarez, his teammates made a key ball-change suggestion that helped him get the reaction he was looking for after starting his team event with games of 233 and 210. His 300 helped him to a 743 series.
"My teammates suggested I try a different ball on the fill ball of Game 2, and it happened to be one of my favorite go-to balls that I know will have the predictable motion I was looking for," said Alvarez, who bowled collegiately at Wichita State with Biondo. "With that change, I am lucky enough to be sitting here talking about how it all worked out."
The 22-year-old two-hander was feeling a little nervous as he was stepping up in the 10th frame, attempting to throw three good shots for a chance to add his name to the tournament's record book.
"I was able to get the 10th strike pretty easily, but once I got to the 11th, the nerves really started to set in," Alvarez said. "As the 12th shot came, I was extremely nervous and just telling myself to make the best shot I can and hope for the best."
Alvarez helped pace Bowlers Connection 3, also of Glendale Heights, Illinois, on the way to eighth place in Regular Team with a 3,405 total. Cincinnati's Riding Kenny's Coattails leads Regular Team at the 2023 Open Championships with 3,578.
He was joined by Ryan Barnes (676), Alec Karr (670), Alec Keplinger (664) and Jared Roberts (652).
In just his second year at the Open Championships, Alvarez is excited about being recognized as a tournament celebrity moving forward in his career and hearing his name announced for his accomplishment.
"It is still pretty early on in my career, and to know that I am going to be treated like a celebrity every year I bowl moving forward is awesome," said Alvarez, who added 563 in doubles and 557 in singles for an all-events total of 1,863. "If it feels this good to shoot an honor score here, I can only imagine what it feels like to win an Eagle, and I'd love to be able to accomplish that one day as well."
The 2023 Open Championships kicked off March 4 and will conclude July 24. The 143-day tournament will feature more than 9,700 five-player teams and nearly 50,000 bowlers making their way to compete in The Biggest Little City in the World.
Visit us on Facebook at the
official USBC Open Championships page
.