Adcock leads after first round of 2022 Super Senior Classic
June 02, 2022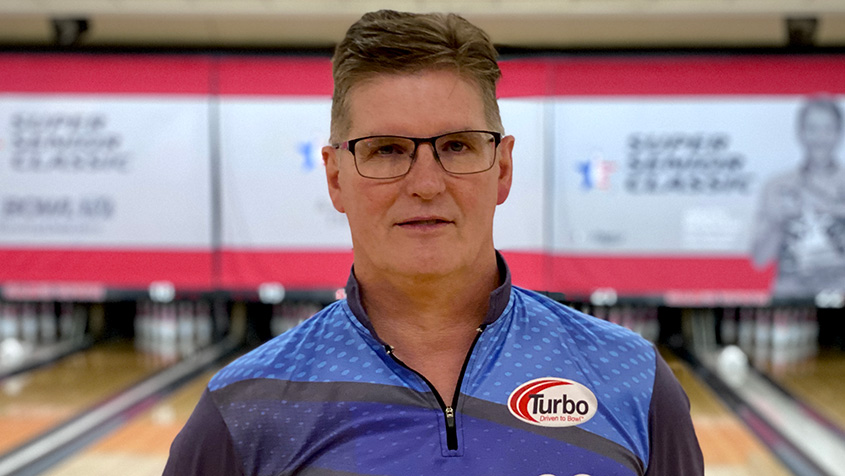 QUALIFYING - ROUND 1

LAS VEGAS
- Tom Adcock of Forsyth, Illinois, paced the field after the opening round Thursday at the 2022
Super Senior Classic
, averaging more than 237 for his six games at the Sam's Town Bowling Center.
The 60-year-old right-hander rolled games of 236, 279, 243, 202, 225 and 238 for a 1,423 total during Thursday's burn squad on the 40-foot oil condition to take over the top spot.
Mitch Vernon of Olympia, Washington, is second with 1,408, and Christopher Keane of Cape Coral, Florida, is third with 1,406. Michael Hastings of Millsboro, Delaware, and Butch Warren of Frisco, Texas, round out the top five with 1,403 and 1,398, respectively.
All competitors in the 173-player field will bowl two-six game blocks to determine the 44 advancers, based on total pinfall. Each squad will bowl one block on the fresh lane condition and one round on the burn in qualifying.
Don Moser of Menifee, California, sits in 44th place after the first round with a 1,266 total, a 211 average.
United States Bowling Congress and Professional Bowlers Association Hall of Famer Amleto Monacelli of Venezuela is the defending champion at the Super Senior Classic and is tied for 97th place after Round 1 with a 1,190 total.
Qualifying resumes Friday starting at noon Eastern. All rounds of the 2022 Super Senior Classic will be broadcast live at
BowlTV.com
.
Advancers will return to Sam's Town on Saturday for a six-game Cashers' Round, and total pinfall for 18 games will determine the 12 players advancing to the match-play portion of the Super Senior Classic.
The match-play finalists will be split into two groups for six games of round-robin competition, with the top finisher in each group earning an automatic spot in Sunday's stepladder based on 24-game pinfall totals, including 30 bonus pins for each win.
The second, third and fourth seeds from each group will face off in simultaneous group stepladders starting Sunday at noon Eastern, before the main four-player stepladder for the title and $7,500 top prize begins at 2 p.m. Eastern.
The winners of each group stepladder will claim the No. 3 and No. 4 spots in the finals, with seeding being determined based on their average for the event.