After a Down Day and a Good Cry, Kovalova Reclaimed Command of PWBA POY Race
October 28, 2021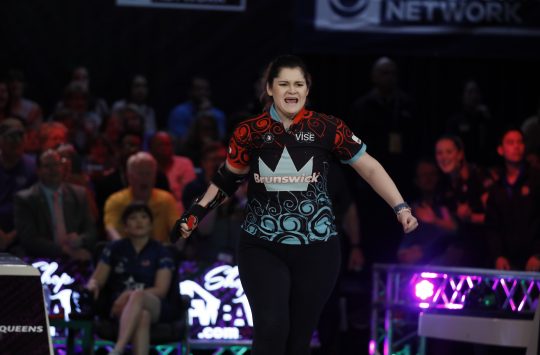 BY JOE JACQUEZ
Reno, NV — In one sense for Dasha Kovalova, leading the Player of the Year points race entering the final three events of the season was a good thing.
But in another sense, it wasn't. The Ukraine native is the one player everyone who's vying for the season-long MVP award is chasing, and that comes with a lot of pressure.
Kovalova, who has won twice this season — the PWBA Twin Cities Open and the PWBA Louisville Open — didn't shy away from being honest about how much the pressure affected her performance during the Reno Classic on Monday and Tuesday.
"It has everything to do with ," Kovalova said.
A 37th-place finish at the Reno Classic put her in jeopardy of missing the top-24 for Tour Championship match-play and going home early without POY honors.
"I made my peace with it and have to go home early, show my face around my friends and be like, 'Yep, I suck,'" she said.
After the U.S. Women's Open, knowing Player of the Year was more than a realistic possibility, the 2019 USBC Queens champion couldn't stop thinking about that during her time off before traveling to The National Bowling Stadium.
"It freaked me out," Kovalova said. "I thought about it for the two months we were off. It was bad."
Entering the Fall Classic, Kovalova said she was still thinking about it and that only led to a bad performance on the lanes.
"My head was not working for me ," Kovalova said. "I think I put too much pressure on myself, yet again, and it got into my head, yet again, and I bowled really bad, yet again."
When she left the stadium after a day-to-forget on the lanes, Kovalova did what she does a lot: she had a long crying session.
"I'm a cry baby," Kovalova said. "People around here know that because sometimes I even cry when I am bowling."
Crying is Kovalova's way of letting herself feel, which then has allowed her to reset her mind and start anew.
"It just helps get those emotions out that are built up, and I don't really know how to cope well," Kovalova said. "So, crying or punching a wall is the only way because I don't want to punch walls because staying here is already expensive enough."
She said it helps clear her mind and afterwards, she understands what she has to do and tries to do her best the next day.
Kovalova also went to the arcade at Circus Circus, and that helped cheer her up.
"I won three stuffed animals," she said. "I won one of them for my friend Breanna Clemmer and the other one I gave to Melissa Kramer."
By all measures, Kovalova certainly tried her best and then some during Pepsi Classic qualifying. She averaged 239, knocking down 2,868 pins to lead the 12-player field into Thursday's match play rounds by 111 pins.
"My head was working for me today," Kovalova said. "But also the pattern. I get very nervous on the shorter patterns because I know I have to try really really hard to make it work and when something doesn't go my way, I lose all my confidence and I fall apart in shambles."
On Wednesday, Kovalova was comfortable on the longer 43' pattern and she had help from her mom, Oksana.
"My mom gave me a target game, which is count how many times you can hit your target in a game and see how many pockets you can do, so I played that today," she said.
So, how many pockets exactly did she hit?
"A lot," Kovalova said.
Hitting a lot of pockets allowed her to go from 37th at the start of Wednesday to seventh for the Tour Championship, which is good enough to make match play.
But first things first. She will try and win her third title this season Thursday.