Alabama bowler connects for 300 at 2022 USBC Open Championships
April 11, 2022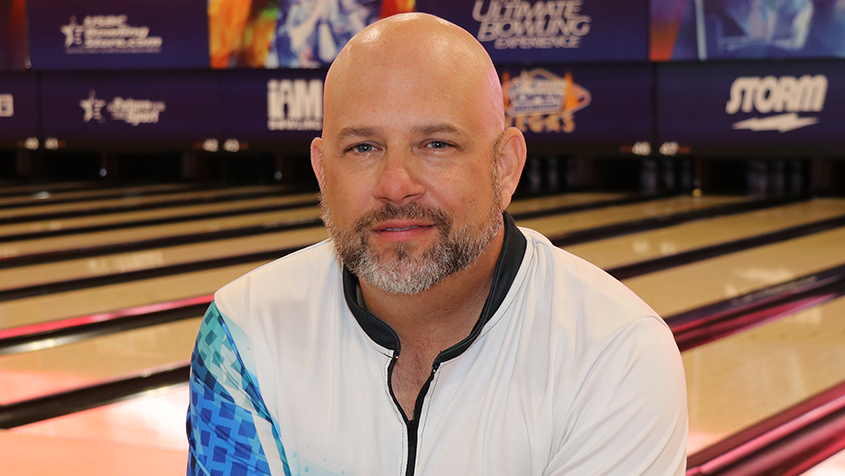 LAS VEGAS
- While some bowlers start to feel their heart rate begin to climb as they prepare for their first shot each year at the
United States Bowling Congress Open Championships
, it's often a much different feeling when you stare at the scoreboard and see a long string of strikes next to your name.
Patrick Gormandy of Elberta, Alabama, was able to experience that feeling as he stepped up for a chance to finish his singles set Sunday at the 2022 event with a 300 game, but he was able to calm his nerves and deliver in the moment to become the 11th bowler this year to achieve the feat at the South Point Bowling Plaza.
The 44-year-old left-hander had started singles with games of 216 and 170, before finishing his eighth USBC Open Championships with 12 consecutive strikes for a 686 series.
"I was scared to death and trying to breathe and control my heart rate," Gormandy said. "I just tried to breathe and make the best shot I could with a heart rate around 160."
One of the keys to Gormandy's late run of strikes Sunday was settling on using a urethane bowling ball and maintaining the control of his ball speed.
"I was back and forth between urethane and a reactive ball," Gormandy said. "When I switched to urethane, I just tried to be real soft and give it a little room down the lane."
The other key in helping Gormandy to a career-best performance at the Open Championships involves the time and dedication his group puts in prior to arriving at the event each year.
The core has been together for several years now, and they are able to work with their local centers to practice on tougher oil patterns. They practice together when they can.
Gormandy was joined by the members of Sir Pizza of TN 1 of Mount Juliet, Tennessee, on Saturday at South Point to make a big run during the final game, finishing with a 1,207 team effort to get to a 3,209 total, which currently places the team in the top 20 for Regular Team.
The momentum of that performance helped establish the group's confidence heading into doubles and singles Sunday, and Gormandy is happy to see the continued effort pay off with some of his closest friends.
"It'll probably take the whole flight home and next week to actually describe what it was like to share this experience with all of my friends," said Gormandy, who added sets of 671 in doubles and 639 in team for a 1,996 all-events total. "We've been bowling together for a couple years and look forward to coming here to compete. We had a strong team event last night, and I think we've all been on kind of a high. I couldn't think of a better group to share this with."
As he walked off the approach after his final shot, one of Gormandy's teammates quickly reminded him he now would be part of the storied history of the Open Championships, thanks to his perfect finish.
Though Gormandy will have to wait for the 2023 event in Reno, Nevada, to be recognized as a tournament celebrity among his friends and fellow competitors, he will relish the opportunity to soak it in.
"It's so surreal, and I don't know what it means to me yet to be part of this tournament's history," Gormandy said. "I know most people don't have this chance, because it's always challenging, and you have to make good shots. I can't even describe it, so you might have to ask me next year."
Visit us on Facebook at the
official USBC Open Championships page
.