Amleto Monacelli Joins Forces with Bob Learn Jr. at Martin Methodist College
February 17, 2019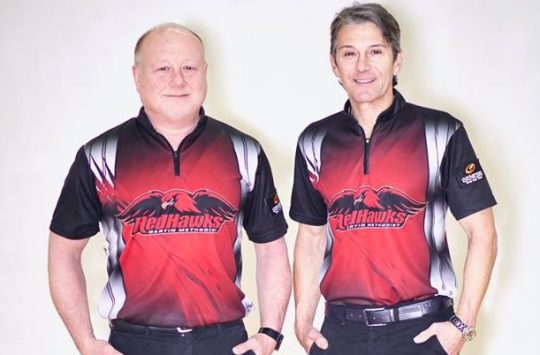 Team 'Bobleto': Bob Learn Jr. (left) with Amleto Monacelli
Friends of PBA Tour legends Bob Learn Jr. and Amleto Monacelli are fond of describing the long-time buddies and coaching duo collectively as "Bobleto Learnacelli." Martin Methodist College in Pulaski, Tenn., now will be the latest locale to experience the Bobleto effect as Monacelli has agreed to join Learn, Martin Methodist's Men's Bowling Head Coach, as a Men's Bowling Assistant Coach.
Monacelli, a 20-time titlist on the PBA Tour and a PBA and USBC Hall of Famer, officially will be fully moved to Pulaski in August to begin his duties with the 2019-2020 college bowling season. Monacelli has been Learn's business and coaching partner with their coaching outfit, Bowling Revolutions Coaching, since 2014.
Learn, popularly referred to by the moniker "Mr. 300," is a five-time PBA Tour champion known widely for his 300 game worth $100,000 in the arena finals of the 1996 PBA Flagship Open in his hometown of Erie, Pa., where he logged the highest four-game series on national TV with an 1129 total en route to the title. That record still stands to this day.
"Being able to bring in somebody with Amleto's experience, someone who I know has the same coaching beliefs as I do, is really going to fortify our coaching team," said Learn, who debuted as Martin Methodist Men's Bowling Head Coach starting with the 2017-2018 season.
Filling out that team are Women's Head Coach and local instructor, pro-shop operator and longtime PBA competitor Mike Sealy, and Learn's wife Stacey, who serves as an assistant coach.
"It is an honor to work with my great friend Bob Learn Jr.," Monacelli told BJI. "I have learned a lot about coaching from Bob over the years, and I feel we make a great team because I am all about fitness and mental game, which are very important to get to the pro level.
Learn had two words of advice for Martin Methodist administration when the possibility of bringing in Monacelli was raised: "Google him."
That, Learn says, was all it took.
"They did. And then they said, 'Yeah, let's do this,'" Learn said.
One advantage Learn believes he and Monacelli will bring to the Martin Methodist program, beyond their familiarity with one another as players and as instructors, is that both remain active on both the PBA and PBA50 Tours.
"We are coaches who are actively bowling, so we understand transition in today's game and we know today's equipment well because we throw it," said Learn, who previously held a position with the USBC Coaching staff in Arlington, Texas. "We know how to translate that information for the kids who bowl for us."
Earlier this month, both bowled the PBA Tournament of Champions, the first major on the 2019 PBA Tour schedule. There, Learn enjoyed a high game of 278, which he bowled in the opening game of the final round of qualifying, while Monacelli blasted a tournament-high 286 to close out round 2.
Learn previously won a major, the 1999 U.S. Open, while Monacelli's lone major on the regular tour came in the 1989 Touring Players Championship. Each have enjoyed successful stints on the senior circuit, as Monacelli has won four regular PBA50 Tour titles and four majors, including back-to-back Senior U.S. Opens in 2012 and 2013. Learn thus far has earned three PBA50 Tour titles.
Learn and Moncaelli both distinguished themselves on tour as players who liked to move deep inside and cover many boards with high-rev, swooping hooks, another advantage Learn says they will bring to Martin Methodist as a coaching duo.
"We have a lot of rev-rate on our men's team, and Amleto and I both are on the higher end of the rev-rate spectrum, so when we see lanes transition, we have a pretty good insight into how much we have to move, what kind of moves we need to make, and especially with equipment," Learn said. "I think it's a great fit for our program."
Learn said the program currently includes six two-handers, and that he embraces the opportunity to coach two-handed players.
"I find it easier to coach two-handed players," Learn said. "Some things in the two-handed game actually are easier to manage. I just think it's a simpler game, honestly. It's a more efficient way to create power."
Learn inherited a program that enjoyed success early on, as the Martin Methodist Men's team won the Mid-South Conference Men's Bowling Championship in 2016, the first year of the program's existence under then-coach Ben Biddy.
In January, the team added to that success under Learn when they won the MSC Championship for the second time.
Learn said verbal commitments from Jalen Mosley, who finished 13th in the 2017 USBC Masters at age 16, and 2018 Junior Gold Championships U20 winner Anthony Neuer, place them among recruits he expects to raise the program's profile further in the years ahead.
"Neuer is the number-one recruit in the country, if you ask me," said Learn, who bowled the tour with Neuer's father, fellow Pennsylvanian and PBA Tour champion Andy. "We also have some very strong talent coming in on the women's side. I believe we're going to be a top-five program in no time."
Beyond cultivating talent and pursuing titles, the Learns say the ultimate reward of coaching at the collegiate level is the role of mentor.
"We also want to help the players who aspire to someday be on tour," Stacey said. "Things like what to do with income, and how to handle the press, and how to be appropriate in the bowling center. The whole package of becoming a pro. We're here to grow players who just want to be good college players and bowl regionals, but we also are really helping the kids that may want to go further and be a pro."
Part of that package is fitness, something for which the always in-shape Monacelli is particularly renowned.
"The kids today are in shape," Stacey said. "I have them running several times a week. We do balance classes with them, and Amleto is great with that, too. He'll help with the exercise and the classes."
Monacelli seconded the Learns' sentiments about the mentor aspect of collegiate coaching.
"I love sharing my passion with the kids, and my experiences in life and in bowling," he said. "It is a big challenge because, at times, not only do you have to be a coach but also a father-figure and a friend. My goal is trying to make the team understand that goals only are achievable through passion, sacrifice, discipline, patience and perseverance. All my effort will be directed to that so when they finish the program they can not only be great bowlers but great people as well."