Andrew Anderson rolls 300 in return to USBC Open Championships
May 29, 2022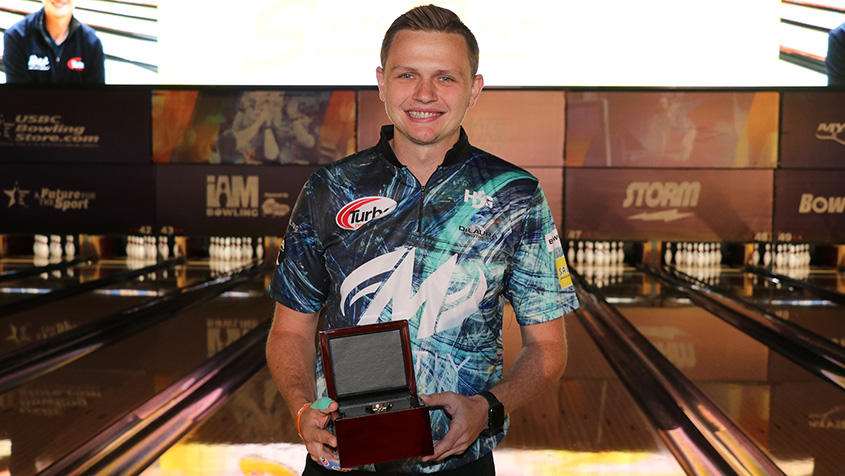 LAS VEGAS
- Andrew Anderson of Chesterfield Township, Michigan, returned to the
United States Bowling Congress Open Championships
this week as the defending Regular Singles champion, and although he's leaving Las Vegas without the lead this year, he added his name to the tournament's record book once again.
The 27-year-old right-hander rolled a 300 game shortly after his championship presentation Friday during his team event at the South Point Bowling Plaza, and he now has rolled an honor score in each of his last three appearances at the USBC Open Championships.
Anderson became the 37th bowler in the event's 118-year history to roll multiple 300s on the championship lanes with his performance Friday. He fired his first perfect game at the Open Championships in singles during the 2019 event, also contested at the Bowling Plaza.
He also became the 37th bowler to own both a 300 game and 800 series last year when he took the lead in Regular Singles with games of 269, 277 and 256 for an 802 series at the South Point Bowling Center. There now are 38 bowlers who have achieved the feat.
Anderson's success on the tournament lanes extends to 2018 in Syracuse, New York, where he won his first professional title and major championship at the USBC Masters.
He has compiled these accolades in just eight appearances at the Open Championships. Despite all the success, the usual anxiousness that comes with leaving the event with the lead was very real for Anderson in 2021. He took the lead in late May and had to wait nearly two months to see if his score would remain at the top of the leaderboard.
"Even when I left that day, I thought it was a beatable score," said Anderson, the 2018 Professional Bowlers Association Player of the Year. "I left like 30 or 40 pins out there on a couple bad shots, and if I would have gotten the first couple hits in the 10th, I would have gotten into the 820s.
"It kind of made it easier, because my hopes weren't as high, but as the year was going on and nobody got to it, you think it might happen. On the last day, Chris Via's group gave it a run, and I had to wait until about midway through the last game to really have it sink in that this could be it. To win an Eagle is hard, but the wait might be harder because of the anxiousness and nervousness. It's quite the experience."
Anderson and Via turned out to be the only bowlers at the 2021 event to roll an 800 series. Via's came during the final team event of the year (825) on his way to winning Regular All-Events with a 2,303 total. Via finished singles with 768.
Looking ahead to his appearance Friday, the initial goal for Anderson was to make sure his group was prepared for their time at the Bowling Plaza.
The moment really hit for him as he waited for his introduction after the rest of the team squad had made their way to the lanes. In addition to being welcomed back before the squad, Anderson also was presented with his championship watch.
"It really didn't come to reality until yesterday," Anderson said. "I've been really focused on getting the group ready to go out and have a good year. I was the last one in the squad room and last one to go out, and as you walk down the lanes, it's like wow. This is happening. I got to look up and bowl on the side where my banner was hanging, and it was so special. I'm happy I got to do it with some of my best friends, and I hope they all get to experience it as well."
Anderson noted it's always tough to get the first shot off his hand at the Open Championships due to the excitement and nerves of being back at the event, and he settled in with 214 in Game 1.
The strikes started to add up in Game 2 for Anderson as he and his group tended to one of their teammates who was battling an illness.
"We had a buddy battling something," Anderson said. "We could see he was fighting and shouldn't have been bowling. We owed a lot to him for just finishing to give us a chance."
The crowd gathered at South Point as he stepped up in the final frame with nine consecutive strikes, and Anderson energized the fans with a messenger to take out the 10 pin on each shot in the 10th.
"When I got to the 10th and looked around, there were like 200 people watching," Anderson said. "I would like to say I enjoy those big moments. This moment felt big because with each strike I threw, the crowd got louder and louder. I got away with the first one, and when I did, I knew I had to get the next two. I don't throw too many messengers like that, so it felt like someone was helping me along the way. It was a really special moment, being able to do that on the night I received my watch for last year."
Anderson concluded the night with a 204 for a 718 series, and his return to the Bowling Plaza on Saturday started with 628 in doubles before jumping into his title defense.
A 243 effort in the opening game of singles gave Anderson a small window to catch the leading Regular Singles total of 835 by Scott Patke of Lansing, Michigan, but the momentum did not continue as he finished with 195 and 181 for a 619 series and 1,965 all-events total.
No competitor has successfully defended a Regular Singles title in the history of the Open Championships.
On top of being talented competitors on the lanes, Anderson's group at the Open Championships also is a tightknit unit. Seeing one of their teammates struggle to make it through Friday's event, to go with some other rough news leading to their trip to Las Vegas, led to a bit of a rollercoaster experience for the team heading into Saturday.
"The last 24 hours have been tough," said Anderson after his singles set. "Bowling here under normal circumstances is hard enough, and this group had a lot of stuff going on in the last couple weeks. Today, we just had a really rough start. When you have a rough start at the Open Championships and you're not totally focused, you're going to get beat up. But, we'll be back next year and try to run it back."
Regular Singles features bowlers with entering averages of 176 and above.
Visit us on Facebook at the
official USBC Open Championships page
.