Arizona's Tormanen selected as 2022 David Dahms Coach of the Year
April 19, 2022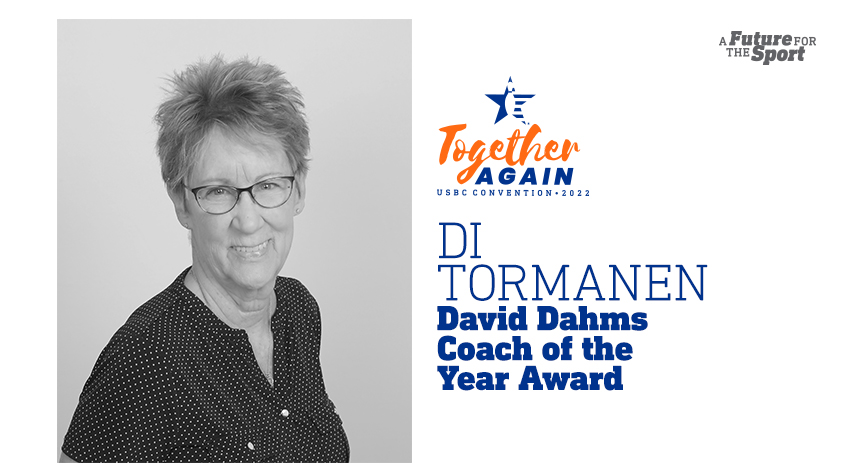 ARLINGTON, Texas
- Diane "Di" Tormanen of Peoria, Arizona, has been named the 2022 David Dahms Coach of the Year by the International Bowling Campus Youth Committee.
The annual award is determined by the IBC Youth Committee based on submitted applications.
The David Dahms Coach of the Year Award recognizes a coach that is trained through the United States Bowling Congress Coaching program who has been actively involved in a USBC Youth program and has demonstrated outstanding commitment to coaching, sportsmanship and knowledge of USBC Youth rules. It is named in honor of Dahms, who was an instrumental leader in the creation of what is now known as the USBC Junior Gold program.
"I'm extremely excited," said Tormanen, with a laugh, when describing her emotions when she received the news. "Let's see, if she (IBC Youth Committee Chair Chrissie Kent) could've seen me, I would've been jumping around. Naturally, I cried."
Tormanen began her journey into bowling in the Cleveland area with her family and from an early age took a liking to the sport. Her father, Joe Breit, shined on the lanes and was inducted into the Greater Cleveland USBC Hall of Fame.
Eventually, Tormanen found her own path at Glenfair Lanes in Glendale, Arizona.
As a single mother of three, Tormanen brought her daughter, Stephie, to bowl in a Special Olympics tournament, which was enjoyed by both. Tormanen asked the junior bowling program manager how she could be involved on a regular basis, because she loved kids and bowling.
She began working at Glenfair Lanes as a nursery attendant, before moving to a role as a desk attendant. She also began her coaching career during that time. As she worked the desk, she began watching bowlers with an analytical eye and talking about ways she might help players improve.
As she climbed the organizational ladder, she entered into management and ultimately became the general manager of the center.
After a full week of work, Tormanen would wake up early to bring Stephie, along with her daughter, Kim, and son, Chet, with her to the center to coach bowlers in the youth program. In total, she spent 31 years coaching and working at Glenfair Lanes, until she retired from her work position.
But, how did she become one of the best coaches? The answer reverts back to family.
"I have to go back to my special-needs daughter," said Tormanen, a USBC Silver coach. "I always wanted to be a nurse, but when I divorced, I had three kids to raise by myself. So, I started in the playroom at the bowling center because they would let me bring my daughter. I started watching and learning. I'd work behind the desk and analyze the bowlers."
Tormanen's love for her students always was on display, not only by their bowling abilities, but for how they dressed for bowling events and represented Glenfair Lanes while doing it. The success of her students helped her earn the Phoenix Junior Bowling Association Coach of the Year award in 1985 and Greater Phoenix Bowling Association Coach of the Year award in 1992.
She doubled down on her efforts with the Special Olympics by becoming an instructor to their coaching staff and specifically taught them how to coach bowling for children with disabilities.
Along with her coaching, she has given back to the sport in other ways. She recently retired as the association manager of the Metro Phoenix USBC, served on the local youth committee, held the office of vice president for the local association and was the first woman to hold a local association presidency after the merger of the American Bowling Congress and Women's International Bowling Congress to form USBC in 2005.
Her work across the state of Arizona earned her induction into the Metro Phoenix USBC Hall of Fame for meritorious service.
Even with all the accolades, Tormanen's love for the sport and her students keeps her coming back. At 75 years old, she's still coaching both youth and senior bowlers, now at Bowlero Glendale. She's made her mark while coaching in Arizona, and now, the rest of the bowling industry will celebrate her outstanding service to bowling.
She still feels the same way she did when she first began coaching, and until that feeling goes away, Tormanen will continue to help bowlers from all levels improve on and off the lanes.
"I'm hoping I have another 10 years," Tormanen said. "But, gosh that'd be 85, and I'm not sure about that. You have to be able to run up and down the bowling center and be able to answer the questions. But, I'm hoping that I'm there for a while longer.
"It's always that new bowler who comes in, which I had not too long ago. She was maybe 5 or 6 years old. When she knocked down the pins for the first time, it was incredibly exciting, and that's why I love to do what I do."
Tormanen will be recognized in April for her service to bowling during the 2022 USBC Convention, an event she has attended since she began coaching and working in the industry. Stephie and Kim will be on-hand to witness their mother be honored at The Orleans in Las Vegas.
This year's award ceremony, which includes a variety of awards for youth and adult bowlers, will take place during the morning session of the USBC Annual Meeting on April 28 at noon Eastern. The awards presentation will be broadcast live at BowlTV.com.
Learn more about awards for adult youth leaders and scholarship opportunities for youth bowlers at
BOWL.com/ScholarshipsAwards
.