Arizona group rolls to lead in Classified Team at 2023 USBC Open Championships
March 24, 2023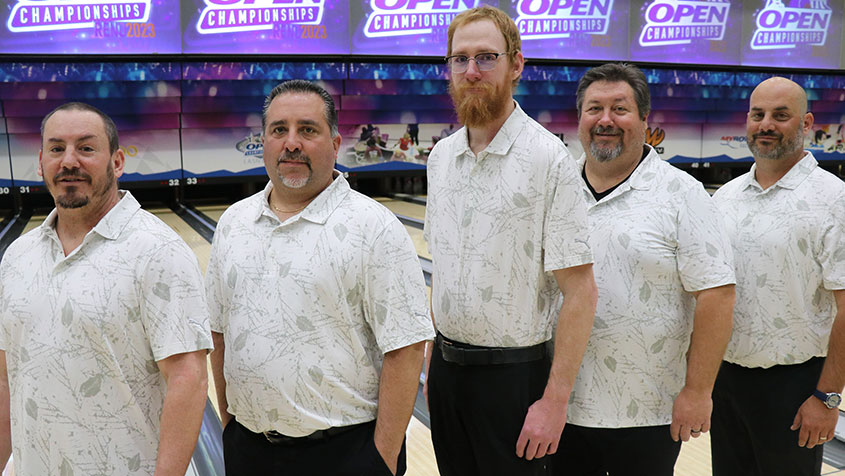 Pictured above (from left): Michael Hull, Tim Macias, Ryan Hailey, Chris Hull and John Hull

RENO, Nev. – Many teams that bowl at the United States Bowling Congress Open Championships make the trip a family affair. That's what Michael Hull and his team, Hull Point Pursuit, have been doing for 20 years.

On Thursday at the National Bowling Stadium, the group, made up of family and friends, showed off their team chemistry while taking the lead in Classified Team at the 2023 edition of the event with a 2,700 total.

Hull – formerly of Flagstaff, Arizona, and now residing in Kasilof, Alaska – bowls the USBC Open Championships each year with his brothers John and Chris Hull and close friends Ryan Hailey and Tim Macias.

The team posted consistent games across the board Thursday at the NBS, firing scores of 898, 896 and 906 to take the lead by more than 220 pins.

Hull Point Pursuit's team effort was led by John Hull's 621 series. He was followed by Macias (555), Michael Hull (516), Hailey (507) and Chris Hull (501) to move ahead of the two teams previously tied for first at 2,479 – Jackson Hewitt Tax Service of Yakima, Washington, and Leonard Davenport Team 1 of Evanston, Wyoming.

"This group has been bowling together for years," said Michael Hull, who made his 20th Open Championships appearance. "My dad and uncle stopped coming about four years ago, but my brothers and I have been bowling together every year since 2005."

The teammates noted their effort Thursday was their best collective performance as a unit on the championship lanes, and now they are going to have their eyes on the leaderboard daily to see if their score holds up to take home a coveted Eagle trophy.

"Doing this well with my brothers and friends is special, and if we were to win, it would just be an indescribable feeling," Michael Hull said. "The win would be dedicated to my dad and uncle for sure."

Classified Team features bowlers with combined entering averages of 775 and below.

The 2023 Open Championships kicked off March 4 and will conclude July 24. The 143-day tournament will feature more than 9,700 five-player teams and nearly 50,000 bowlers making their way to compete in The Biggest Little City in the World.

Visit us on Facebook at the official USBC Open Championships page.