Grammar and Thurston grab early lead in U20 at 2022 Junior Gold Championships
July 11, 2022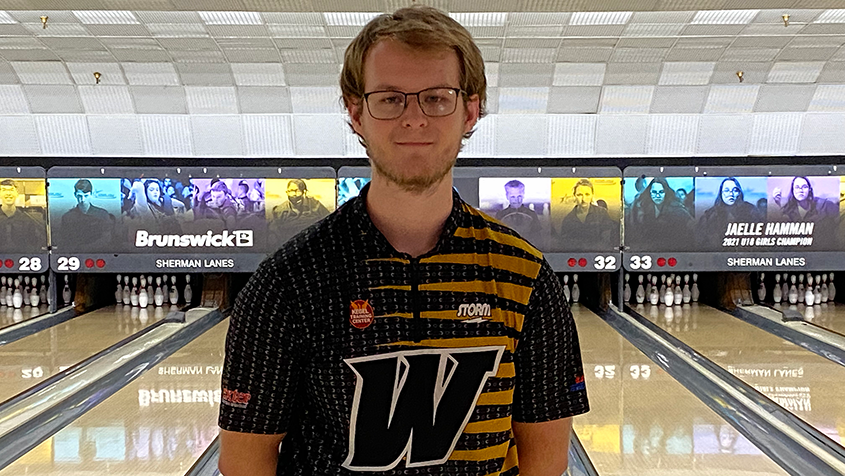 GRAND RAPIDS, Mich. – The first round of qualifying in the 20-and-under division of the 2022 Junior Gold Championships is in the books with Austin Grammar and Brianna Thurston setting the early pace Monday.
Grammar of Hamersville, Ohio, averaged 241 over his four games of qualifying at Sherman Bowling Center while Thurston of Madison, Wisconsin, posted a 231.5 average for her four games at Fairlanes Bowling Center.
Grammar's round was a model of consistency as his four games featured no game lower than 231 and none higher than 253. He finished with a pinfall of 964. The junior-to-be at Webber International University is competing in his third Junior Gold Championships but is looking to advance to match play for the first time.
Grammar got comfortable quickly on an oil pattern he felt would yield higher scores than the remaining three he will face Tuesday.
"After practice, I personally thought this was the easiest of the four patterns because it's short and there's so much friction on the gutter that you can kind of throw it there and it just goes," Grammar said.
The fact that it's very early in the event isn't lost on Grammar.
"My goal is not to get too complacent," Grammar emphasized. "I want to go out there and still be aggressive and try to lead every squad I can."
Grammar checked in just four pins ahead of Nolan Blessing of Cincinnati. Blessing rolled a 290 in Game 2 on his way to a total of 960. A pair of Junior Team USA members hold down third and fourth place. Spencer Robarge of Springfield, Missouri, is third (952) and Julian Salinas of Richmond, Texas, is fourth (941). Rounding out the top five is Cayleb Carey of Hobart, Indiana, with 930 pins.
Thurston's four-game block was highlighted by a 279 in Game 3. Her four-game total of 926 was 12 pins better than Allison Robbins of Flint, Michigan. LaMonique Berios of Christiansted, in the U.S. Virgin Islands used a 269 game to help her to a third-place total of 903. The rest of the top five has Lorrie Decker of Van Wert, Ohio, fourth (853) and Jasmine Saunders of Keokuk, Iowa, fifth (848).
The U20 division continues Tuesday as the field of 144 boys and 79 girls return to bowl their final three qualifying blocks. Each block consists of four games for a total of 16 games of qualifying bowled over two days. Following those 16 games, the field will be cut to the top 89 boys and 48 girls for the advancers rounds taking place Wednesday.
The first advancers round will feature five games before a second cut is made, and a final five-game block will determine the athletes in the boys and girls divisions advancing to the double-elimination match-play bracket.
Bracket matches will consist of two games, with total pinfall determining the winner. Three players will emerge from bracket play to compete in the stepladder finals to determine the champion. The two finalists in the match-play bracket will bowl to determine the No. 1 and No. 2 seeds for the stepladder, while the winner of the Elimination Bracket will be the No. 3 seed.
With the finals in each division being broadcast on BowlTV.com, the top overall seed for the stepladder would have to be defeated twice in the true double-elimination format.
The championship rounds in the U20 division will be held July 15 at 9 a.m. Eastern.