Back-to-Back 279s Help Boresch Take Top Qualifier Honors at PBA50 UnitedHealthcare Sun Bowl In The Villages
April 25, 2017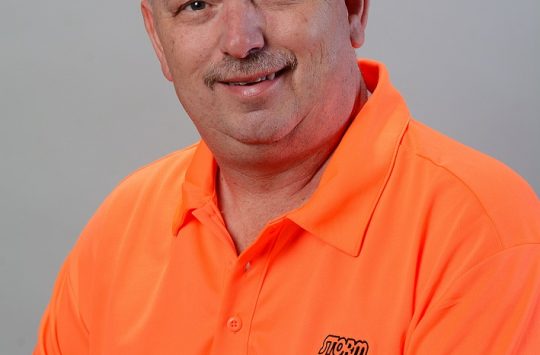 THE VILLAGES, Fla. – With the help of back-to-back 279 games to open the second round, two-time PBA50 Tour winner Lennie Boresch Jr. of Kenosha, Wis., retained his lead in the PBA50 UnitedHealthcare Sun Bowl In The Villages presented by Radical after qualifying Monday to lead 32 players advancing to match play.
After bowling a 1,952 eight-game pinfall total in Sunday's first round at Spanish Springs Lanes, Boresch bowled 1,935 in the second round to finish qualifying with 3,887. He had games of 279, 279, 247, 227, 223, 194, 228 and 258 in the second round.
"Ever since I won it five years ago I haven't bowled real well here so hopefully I'm turning things around," said Boresch, who won the 2012 Sun Bowl In The Villages in his PBA50 Tour debut. "Thanks to a few good breaks I was fortunate to get two big games right out of the gate. Things can change quickly during the round so you always like to take advantage of a good start."
The USBC Hall of Famer held a 58-pin lead over three-time PBA50 Tour and five-time PBA Tour winner Bob Learn Jr. of Erie, Pa., who finished qualifying in second with a 3,828 pinfall. Qualifying third was Peter Knopp of Germany with 3,802, followed by Sam Maccarone of Blackwood, N.J., 3,796, and Mark Sullivan, of Indianapolis, 3,793, to round out the top five.
Boresch is trying for his first title since winning the 2013 PBA50 Miller High Life Classic. He had two runner-up finishes in 2016 and kicked off the 2017 season with a seventh-place finish in last week's Pasco County Florida Open.
Bowling in his first PBA50 tournament of the season, defending champion and reigning PBA50 Player of the Year Pete Weber of St. Ann, Mo., moved from 23rd after the first round to 15th with a 3,694 pinfall.
Other Hall of Famers advancing to match play were Parker Bohn III, Jackson, N.J., in 10th with 3,724; Amleto Monacelli, Venezuela, 11th with 3,718; Bryan Goebel, Shawnee, Kan., 13th, with 3,706, and Walter Ray Williams Jr., Oxford, Calif., 16th, with 3,670.
After Tuesday's first match play round at 9 a.m. ET, the field will be cut to the top 16 for the second match play round at 2 p.m. which will determine the top five players for the stepladder finals scheduled for 7 p.m.
PBA50 SUN BOWL IN THE VILLAGES PRESENTED BY RADICAL
Spanish Springs Lanes, The Villages, Fla., Monday
SECOND ROUND
(after 16 games. Top 32 players advance to match play)
1, Lennie Boresch Jr., Kenosha, Wis., 3,887.
2, Bob Learn Jr., Erie, Pa., 3,828.
3, Peter Knopp, Germany, 3,802.
4, Sam Maccarone, Blackwood, N.J., 3,796.
5, Mark Sullivan, Indianapolis, 3,793.
6, James Hansen, Anchorage, Alaska, 3,776.
7, Wayne Bolin, Lumberton, N.C., 3,748.
8, David Williams Jr., Omaha, Neb., 3,732.
9, Mike Dias, Lafayette, Colo., 3,727.
10, Parker Bohn III, Jackson, N.J., 3,724.
11, Amleto Monacelli, Venezuela, 3,718.
12, Darin Hays, Wesley Chapel, Fla., 3,713.
13, Bryan Goebel, Shawnee, Kan., 3,706.
14, Hugh Miller, Mercer Island, Wash., 3,705.
15, Pete Weber, St. Ann, Mo., 3,694.
16, Walter Ray Williams Jr., Oxford, Fla., 3,670.
17, Danny Clark, New Palestine, Ind., 3,662.
18, Ryan Shafer, Horseheads, N.Y., 3,655.
19, Jerry Brunette Jr., Rochester, N.Y., 3,648.
20, Bo Goergen, Sanford, Mich., 3,646.
21, Sammy Ventura, Syracuse, N.Y., 3,641.
22, (tie) Joe Fulner III, Belleview, Fla., and Ron Mohr, Las Vegas, 3,636.
24, Tony Adkins, Port Orange, Fla., 3,609.
25, Michael Shequin, Debary, Fla., 3,608.
26, Paul McCordic, Sugar Land, Texas, 3,602.
27, Darryl Dempsey, Pinellas Park, Fla., 3,601.
28, Ralph Brunt Jr., Jensen Beach, Fla., 3,595.
29, Eddie Graham, Centerville, Ohio, 3,588.
30, Scott Greiner, Platte City, Mo., 3,582.
31, n-John Hough, Naples, Fla., 3,579.
32, Michael Haugen Jr., Phoenix, 3,576.
Did not advance:
33, Pete Thomas, Oklahoma City, Okla., 3,566, $1,000.
34, (tie) Joel Carlson, Omaha, Neb., 3,554, and Don Breeden, Clive, Iowa, 3,554, $1,000.
36, n-John Thomspon, Sarasota, Fla., 3,547, $1,000.
37, Tony Johnson, Canton, Ohio, 3,527, $1,000.
38, Ernie Segura Jr., Taylor, Mich., 3,522, $1,000.
39, Darryl Bower, Middletown, Pa., 3,520, $1,000.
40, Brian LeClair, Delmar, N.Y., 3,519, $1,000.
41, Bruce Hall, Westborough, Mass., 3,513, $1,000.
42, Don Herrington, Ballston Lake, N.Y., 3,505, $1,000.
43, Bill Nichols, Bella Vista, Ark., 3,504, $1,000.
44, Tom Carter, Columbus, Ohio, 3,496, $1,000.
45, John Donovan, Melbourne, Fla., 3,495, $1,000.
46, (tie) Dale Eagle, Twin Falls, Idaho, Don Blatchford, Santa Monica, Calif., Doug O'Bryant, Ball Ground, Ga., and Tom Baker, King, N.C., 3,494, $1,000.
50, Patrick King, Yankton, S.D., 3,492, $1,000.
51, David Taylor, Largo, Fla., 3,486, $1,000.
52, Gary Alstott, Washington, Ill., 3,485, $1,000.
53, George Gomez, Orlando, Fla., 3,484, $1,000.
54, John Burkett, Southlake, Texas, 3,483.
55, ss-Mark Scime, Winter Garden, Fla., 3,481, $1,000.
55, Steve Kenyon, Dade City, Fla., 3,481.
57, Michael Byers, Charleston, S.C., 3,476.
58, ss-Frank Gallo Jr., Jacksonville, Fla., 3,474, $1,000.
59, Mike Hastings, Millsboro, Del., 3,466.
60, Gary Faulkner, Norfolk, Va., 3,463.
61, Dale Traber, Cedarburg, Wis., 3,461.
62, William Peters, Dayton, Ohio, 3,458.
63, ss-John Dudak, Orland Park, Ill., 3,453, $1,000.
64, Christopher Keane, Cape Coral, Fla., 3,445.
65, Craig Auerbach, Sunrise, Fla., 3,442.
66, ss-Kenny Parks, Hammond, Ind., 3,441, $1,000.
67, ss-John Petraglia, Jackson, N.J., 3,435, $1,000.
68, ss-James Knoblauch, Waukesha, Wis., 3,431, $1,000.
69, Tim Shirlock, Las Vegas, 3,429.
70, Doug Becker, Clermont, Fla., 3,427.
70, Glenn Smith, New York, 3,427.
72, ss-Brian Miller, Springfield, Ohio, 3,424, $1,000.
73, ss-James Storts, Westfield, Ind., 3,420, $1,000.
74, Chuck Richardson, The Villages, Fla., 3,417.
75, Richard McDaniel, Coconut Creek, Fla., 3,407.
76, Nick Morgan, Sacramento, Calif., 3,404.
77, n-Widmar Vargas, Sun City Center, Fla., 3,403.
78, Patrick Shipley, Spring Valley, Calif., 3,400.
79, Bobby Sense, Jr., Massillon, Ohio, 3,395.
80, John DiSantis, Wilmington, Del., 3,394.
81, David Goldenberg, Holtsville, N.Y., 3,392.
82, Brian Kretzer, Dayton, Ohio, 3,390.
83, n-Rick Pittman, Fruitland Park, Fla., 3,389.
84, Stephen Pavlinko, Sewell, N.J., 3,383.
85, James Lord, Fort Mill, S.C., 3,382.
86, John Conroy, Mahopac, N.Y., 3,381.
87, Marty Berke, Allentown, Pa., 3,380.
88, Todd Haney, Boiling Springs, S.C., 3,373.
89, Paul LeMond, Jasper, Ind., 3,372.
90, Timothy Regan, East Northport, N.Y., 3,365.
91, Kevin Croucher, Grants Pass, Ore., 3,364.
92, Warren Nelson, Hemet, Calif., 3,361.
93, Ken Fishman, Lutz, Fla., 3,359.
94, Kevin Foley, Reno, Nev., 3,350.
95, Gary Morgan, Atlanta, 3,349.
96, John Austin Jr., League City, Texas, 3,346.
97, Dave Sill, Titusville, Fla., 3,345.
98, Todd Kjell, Roscoe, Ill., 3,343.
99, John Dougherty, Fort Walton Beach, Fla., 3,339.
100, Charlie Gadd, Lake Worth, Fla., 3,334.
101, Steve Bova, Massapequa, N.Y., 3,333.
102, Doug Hergenrader, Griimes, Iowa, 3,328.
103, (tie) Thomas Ream, Tampa, Fla., and Joe Scarborough, Charlotte, N.C., 3,316.
105, Bill Henson, Westerville, Ohio, 3,312.
106, Bob Kelly, Dayton, Ohio, 3,297.
107, James Deplanche, Taylor, Mich., 3,292.
108, n-David Cushion, Dewitt, Mich., 3,290.
109, Bill Hewlett, Las Vegas, 3,279.
110, Brian Cooper, Henderson, Nev., 3,276.
111, Emilio Mora Sr., Defiance, Ohio, 3,273.
112, (tie) Barry Clare, Bayside, N.Y., and William Banks, Laurel Hill, N.C., 3,271.
114, Tommy Martin, Olive Branch, Miss., 3,255.
115, Lee Rautenberg, Boynton Beach, Fla., 3,240.
116, Jim Lesiuk, Rancho Cucamonga, Calif., 3,238.
117, Pete Bryan, Laurel, Del., 3,213.
118, Michael Owen, Gainesville, Fla., 3,211.
119, James Blackstone, Kennesaw, Ga., 3,207.
120, Steven Grotowski, Ft Lauderdale, Fla, 3,206.
121, Dave Han, Birmingham, Ala., 3,204.
122, Han Chen, Wellington, Fla., 3,202.
123, Jim Pitts, Elmira, N.Y., 3,192.
124, Pete Arruda, Gilbert, S.C., 3,190.
125, Lee Brosius, Ashburn, Va., 3,187.
126, Dave Bernhardt, Romeo, Mich., 3,183.
127, Bill Ursillo, Bluffton, S.C., 3,174.
128, Paul Mielens, Menomonie, Wis., 3,169.
129, Darrell Adams, Flintstone, Ga., 3,166.
130, Ted Staikoff, Black Hawk, S.D., 3,156.
131, John Younger, Winston-Salem, N.C., 3,148.
132, James Souder, Greeneville, Tenn., 3,143.
133, Terry Rohrer, Ft. Wayne, Ind., 3,135.
134, (tie) Michael Truitt, New Port Richey, Fla., and Warren Burr, Wilmington, Del., 3,133.
136, n-Dave Van Riet, Summerfield, Fla., 3,129.
137, n-Adam Colton, Boynton Beach, Fla., 3,128.
138, Mike Schmid, St. Paul, Minn., 3,125.
139, Larry Williams, St. Augustine, Fla., 3,115.
140, Ron Glick, Morganville, N.J., 3,087.
141, Steven Jansson, Barnes, Wis., 3,072.
142, (tie) Nick Panicaro, Ocala, Fla., and Bob Chamberlain, The Villages, Fla., 3,071.
144, Jon DeLaney, McKinney, Texas, 3,067.
145, Harry Alchin III, Madeira Beach, Fla., 3,042.
146, William Keenan Jr., Orlando, Fla., 3,032.
147, Jim Dilyard, Burbank, Ohio, 3,025.
148, Rich Giragosian, Charlotte, N.C., 2,926.
149, Stephen Lippman, Palm Harbor, Fla., 2,923.
150, Ken Waters, Kingsport, Tenn., 2,921.
151, Galen Keas, Alda, Neb., 2,919.
152, Larry Felts Jr., Moore, S.C., 2,912.
153, Chuck Best, Buda, Texas, 2,899.
154, n-Joseph Woznicki, Lakeland, Fla., 2,851.
155, John Maloof, Park Hall, Md., 2,796.
156, Peter Brainard, Tampa, Fla., 2,772.
157, Keith Glasgow, St. Petersburg, Fla., 2,377.
158, Sam Perrotta, Newark, Del., 2,085.
159, Mike Walden, Stony Point, N.Y., 1,456.
160, Steve Stein, Staten Island, N.Y., 1,051
300 games (2) – Parker Bohn III, David Taylor
n-non-member
ss-PBA60 players out of the regular prize fund cashing for $1,000