Barnes Leads Wolf Open Strike Fest as Fall Swing Kicks Off
September 05, 2016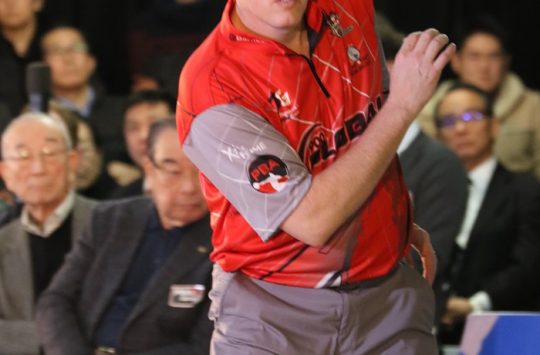 ALLEN PARK, Mich. (Sept. 5, 2016) – Eighteen-time Professional Bowlers Association Tour champion Chris Barnes of Double Oak, Texas, fired a 300 game and averaged 244.67 Monday to take the early qualifying lead in the PBA Wolf Open as the PBA Fall Swing got underway at Thunderbowl Lanes.
Barnes, seeking his first title on U.S. soil since winning the 2013 PBA Viper Open in Las Vegas, rolled games of 255, 300, 206, 247, 244 and 214 to lead the field of 12 top qualifiers who advanced to the second six-game round of Wolf Open qualifying later Monday. Since 2013, Barnes has won titles in Qatar (2014) and Japan (2015).
Also advancing were Anthony Pepe, Elmhurst, N.Y., 1,460 pins; rookie Francois Lavoie, Wichita, Kan., 1,445; Kyle Troup, Taylorsville, N.C., 1,403; Jason Sterner, Cocoa, Fla., 1,401; Jason Belmonte, Australia, 1,400; Tom Daugherty, Riverview, Fla., 1,397; Jesse Buss, Belvidere, Ill., 1,388; Wes Malott, Pflugerville, Texas, 1,384; Anthony Simonsen, Princeton, Texas, 1,382; Kristopher Prather, Milton, Fla., 1,372, and Norm Duke, Clermont, Fla., 1,370.
In addition to Barnes, Lavoie, Sterner and Belmonte also had first-round 300 games.
Martin Larsen, Sweden, and Steven Arehart, Chesapeake, Va., missed the cut by five pins.
The top 12 will bowl their second six-game qualifying round at 7:30 p.m. ET. Round two, which will decide the top five players for the stepladder finals of the Wolf Open, will be conducted in the historic arena section of Thunderbowl Lanes.
The Wolf Open stepladder finals will be conducted on Saturday, Sept. 10, at 11 a.m. for telecast on CBS Sports Network on Wednesday, Sept. 21, at 9 p.m. ET.
The first round of Wolf Open qualifying also counts as the first of three qualifying legs that will advance 18 players to the Detroit Open qualifying finals set for Thursday. Qualifying continues Tuesday with two rounds in the Bear Open followed by two rounds of Badger Open qualifying on Wednesday. All preliminary rounds of the Fall Swing are being covered live, exclusively on PBA's online video streaming channel, Xtra Frame. For subscription information, visit pba.com and click on the Xtra Frame link.