Belmonte, Kulick are 2014 IBMA Bowlers of Year
February 06, 2015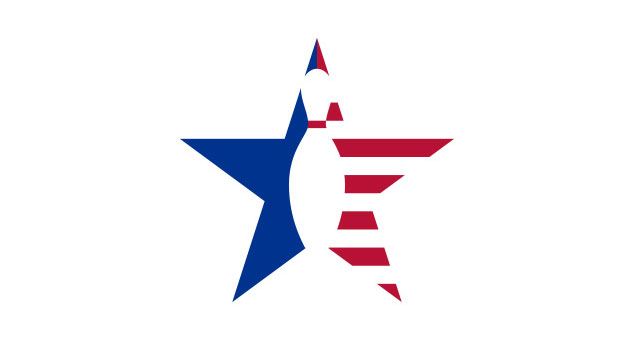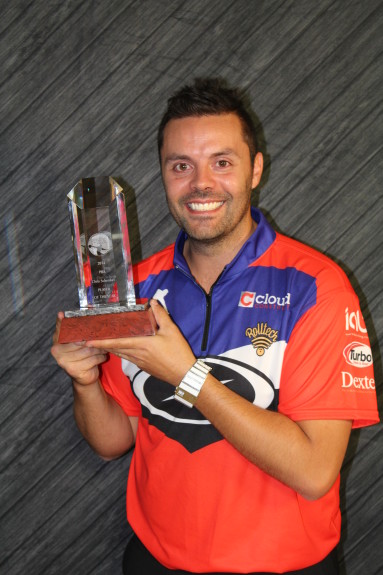 Belmonte also won his second straight Player of the Year award on the 2014 PBA Tour
The International Bowling Media Association has chosen Jason Belmonte and Kelly Kulick as it 2014 Bowlers of the Year.
Jason Belmonte, Orange, NWS, Australia, was the overwhelming choice of IBMA members, garnering 81% of first place votes on ballots distributed in January. This selection also marks back-to-back IBMA Bowler of the Year titles, as he was also chosen in 2013.
Belmonte was the only player to win three PBA/ World Bowling Tour titles in 2014, including two majors; the United States Bowling Congress Masters, and the Barbasol PBA Tournament of Champions. He also won the Oklahoma Open Championship during the 2014 PBA Summer Tour Series.
In addition to his tournament victories, Belmonte finished first for the year in average (226.71) first in PBA player points, and first in earnings ($163,788).
"I'm absolutely 100 percent excited and proud to win this award. As you go through your career, you have memories, but it's nice to see the hardware on the table to show your hard work. Thanks to the media for voting for me and also for all the work they put in throughout the year covering our sport and writing the stories we all read," said Belmonte.
In the women's category, it was another 'slim pickins' year for events, with no U.S. Open, but there was a well attended BPAA All Star Tournament to fill that gap until the U.S. Open returns in 2015, along with an all new Women's Professional Bowlers Association Tour beginning in July. The United States Bowling Congress Queens was the only recognized major on the women's 2014 calendar.
In the voting, Kelly Kulick, Union, New Jersey emerged as the winner. This is the third time she has earned IBMA Bowler of the Year honors. Her previous wins came in 2006 and 2010.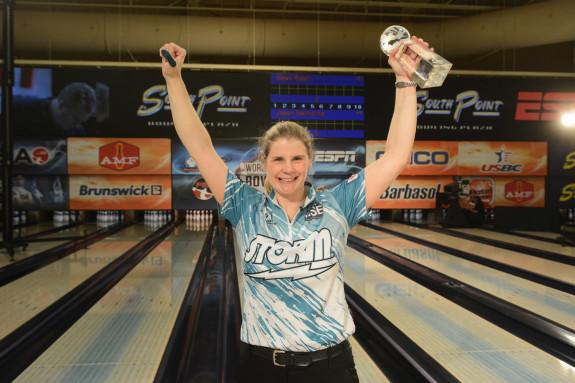 Kulick dominated international competition in 2014, ultimately winning the WBT Finals
Kulick won the 2014 World Bowling Tour Women's Championship, televised from the new South Point Bowling Arena in Las Vegas. Kulick defeated Liz Johnson by a "3 and 2" score in the championship match. It was the first WBT event to use a new scoring system designed to make bowling easier to understand by non-bowling media and television fans.
Kulick also won the PABCON Doubles Championship with partner Missy Parkin, finished second to champion Maria Jose Rodriquez by one pin in the USBC Queens, and second in the PABCON Women's Singles to champion Clara Guererro.
Kulick earned 52% of first place votes from IBMA members. Runner-up Missy Parkin received 24%.
"Thank you so much for this honor," said Kulick. There were a lot of great moments for me in 2014, and now this is a reminder of just how special it really was."
The Awards will be presented at 2015 International Bowl Expo at Paris Hotel Las Vegas the during the Industry Awards Luncheon, sponsored by Award Company of America" on Wednesday June 24, 12 - 2pm