Belmonte wins record fourth USBC Masters title
February 26, 2017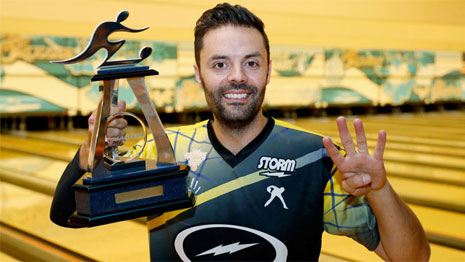 2017 USBC Masters brackets

LAS VEGAS -
Australia's Jason Belmonte has been a trailblazer in the sport of bowling his entire career, and he added another milestone to his growing list of accomplishments by becoming the first bowler to win the
United States Bowling Congress Masters
four times.
The 33-year-old entered the event's stepladder finals Sunday as the No. 1 seed and started the championship match at The Orleans Bowling Center with seven consecutive strikes, before a 7 pin ended his run at the first perfect game in a USBC Masters final.
The 279-212 win over amateur Michael Tang of San Francisco gave Belmonte his eighth major title, and second in three events, tying him with USBC and Professional Bowlers Association Hall of Famers Mike Aulby and Walter Ray Williams Jr. for second all-time behind fellow hall of famers Earl Anthony and Pete Weber, who have 10 apiece.
Belmonte earned $30,000 and the coveted Masters trophy for the win, while Tang took home $22,500 as the runner-up. 
"Honestly, it hasn't sunken in yet, and I'm really speechless," Belmonte said. "I love this tournament and think it really brings out the best in me. To have my name etched on this trophy four times and be the only person to do that is unbelievable. It doesn't seem real."
Belmonte, who won the recent Barbasol PBA Players Championship, now has 14 PBA Tour titles in nine seasons. He won the Masters three consecutive times in 2013, 2014 and 2015.
Heading into Sunday, Belmonte knew his game plan would be dependent on who else made the show and how they attacked the lanes in the games leading up to the final. Even as practice ended before the title match, Belmonte was uncertain about his look and made an educated guess.
"I struck once in practice and nothing looked like I was going to have that kind of game," said Belmonte, a three-time PBA Player of the Year. "With two shots left, Tim Mack hit the surface with 1,000 grit, and it looked OK. I hadn't thrown it on the other lane, so I had to make a guess on that lane. I told myself just to hit that spot. With urethane, the game Michael bowled easily could have been the game I had. He bowled a great game and didn't give anything away. He's an amazing talent."
Tang, the No. 4 seed for Sunday's championship round, was looking to become the first amateur since 2002 to win the Masters. He also would've been the first bowler to win from the fourth spot. Only two times since the Masters went to a stepladder format in 1980 has anyone lower than the second seed won the event.
Tang's ticket to the final came with a 227-217 win over amateur Alex Hoskins of Brigham City, Utah.
The two were even through five frames, with neither player throwing a double, but both rallying with late strings of three strikes.
Tang finished first, giving Hoskins the opportunity to win the game with a strike and nine-spare in his final frame, but Hoskins went light and left a 2 pin on his first offering. Hoskins, who made his first appearance at the Masters, finished third.
"The right lane got a little tight downlane," said Tang, the 2015 Intercollegiate Singles champion. "In the match against Hoskins, I rang a couple of 10s, which were worrisome, but I thought I had something figured out. The lanes kind of transitioned differently than through the week, so I had to make some different moves. Belmo is Belmo. It's hard to beat him when he has that kind of look. I feel like I bowled well, so there's nothing to be mad about."
In two wins on the way to the semifinal matchup with Hoskins, Tang tossed 18 strikes to get past his brother, Darren, and Sweden's Martin Larsen.
Tang's nine-strike performance against Darren ended in a 248-212 victory. The two were separated by just two pins after four frames, but four consecutive strikes from Michael in frames five through eight allowed him to pull away for good. Darren Tang finished fourth.
It was the first TV meeting between brothers since the 1994 PBA National Championship, when David Traber defeated his brother Dale in the title match.
The last time two brothers met in the stepladder at the Masters was 1980 when Neil Burton defeated his brother, Nelson (Bo), in the semifinal, before topping hall of famer Mark Roth for the title.
"It was fun," Michael Tang said. "I think he was trying to keep things a little looser, while I tried to stay in my zone and treat it like any other match. But it will be fun to watch back home."
In the opening match Sunday, Tang also struck nine times, including the first five frames, to defeat Larsen, 264-229. Larsen, who's still searching for his first PBA Tour title, finished fifth.
Competitors in the 395-player field this week bowled 15 games of qualifying, before a cut was made to the top 63, who joined defending champion Anthony Simonsen of Austin, Texas, in the double-elimination match-play bracket.