BFFs Lead PBA Challenge Qualifiers into Tuesday's Final Rounds
November 01, 2016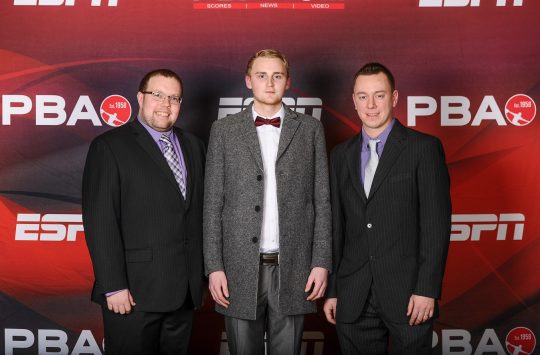 LAS VEGAS, Nev. (Oct. 31, 2016) – The BFFs, an international team consisting of England's Dom Barrett and Stuart Williams, Sweden's Jesper Svensson and Martin Larsen, and Finland's Osku Palermaa, averaged 232.64 as a team Monday to lead the top six qualifying teams into Tuesday's match play portion of the second Professional Bowlers Association Team Challenge at the South Point Bowling Plaza.
The BFFs, with a combined total of 9,771 pins, held at 66-pin lead over "One College POY and You Know The Rest," a so-called super team consisting of Jason Belmonte, Chris Barnes, Tommy Jones, Wes Malott and Bill O'Neill who, as a group, represented 65 PBA Tour titles and six PBA Player of the Year awards.
"We've continued with the chemistry we've had in the Weber Cup, which is a Europe vs. the USA team competition," Williams said. "Pretty much the whole day today, at least three of us were bowling well and the guys who were struggling would figure it out. But when you have three bowling well, it makes life a lot easier."
The top six teams after six standard and 12 Baker format games Monday advanced to Tuesday's final round of head-to-head Baker team matches leading up to the four-team Baker format stepladder finals at 6 p.m. ET (3 p.m. PT). In Baker format team bowling, each of the five players bowls two frames to complete a game.
Also advancing was the defending champion Dead Money team, which consists of a group of players who bowled extensively with and against each other in national youth bowling competition over the years: Alex Cavagnaro, Danielle McEwan, Matt McNiel, Matt O'Grady and Anthony Pepe.
Tuesday's competition will include six Baker format team matches, beginning at 1 p.m. ET (10 a.m. PT). Based on pinfall totals for six traditional team games and 18 Baker format games, plus match play bonus pins, the top four teams will advance to the Baker format stepladder finals Tuesday at 6 p.m. ET (3 p.m. PT). All of Tuesday's competition will be covered live, exclusively on PBA's online video-streaming service, Xtra Frame. For details, visit xtraframe.tv.
PBA TEAM CHALLENGE
South Point Bowling Plaza, Las Vegas, Monday
Final Qualifying Standings (after six five-player team games plus 12 Baker format team games; top six teams advance to round-robin match play Tuesday)
1, The BFFs (Dom Barrett, England; Martin Larsen, Sweden; Osku Palermaa, Finland; Jesper Svensson, Sweden; Stuart Williams, England), 9,771.
2, One College POY & the Rest You Know (Chris Barnes, Double Oak, Texas; Jason Belmonte, Australia; Tommy Jones, Simpsonville, S.C.; Wes Malott, Pflugerville, Texas; Bill O'Neill, Langhorne, Pa.), 9,705.
3, Team Brunswick (Parker Bohn III, Jackson, N.J.; Ryan Ciminelli, Cheektowaga, N.Y.; Sean Rash, Montgomery, Ill.; Tom Smallwood, Saginaw, Mich.; Walter Ray Williams Jr., Oxford, Fla.), 9,700.
4, Playin' with House Money (D.J. Archer, Friendswood, Texas; Josh Blanchard, Mesa, Ariz.; Dino Castillo, Highland Village, Texas; Tom Daugherty, Riverview, Fla.; Shawn Maldonado, Houston), 9,560.
5, Dead Money Alex Cavagnaro, Massapequa, N.Y.; w-Danielle McEwan, Stony Point, N.Y.; Matt McNiel, Minneapolis; Matt O'Grady, Matawa, N.J.; Anthony Pepe, Elmhurst, N.Y.), 9,433.
6, 'Merica Rooster Illusion (Marshall Kent, Yakima, Wash.; Chris Loschetter, Avon, Ohio; Rhino Page, Orlando, Fla.; Ronnie Russell, Marion, Ind.; E.J. Tackett, Huntington, Ind.), 9,400.
Did not advance:
7, The X Team (Patrick Dombrowski, Parma, Ohio; Arturo Quintero, Mexico; w-Anggie Ramirez, Austin, Texas; Ildemaro Ruiz, Venezuela; Cameron Weier, Tacoma, Wash.), 9,384.
8, Almost All College Grads & Prather (Devin Bidwell, Wichita, Kan.; Graham Fach, Canada; Francois Lavoie, Canada; Jake Peters, Henderson, Nev.; Kris Prather, Milton, Fla.), 9,315.
9, PBA50 Tour (Amleto Monacelli, Venezuela; Greg Ostrander, Freehold, N.J.; Ron Mohr, N. Las Vegas; Eddie Graham, Centerville, Ohio; Bob Learn Jr., Boynton Beach, Fla.), 9,257.
10, Moneyball (Patrick Allen, South Salem, N.Y.; Michael Haugen Jr., Phoenix; Darren Tang, San Francisco; n-Michael Tang, San Francisco; n-Chris Via, Springfield, Ohio), 9,236.
11, MOTIV Revolution (Dick Allen, Columbia, S.C.; Gary Faulkner Jr., Memphis, Tenn.; Aaron Lorincz, Belleville, Mich.; Brad Miller, Maryland Hts., Mo.; Brett Spangler, Niles, Ohio), 9,217.
12, General Mills' Pin Militia (John Furey, Freehold, N.J.; Tommy Gollick, Oberlin, Pa.; w-Liz Kuhlkin, Rotterdam, N.Y.; Joe Paluszek, Bensalem, Pa.; Ryan Shafer, Horseheads, N.Y., 9,206.
13, Team EBI (Joe Bailey, Doylestown, Ohio; Steve Novak, Indianapolis; J.R. Raymond, Bay City, Mich.; Dave Wodka, Beavercreek, Ohio; Mike Wolfe, New Albany, Ind.), 9,134.
14, 900 Global Phoenix (Jakob Butturff, Chandler, Ariz.; Andrew Cain, Phoenix; Ben Canfield, Tempe, Ariz.; n-Russ Oviatt, Tempe, Ariz.; Jeff Piroozhaad, Coral Springs, Fla.), 9,129.
15, Woof Hearted (n-Alex Aguiar, Dartmouth, Mass.; Ryan Graywacz, Feeding Hills, Mass.; Robert Smith, Ventura, Calif.; Jason Sterner, Cocoa, Fla.; Jon Van Hees, Charleston, R.I.), 9,088.
16, Bowl U (Brad Angelo, Lockport, N.Y.; B.J. Moore, Greensburg, Pa.; Jesse Buss, Belvidere, Ill.; John Szczerbinski, N. Tonawanda, N.Y.; n-Zachary Wilkins, Canada), 9,048.
17, Just Some Guys (Joe Goldstein Sr., San Bruno, Calif.; Eric Forkel, Henderson, Nev.; David Haynes, Las Vegas; Noel Vazquez, Sacramento, Calif.; Greg Thompson Jr., San Jose, Calif.), 8,904.
18, Team Fish (A.J. Johnson, Oswego, Ill.; Scott Newell, Deland, Fla.; Connor Pickford, Charlotte, N.C.; Anthony Simonsen, Princeton, Texas; Kyle Troup, Taylorsville, N.C.), 8,893.
19, Paul's Right Hand Men (Tom Hess, Urbandale, Iowa; Thomas Larsen, Denmark; Paul Moor, England;
Christopher Sloan, Ireland; Richie Teece, England), 8,789.
20, The Donators (Anthony Colosimo, Davie, Fla.; Sam Cooley, Australia; Jeff Evans, Supply, N.C.; Anthony Lavery-Spahr, Pasadena, Texas; n-Brandon Novak, Chillicothe, Ohio), 8,635.
300 Games: Sean Rash, Jason Belmonte.