BFTC Week celebrates survivors at 2022 USBC Women's Championships
July 01, 2022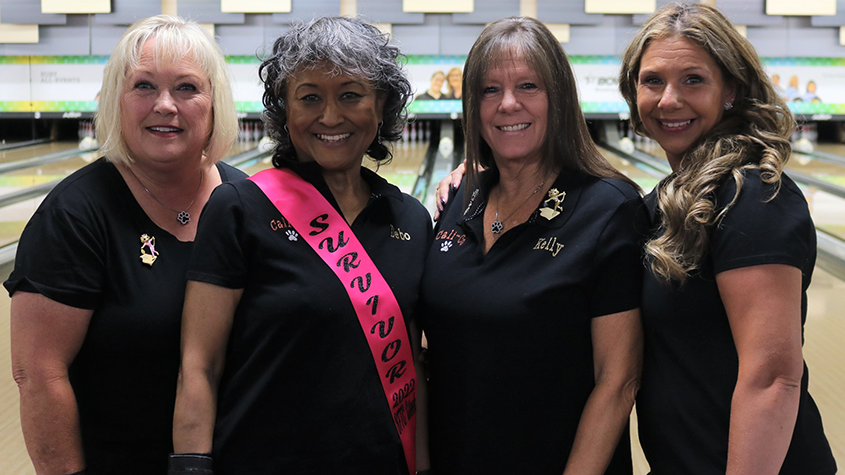 (pictured above:
Deborah Clavel (in sash) and her teammates during Bowl for the Cure Week at the 2022 USBC Women's Championships)
By
Donovan Grubaugh
USBC Communications
ADDISON, Ill.
- Bowl for the Cure Week at the
United States Bowling Congress Women's Championships
returned for the second consecutive year at one of the world's largest participatory sporting events for women, helping raise awareness and donations toward the fight against breast cancer.
The celebration took place from June 20-26 at Stardust Bowl, giving participants the chance to recognize survivors, hear their stories and learn more about
Bowl for the Cure
and
Susan G. Komen
.
Bowl for the Cure is sponsored by USBC, in partnership with Susan G. Komen, and serves as a year-round fundraising and breast cancer awareness initiative that helps support research, education, treatment assistance and other community programs.
Andrea Ridenour from Susan G. Komen was in attendance, informing competitors about the importance of yearly mammograms, with screenings in decline since the COVID-19 pandemic.
Bowlers also had the chance to win daily prizes, participate in a raffle, sign the Survivor Wall and pick up merchandise, with proceeds going to Bowl for the Cure.
From the donations, raffles and merchandise sales during the week in Addison, more than $2,000 was raised for Bowl for the Cure.
Deborah Clavel of Henderson, Colorado, and Sue Aronstein of Plainfield, Illinois, competed during Bowl for the Cure Week, and both are survivors of breast cancer.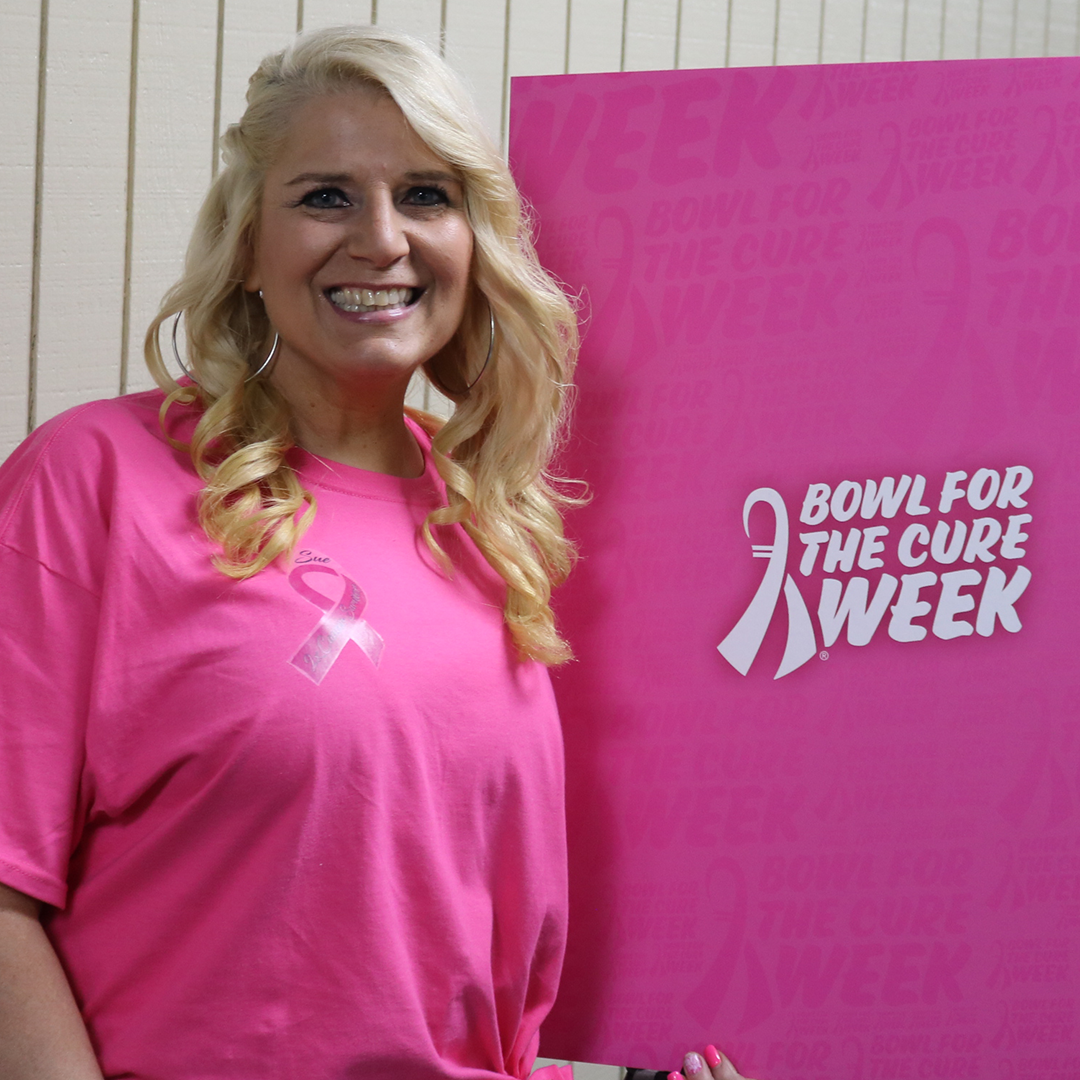 Aronstein was first diagnosed with breast cancer in 2012. She received treatments until it went into remission, before reemerging again in 2019.
"I made the decision that I was going to help others and myself, and not just lay down against this," Aronstein said.
She made sure to keep this week free, so she could bowl during Bowl for the Cure Week. She put her name on the tournament's sub board and received a call not long after.
"I wanted to bowl this week to represent myself, and it doesn't matter how I bowl, honestly," Aronstein said. "I just want to show that I'm living proof that you could beat it, twice. I declined a few offers to bowl the tournament earlier, because I wanted to bowl during this week. It's special to me."
Clavel has had a long journey herself, having her first bout with cancer in October of 2016.
"I had just returned home from going out, and I felt something and thought it didn't feel right," Clavel said. "I had imagery and a biopsy done that confirmed it, with surgery in December."
It came back in 2018, then a third time in 2020. She now is battling it for a fourth time as she made her sixth USBC Women's Championships appearance during the week.
Clavel doesn't let cancer stop her from bowling.
"During radiation the second time, I got tired a little faster and threw the ball a little slower," Clavel said. "These girls I bowl with keep me going, however, even when my energy is on the low side."
Both Clavel and Aronstein love what Bowl for the Cure Week means to them, from having the support from other bowlers to increasing the awareness of breast cancer and showing that they are living proof to others fighting that it is something they can beat.
"It's really special what USBC has done," Aronstein said. "I feel honored that they have this week for us to show that we aren't alone in the fight, with the sashes and going onto the lanes. It also honors those that couldn't be here, and the survivors really appreciate that."
Bowl for the Cure Week will continue at the 2023 Women's Championships in Las Vegas. The dates at the South Point Bowling Plaza are June 19-25.
Click here to learn more and register.