Bidwell, Jones qualify to compete in Pan Am Games
February 13, 2015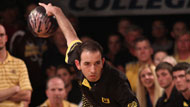 Pan American Games Qualifying Standings
ARLINGTON, Texas -
Devin Bidwell of Wichita, Kansas, and Tommy Jones of Simpsonville, South Carolina, will represent Team USA at the prestigious 2015 Pan American Games this July in Toronto.
The qualifying process was based on performance at the 2015 United States Bowling Congress Team USA Trials and the 2015 USBC Masters. The Team USA women's representatives will be decided after the 2015 USBC Queens in May.
Bidwell topped the standings with 1,630 points, while Jones was second with 1,620 points. Kamron Doyle of Brentwood, Tennessee, will be the first alternate, finishing third with 1,540 points.
Sixty percent of the qualifying points came from the Team USA Trials - 40 percent based on overall finish and 20 percent based on daily finish. The final 40 percent was based on performance at the Masters - 30 percent based on qualifying position and 10 percent based on final position in the bracket.
"Qualifying for the Pan American Games comes as a complete surprise because at the Masters, I was totally focused on that event," said Bidwell, who earned 1,260 points at the Team USA Trials and 370 points at the Masters. "This is awesome because it's not only an opportunity to do what I love, it's for my country."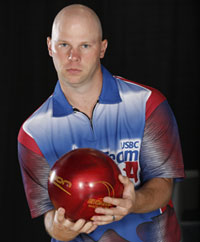 Jones picked up 1,200 points at the Team USA Trials and added 420 points at the Masters to earn his spot.
"I love wearing red, white and blue, so having the chance to represent Team USA again is a dream come true," Jones said. "The Pan American Games is one of the most prestigious events our sport has to offer, so I'm excited to have the opportunity to compete."
The Pan American Games are an Americas version of the Olympic Games which includes the Olympic program sports and others that are not part of the Olympics. The United States Olympic Committee has specific requirements for selecting players to compete in the event.
Two men and two women will represent Team USA at the event, which is considered the most important event in the four-year cycle of the Team USA bowling program. In order to represent the United States at the Pan American Games, athletes must be U.S. citizens and members of Team USA in 2015.
Danielle McEwan of Stony Point, New York, leads the women's qualifying points with 1,520 from Team USA Trials. Shannon Pluhowsky of Dayton, Ohio, is second with 1,300, while Liz Johnson of Cheektowaga, New York, is third with 1,220.
The Queens will complete the women's qualifying process when it is held May 13-18 at The Ashwaubenon Bowling Alley in Green Bay, Wisconsin.
For more information on Team USA, visit
BOWL.com/TeamUSA
.