Big Game Helps Tackett Take Bear Open Lead
September 06, 2016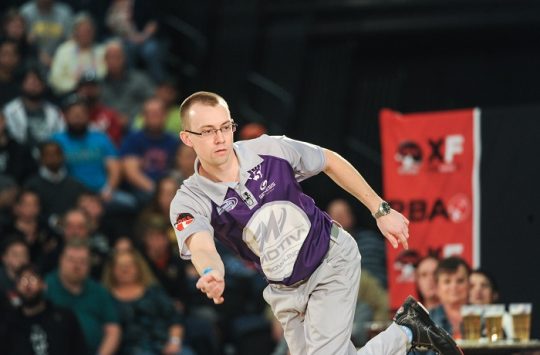 ALLEN PARK, Mich. (Sept. 6, 2016) – E.J. Tackett of Huntington, Ind., rolled a 290 in his fifth qualifying game Tuesday afternoon to take the early qualifying lead in the PBA Bear Open, the second of four PBA Tour titles events in the PBA Fall Swing, at Thunderbowl Lanes.
Tackett, the 24-year-old 2013 PBA Rookie of the Year, rolled games of 184, 246, 234, 258, 290 and 234 for a six-game total of 1,446 pins (a 241 average) and a 35-pin lead over Jon Van Hees of Charlestown, R.I. Tackett, a two-time PBA Tour titlist, is trying for his third title and second win of the year.
After bowling their first six games on the flat 40-foot Bear oil pattern in the main section of the 54-lane bowling center, the top 12 moved into the historic Thunderbowl arena bay for their second six-game qualifying round at 7:30 p.m. ET. Round two will decide the top five players for the stepladder finals of the Bear Open, which will be contested Saturday at 2:30 p.m. in the arena bay for telecast on CBS Sports Network on Wednesday, Sept. 28, at 8 p.m. ET.
Also advancing with Tackett and Van Hees were Rhino Page, Dade City, Fla., 1,355; Josh Blanchard, Mesa, Ariz., 1,352; Brandon Novak, Chillicothe, Ohio, 1,346; Andrew Graff, Las Vegas, 1,344; Jesper Svensson, Sweden, 1,337; John Szczerbinski, N. Tonawanda, N.Y., 1,332; Devin Bidwell, Wichita, Kan., 1,331; Sean Rash, Montgomery, Ill., 1,328; Jason Sterner, Cocoa, Fla., 1,326, and Shawn Maldonado, Houston, 1,321
The first round of Wolf and Bear Open qualifying also are the first of two of three qualifying legs that will advance 18 players to the Detroit Open qualifying finals set for Thursday. Detroit Open qualifying continues Wednesday with Badger Open qualifying. Combined pinfall for 18 games on the three animal patterns will determine the 18 Detroit Open finalists.
Leading Detroit Open qualifying heading into the Badger qualifying stage were Anthony Pepe, Elmhurst, N.Y.; Francois Lavoie, Canada, 2,745; Sterner, Svensson and Tackett.
All preliminary rounds of the Fall Swing are being covered live, exclusively on PBA's online video streaming channel, Xtra Frame. For subscription information, visit pba.com and click on the Xtra Frame link.