Big jumps in Standard Singles, Classified Doubles at 2023 Open Championships
March 16, 2023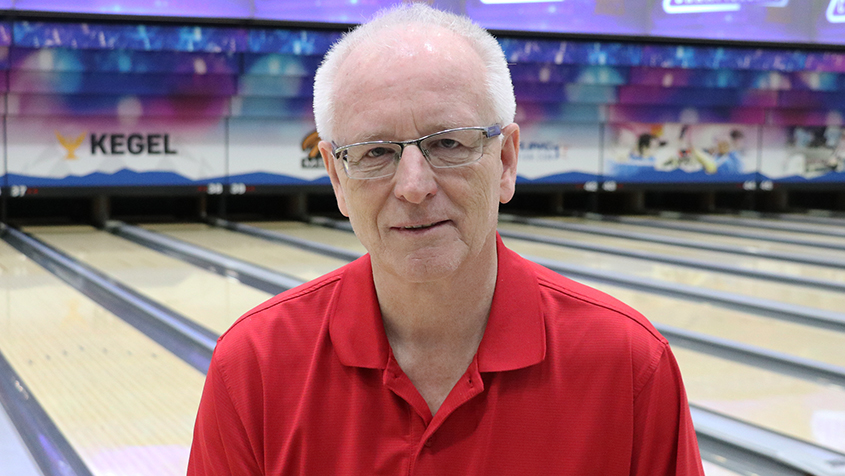 Pictured above: Patrick Gaddie

RENO, Nev. –
The scoring pace has started to settle in through nearly two weeks of competition at the 2023
United States Bowling Congress Open Championships
, and bowlers from across each of the three average-based divisions have been doing their best to set the pace at the 119th edition of the event.
While some events have seen the scores steadily improve at the National Bowling Stadium, two performances stood out Wednesday with sizable jumps at the top of the standings.
In Standard Singles, Patrick Gaddie of East Grand Forks, Minnesota, took the lead by nearly 50 pins after posting the best set in his 11-year career at the USBC Open Championships, finishing with a 682 series.
In Classified Doubles, the pair of Clayton Monson of Cooperstown, North Dakota, and Garrett Heyerdahl of Hannaford, North Dakota, moved into the top spot by more than 110 pins, recording a total of 1,125.
Gaddie, a 62-year-old right-hander, used a combination of a ball change and an adjustment to his release to make his move at the NBS. After games of 174, 174 and 170 in doubles for a 518 series, he fired 227, 203 and 252 in singles.
Anthony Martinac of Loveland, Colorado, had held the lead in Standard Singles with 635.
"It was my hand position," Gaddie said. "I wasn't staying behind the ball. I had to really crank my hand over and get the ball through the heads a little bit, and have something with some pop. I went to something with a stronger cover, and it seemed to work well."
Gaddie admitted to his spare shooting slowing him down a bit in doubles, but overall, he was happy to contribute to the overall effort of his group at the event, R&G Ag. Services Inc.
As he was making his way down the stretch in Game 3 with four late strikes in a row, he was focused on finishing strong for his teammates.
"I had no idea what was leading," said Gaddie, who added 495 in team for a 1,695 all-events total. "The last couple of years, I haven't been doing as well here. I figured to try and stay steady and actually contribute for once to help out the team."
The team aspect of the Open Championships is a big part of the experience for Gaddie, knowing his father, Jack, was able to enjoy the tournament for many years in the same way.
Jack, now 95, received a call from his son just minutes after taking the lead at the 2023 event, and Patrick appreciated the chance to share the moment with his father.
"He bowled these championships for many years," Gaddie said. "I think he was pretty excited, and I was glad to make the call to him. I know how much fun his group had bowling here, and that's what we come down for – to have fun."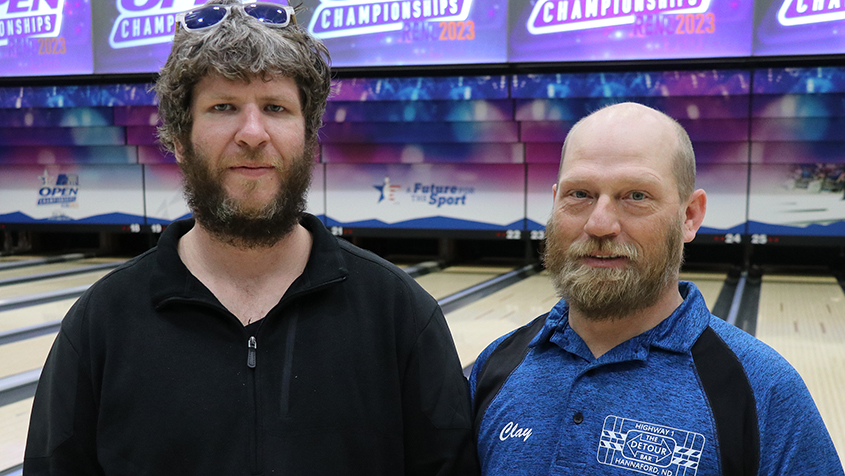 Pictured above (from left): Garrett Heyerdahl and Clayton Monson
Monson and Heyerdahl were each making their second career appearance at the Open Championships after starting last year in Las Vegas, but the duo looked like seasoned veterans as they cruised to the top of the leaderboard.
Monson, a 41-year-old right-hander, filled all but three frames during his doubles set, rolling games of 209, 186 and 187 for a 582 series. Heyerdahl, a 30-year-old right-hander, found stretches of four consecutive strikes in Games 1 and 3 on the way to scores of 189, 153 and 201 for a 543 set.
Jeff Higgins of Maple Grove, Minnesota, and John Aydt of St. Michael, Minnesota, previously held the lead in Classified Doubles with 1,013.
"We really had no clue we were bowling decent enough to take the lead until our friends on the pair next to us let us know in the ninth frame," said Monson, who added 539 in singles and 429 in team for a 1,550 all-events total. "If you would have told me a month ago that we were going to leave here with the lead, I would have told you no chance."
Heyerdahl credited Monson's steady performance in helping them to the lead.
"Clay really pulled it together and held us up to get here," said Heyerdahl, who also had 492 in team and 402 in singles for a 1,437 all-events score. "We both bowl at a really small center with only six lanes, and they just recently made some improvements to the center, including synthetic lane beds, which has helped us get a little better."
That center is Stri-King Lanes in Hannaford, where Monson and Heyerdahl bowl league together. This week's appearance in Reno marked the first time they had bowled together in a tournament, however.
Although the 2023 Open Championships still has more than four months before the final ball is rolled on July 24, it would mean a lot for Monson and Heyerdahl to bring home a victory to their community.
"Our squad captain put us together based on our averages, and I am so happy he did," Monson said. "It's still early in the tournament, but it would be really neat if this score holds on to win. I can't even describe what it would be like for us to go back to our volunteer-run six-lane center as national champions."
The 2023 Open Championships kicked off March 4 and will run for 143 consecutive days as more than 9,700 five-player teams and nearly 50,000 bowlers make their way to compete in The Biggest Little City in the World.
Standard Singles features bowlers with entering averages of 156-175.
Classified Doubles includes bowlers with combined entering averages of 310 and below.
Visit us on Facebook at the
official USBC Open Championships page
.