Bohn Leads After First Round at 2016 USBC Senior Masters
June 22, 2016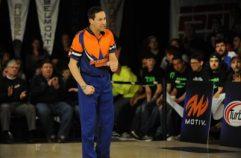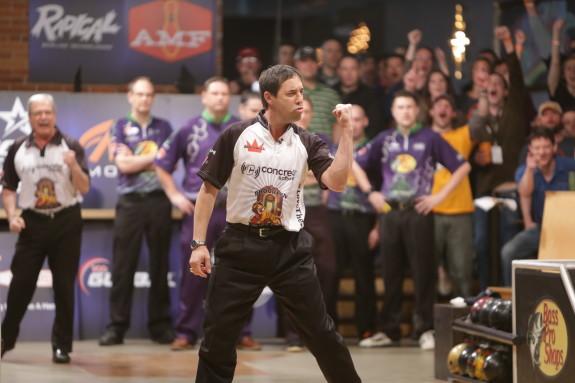 Matt Cannizzaro and Aaron Smith
USBC Communications
LAS VEGAS - The first day of qualifying at the 2016 United States Bowling Congress Senior Masters turned out to be a successful venture for Parker Bohn III of Jackson, New Jersey, and those who spend time close to him.
The USBC and Professional Bowlers Association Hall of Famer set the pace through the first of the event's three qualifying rounds at Sam's Town Bowling Center, rolling games of 244, 231, 256, 260 and 267 for a 1,258 five-game total Tuesday, while his roommate for the week, John Donovan of Melbourne, Florida, came within one strike of taking the lead later in the day.
Donovan needed to shoot 282 or better in his final game to catch Bohn and started the finale with nine consecutive strikes before leaving back-to-back washouts in the 10th frame for a 272 game and 1,248 total for the day.
Fellow Jackson resident John Petraglia, also a USBC and PBA Hall of Famer, finished the day in third place with 1,224.
Ernie Segura of Taylor, Michigan, is fourth with 1,205, and Eric Forkel of nearby Henderson, Nevada, is fifth with 1,198.
The leading trio of southpaws each bowled on a different squad Tuesday, with Bohn's performance coming on the fresh 40-foot USBC Senior Masters lane condition.
"Things ended up being a lot better than I expected going in," said Bohn, who owns 35 PBA national titles, including the 2001 USBC Masters, and three PBA50 Tour victories. "I played farther inside yesterday in practice but saw some other lefties playing out and decided to come in today with an open mind and a plan to try some different things in practice. I feel like I have two or three different options, with the main goal being to get all I can for now. It's like a new event once match play starts."
Bowling on the final squad of the day gave Donovan a chance to scout the lanes and get an idea of how they were being played through the first 10 games of traffic on the left side. With the lanes only being oiled one time per day, Donovan's first block came on the double-burn.
"I saw a lot of lefties playing more inside, but I wanted to stay as far left as possible, so I wouldn't be affected by the right-handers as they moved left throughout the block," Donovan said. "I was hoping to get to 50 or 60 over, but I ended up have a good look and figured I could get more. I just never expected it to be as much as it was. I don't think I doubled in any 10th frames, so that cost me a few more pins. I'm absolutely thrilled right now, though."
The 50-year-old Donovan, a rookie this year on the PBA50 Tour, already has learned a lot from Bohn this season, having crossed with the hall of famer in his first two Tour stops. That experience definitely helped him Tuesday.
"Bowling with Parker at the first two stops really helped with my nerves and learning what's happening out there on the lanes," Donovan said. "I don't really bowl as much as some of these guys, so talking to Parker and learning from him definitely has made me feel more comfortable."
The roommates will lead the field of 263 Senior Masters competitors back onto the lanes at Sam's Town for the second round of qualifying Wednesday with squads taking place at 11 a.m., 3 p.m. and 7 p.m. Eastern.
Qualifying will conclude Thursday, with 15-game pinfall totals determining the 63 bowlers who will join defending champion Amleto Monacelli of Venezuela in the double-elimination match-play bracket.
Monacelli is tied for 12th place after Tuesday's opening round with a 1,139 total. The USBC and PBA Hall of Famer is guaranteed the No. 64 seed if he falls out of the cut, but he can improve his seeding for match play during qualifying.
All rounds of qualifying and match play are being broadcast live on BowlTV, and the five players who advance through the bracket will battle for the title in the stepladder finals Sunday at 1 p.m. Eastern.
The Senior Masters is open to USBC members age 50 and older and is the second of two USBC senior tournaments taking place this week in Las Vegas.
Senior Masters bowlers are competing for a $16,000 top prize, while Japan's Junichi Yajima earned $6,500 for his win at the 2016 International Training and Research Center Super Senior Classic (USBC members age 60 and older) at Sam's Town over the weekend.
Yajima, 70, also is competing at the Senior Masters and is in 30th place after the first round with 1,103.