Bond looks to defend title close to home at 2022 USBC Queens
May 18, 2022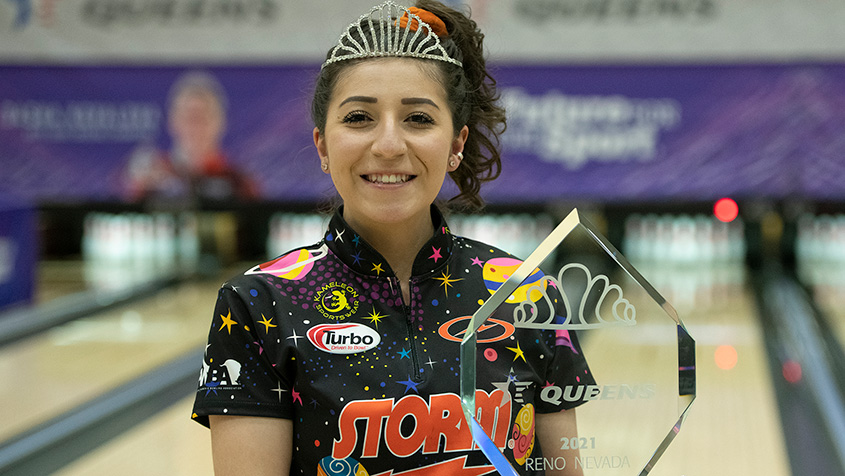 ADDISON, Ill.
- When Julia Bond of Aurora, Illinois, made her
Professional Women's Bowling Association
Tour debut as a full-time member in 2019, it was simply a question of when, and not if, she would win a major title.
Just one full season later, Bond broke the code early, figuring out how to win three times on the national tour, which included her first major championship at the 2021
United States Bowling Congress Queens
at the National Bowling Stadium in Reno, Nevada.
The 26-year-old right-hander will return to the event this week at Stardust Bowl, and she's looking for another long run through the tournament's double-elimination bracket.
The 2022 USBC Queens begins Wednesday with the tournament's official practice sessions. The first of three five-game qualifying rounds will start Thursday, before the field is cut to the top 63 players and Bond, who is guaranteed a spot in the bracket as the defending champion.
Three-game total-pinfall matches will determine which players advance through the bracket leading up to the stepladder finals on May 24 at 7 p.m. Eastern on CBS Sports Network.
All qualifying and match-play rounds leading up to the live televised finals will be broadcast at BowlTV.com.
The winner of the Queens will take home a $60,000 top prize and the tiara awarded to the champion.
Bond averaged more than 234 across six matches to earn the top seed, and she went onto defeat Missy Parkin of San Clemente, California, in the title match, 238-154.
It's rare for any player to earn a major championship so early in a career, but Bond has the pedigree. Bond had made two trips to the bracket as an amateur but did not advance to match play at the Queens in 2019. She responded in the best way possible in 2021.
She's looking forward to a return to the bracket and gaining some understanding of how the lanes will play throughout qualifying.
"Winning Queens was definitely on my bucket list," Bond said. "It felt incredible hoisting the trophy because, to be honest, I didn't think Queens would be my first major. I didn't even make the bracket when it was held in 2019. It felt very empowering to come back and win it at the (National Bowling) Stadium. And, as the defending champ, I'm really looking forward to going through the bracket again. I get the luxury of automatically making the bracket, so I'm really excited to learn as much as I can in qualifying and go head-to-head against the best."
Bond's win at the Queens was the second of her three titles in 2021, which also included the PWBA Hall of Fame Classic in January and PWBA Pepsi Classic in October. At the time of her win at the Queens last May, spectators were not allowed, which meant her parents, who often support her in person, were unable to attend.
Now, spectators are allowed, and the event is approximately 30 miles away from Bond's Aurora home, which means parents, friends and more of her family will have the opportunity to see her potentially win another PWBA Tour title.
"I'm going to have a great appreciation for being able to compete in front of my support system," said Bond, who finished fourth on the PWBA points list in 2021. "It will mean a lot to me to have them there while I try to defend my title, since we unfortunately couldn't have spectators last year. They've never seen me win a title in person. It'll be special to have them behind me."
Bond is coming off a subpar finish at the season-opening PWBA Rockford Open. After a strong start to the event, she lost her battle with lane transition and finished outside of the top 27, the number to make the first cut, in 35th place.
In some ways, the timing of the first major and her title defense could not be better. She can quickly get back on the lanes, forget about the first event, and with a spot in the bracket, work on whatever may be needed in 15 games of qualifying before match play begins.
"I'm very disappointed with how Rockford went, considering how strong I started the first three games during the first qualifying round," said Bond, who is a six-time member of Team USA. "When the transition hit, it hit me hard, and I struggled to recover. However, I reflected on what I saw on the lanes, what balls worked and what didn't work. I journaled about it, processed the information and feel good moving forward."
This year's field will feature 200 players competing across two squads during qualifying. Match play will begin Sunday and go into Monday, before the top five players are determined for Tuesday's stepladder finals.